WELCOME TO RUMSON
ONCE A SUMMER GETAWAY FOR WEALTHY NEW YORKERS, THIS WATERSIDE TOWN HAS BLOSSOMED INTO A PEACEFUL, TIGHT-KNIT COMMUNITY.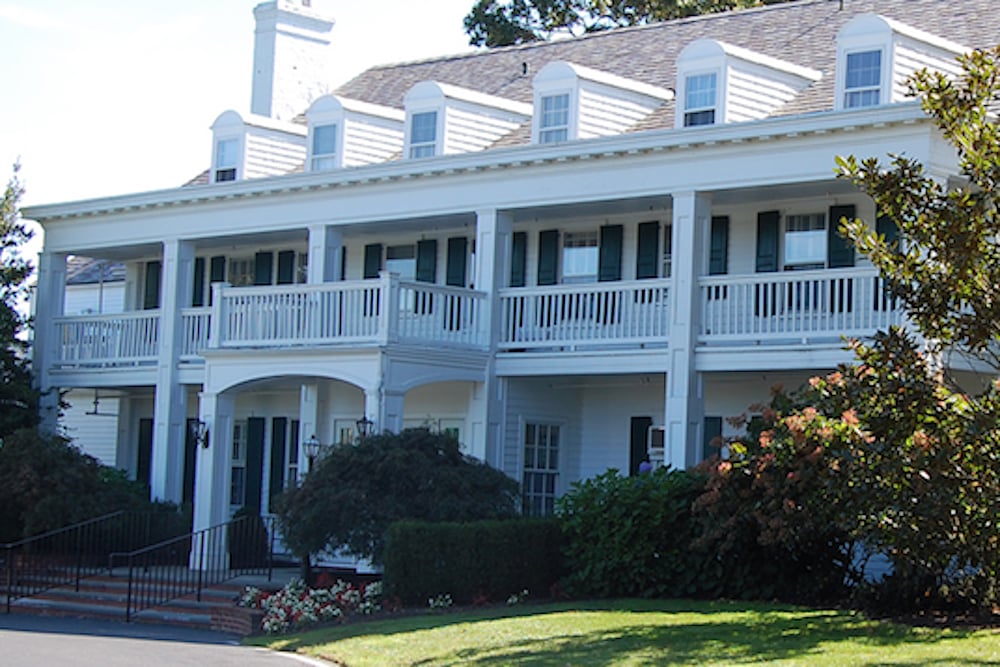 At just 7.2 square miles, Rumson is small in comparison to other Monmouth County boroughs—it's nestled between neighboring beach towns Sea Bright and Fair Haven, and even shares a high school with the latter. But what it lacks in miles it makes up for elsewhere. Rumson has been ranked fourth on niche.com's Best Places in Monmouth County to Raise a Family and 43rd on Bloomberg's 2017 list of the top 100 Richest Places to Live in America. It's a mere 45-minute commute via ferry to Wall Street and there's shopping and beaches just minutes away, making this suburban enclave truly special.
ESTABLISHED: 1907
POPULATION: 7,100
WEBSITE: RUMSONNJ.GOV
PARKS & RECREATION
Whether rain or shine, summer or winter, Rumson has six parks, a boat ramp and a community center for residents to enjoy. Victory Park is the borough's flagship, with picnic tables, a gazebo, a playground, tennis courts, a basketball court, a bocce court, a sandy beach and views of the Navesink River. Another popular hotspot is private facility Rumson Country Club (pictured), where 450 member-families enjoy golf, tennis, croquet, trap, skeet shooting and boating.

DID YOU KNOW?
Like many of Kevin Smith's films, 1997's Chasing Amy, which stars Ben Affleck, Joey Lauren Adams and Matt Damon, is based in Monmouth County. The scene where Ben's and Joey's characters have their first heartt-o-heart was filmed overlooking the water at Victory Park in Rumson.
DINING OUT
Unsurprisingly, waterfront dining and fresh, delicious food abound in Rumson. Salt Creek Grille will hit the spot if you want steak or a burger…with a view. Barnacle Bill's is a more casual favorite, where you'll fi nd a menu stocked with pub grub and seafood. For a special occasion, book a table for two at Rumson House, formerly known as Chef David Burke's eatery Fromagerie, a revamped farm-to-table dining experience with a full-service bar. And no trip to the area is complete without a meal at Ristorante Giorgia, an exceptional Italian eatery with a homey vibe.

JUMPING POINT PARK
History is apparent at Jumping Point Park, the site of the fi rst of several bridges that linked Rumson and neighboring beach town Sea Bright. It was originally constructed in 1870 as a pedestrian toll bridge. Eventually this was replaced with metal swing bridges spanning the Shrewsbury River.
HOME, SWEET HOME
Thinking about buying or selling a home here? The median home value in Rumson is $1,299,100, up 1.8 percent from last year, according to Zillow. Many homes here are 19th century estates along the Navesink and Shrewsbury rivers.

TREDWELL FARMERS HOUSE
This 18th century estate was a prominent part of Rumson and Monmouth County's history due to its tie to early settlers. The original portion of the home was built in 1670, making it the oldest home in Rumson. In 1832 Seabury Tredwell, a rich businessman based in New York City, purchased the 850-acre estate on Ridge Road and subsequently summered there with his family. Unfortunately, the original Tredwell House was destroyed in a fi re in June 2006.

SEABRIGHT LAWN TENNIS AND CRICKET CLUB
Established in 1877, this club is one of the oldest active tennis clubs and the oldest lawn tennis and cricket club in the United States. It was founded for athletic purposes but eventually became a central place for social life in Rumson' and in 1991 joined the National Register of Historic Places. Today, the club has 36 courts and hundreds of members (both adults and children). The club pays homage to its exciting history with paraphernalia and photographs from its early days on display.

FAMOUS FACES
Plenty of celebrities have called Rumson home aside from its most notable residents like Bruce Springsteen, who owned a waterfront home on the Navesink River. Some other big names include, from left to right, fi lm writer and producer Kevin Smith, who grew up in Highlands but lived in Rumson in the early 2000s; Melrose Place actress Heather Locklear, who lived here while married to Bon Jovi guitarist Richie Sambora; Charlie Puth, the "See You Again" singer-songwriter who graduated from Rumson-Fair Haven Regional High School in 2010; and news anchor Bret Baier, host of Fox News' Special Report with Bret Baier who spent the first 10 years of his life in the borough.
WHAT'S IN A NAME?
The general consensus is that the name Rumson was derived from early settlers who bought the land from Native Americans in exchange for quantities of rum. But back in 1663, Native Americans called the land "navarumsunk," which over time got shortened to Rumson.