We'll Meat Again
On Dad's Day, gather around the grill for one of these manly meals.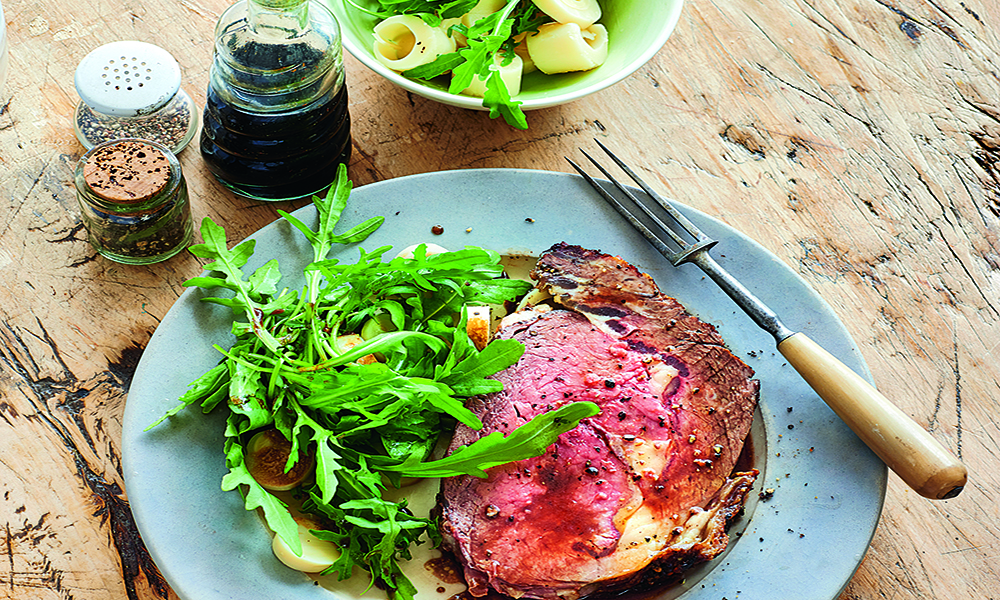 Sirloin Steak
Serves 4–6.
Ingredients
4 to 6 lbs. sirloin beef
2 tsp. olive oil
Sea salt and freshly ground black pepper
Canned hearts of palm, sliced
7 oz. (about 5 cups) green salad, including arugula
For the balsamic vinaigrette
¼ cup plus 2 tbs. balsamic vinegar
Juice of ½ large lemon
2 tbs. Dijon mustard
1 garlic clove, crushed
1 tsp. dried basil
1 tb. maple syrup
Directions
Place a grill pan over high heat and let it heat up.
Rub the steak all over with a little oil and season with salt and pepper.
Sear the steak on the grill pan for about 2 to 3 minutes, then turn and sear again for another 2 to 3 minutes.
Repeat this until the beef has rotated fully and is seared on all sides, then rest for 15 minutes. (if you are using an outdoor grill with a lid, ensure it is closed while the meat rests.)
Transfer the meat to a board and rest for a few additional minutes, then slice into large steaks.
Meanwhile, make the dressing. Place all the ingredients in a jar and shake well.
Serve with sliced hearts of palm and some fresh green salad, drizzled with a little balsamic vinaigrette.
Grilled Lamb Chops on Carrot Purée with Roasted Garlic
Serves 4.
Ingredients
1.3 lbs. carrots, peeled and roughly chopped
12 lamb chops or cutlets (about4 oz. each), trimmed of fat
2 garlic cloves, thinly sliced
4 sprigs fresh rosemary, cut into thirds
2 tbs. olive oil
Sea salt and freshly ground black pepper
Directions
Preheat the oven to 350°f.
Place the carrots in a saucepan of boiling water and cook for 20 to 25 minutes until soft.
Meanwhile, using a sharp knife, cut a few incisions in the lamb and slide in a few garlic slivers and a sprig of rosemary in each chop. Place on a foil-lined baking pan and roast in the oven for 10 to 12 minutes (depending on size).
Drain the carrots, transfer to a food processor and add the olive oil. Season with salt and pepper to taste and process to a smooth purée.
Serve the lamb with the carrot purée and garnish with some fresh rosemary.
Filet Mignon With Carmelized Onions
Serves 2.
Ingredients
2 7-oz. filet mignon steaks
3 tbs. extra virgin olive oil
Sea salt and freshly ground black pepper
8 oz. fresh mushrooms (any variety), chopped
1 tb. chopped fresh thymen ¾ cup red wine
5½ oz. carrots
For the caramelized onions
3 onions, thinly sliced
3 tbs. extra virgin olive oil, plus more as needed
Sea salt and freshly ground black pepper, to taste
Directions
First make the caramelized onions: Place the onions in a large frying pan over medium-high heat, cover and cook, stirring infrequently, until they are dry and almost sticking to the pan (about 20 minutes).
Stir in the oil and a large pinch of salt, then reduce the heat to medium-low and cook, stirring occasionally and adding oil as needed to keep them from sticking without getting greasy, for 40 to 60 minutes, depending on how silky you want them. Season to taste and set aside.
Meanwhile, brush the steaks all over with a little olive oil and season lightly with salt and pepper. Place a large grill pan over medium-high heat and, when hot, add the steaks and cook for 2 to 3 minutes on each side (or until done to your liking), then remove from the pan and set aside.
Add the remaining olive oil to the pan, add the mush-rooms and cook over high heat for 5 to 10 minutes until golden brown.
Add the wine and thyme to the pan, bring to a simmer and cook for 3 to 4 minutes until the wine has reduced slightly.
Plate the steaks with a spoonful of sauce, the caramelized onions on the side and a few carrots too, if you like.
More Recipes
Green Salad »
Roasted and Raw Fennel Salad with Blood Orange and Bottarga »
From A Girl and Her Greens by April Bloomfield. © 2015 April Bloomfield.
Recipes reprinted by permission of Ecco, an imprint of HarperCollins 66 Publishers.