What's Best for the Breast
Look for a comprehensive, fully equipped breast center, experts say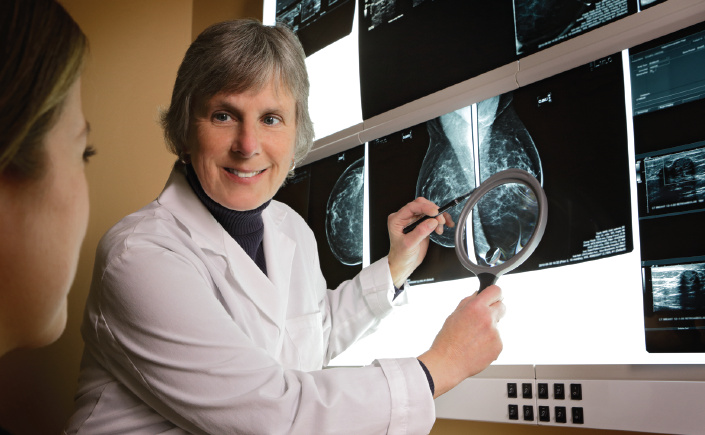 BREAST CANCER—The very words send a shiver through all women and those who love them. There are about 192,000 cases of invasive breast cancer diagnosed in the United States each year, according to the American Cancer Society. In addition, hundreds of thousands of women who will deal with noncancerous breast disease this year will require medical evaluation for treatment options.
Over the years, research has shown that the best way to treat breast cancer is with a comprehensive, multidisciplinary approach that includes all the specialists and services under one roof in a dedicated breast center like the one at Saint Peter's University Hospital. But not all breast centers are created equal. "They have been generically identified over the years and can mean very different things," says Susan McManus, M.D., breast surgeon and director of the Saint Peter's Breast Center. "Some might just be imaging facilities. What differentiates ours as a true comprehensive breast center is that it includes all the diagnostic and treatment services and after-care programs, which are integrated to help women from the very first sign of problems through treatments and recovery."
Saint Peter's embraced this concept long ago. "We have had a multidisciplinary team approach for more than 30 years," says Scarlett Szymanski, director of Ambulatory Oncology Services. "We are not just going through the motions. We are truly a team that creates a comprehensive care plan for patients."
How can you know if your facility is a true breast center? The best way is to find out if it is accredited by the National Accreditation Program for Breast Centers (NAPBC), a program administered by the American College of Surgeons. The Saint Peter's Breast Center received full accreditation from the NAPBC in 2009, becoming the first breast center in central New Jersey to be accredited by that organization. And it recently was granted a three-year re-accreditation.
Receiving care at a National Accreditation Program for Breast Centers- accredited center ensures that a patient will have access to:
• comprehensive care, including a full range of state-of-the-art services,
• a multidisciplinary team approach to coordinate the best treatment options,
• information about ongoing clinical trials and new treatment options, and
• quality breast care close to home.
"We strive on a daily basis to improve the care and experience of all of our patients," says Dr. McManus. "We are certainly proud to be re-accredited by the NAPBC."
For more information about the NATIONAL ACCREDITATION PROGRAM FOR BREAST CENTERS, visit its website at accreditedbreastcenters.org.