When Timing is Everything
With a stroke, fast action can restore lost brain function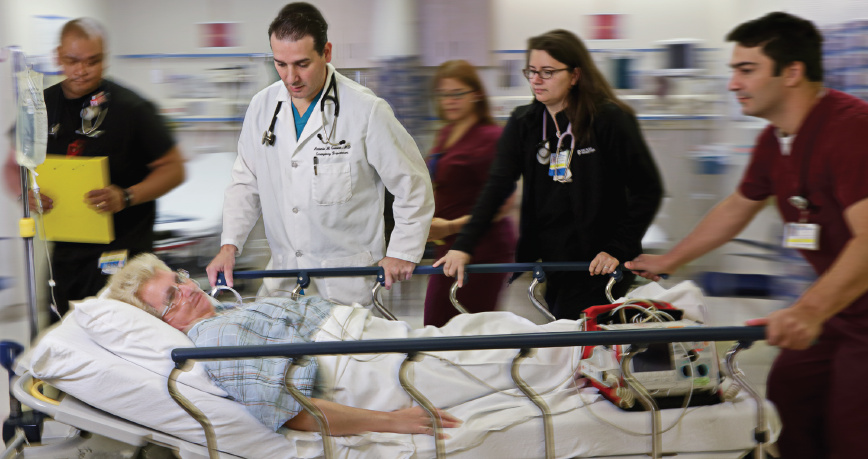 The numbers are scary: According to the American Stroke Association (ASA), someone suffers a stroke every 40 seconds, someone dies of a stroke every four minutes and 795,000 people suffer a new or recurrent stroke each year. Stroke is one of the leading causes of death and serious, longterm disability in the United States.
But thankfully, there is good news in stroke treatment. It all comes down to timing. The sooner you recognize a stroke is occurring and get to a hospital for treatment, the better your odds for busting the blood clot that is causing the stroke (in most cases), preventing or reversing the symptoms and restoring brain function, muscle control and overall quality of life.
"With a stroke, time lost is brain lost, but there is a window of time in which the tissue at risk in the brain can be rescued," explains Roger Behar, M.D., medical director of the Stroke Center at Saint Peter's University Hospital, a designated primary stroke center. In about one-quarter of all stroke patients, a drug called tPA (tissue plasminogen activator) can dissolve the blood clot and return blood flow to the brain.
For most strokes, guidelines call for tPA to be administered within three hours of onset to be effective. "There is a core of tissue in a stroke that is damaged quickly, but around that core is tissue that can go either way for the next few hours," Dr. Behar says. "If circulation is re-established, there is a good chance function can be restored." The stroke guidelines are set by the ASA and promoted as "Get with the Guidelines."
Each year, the organization honors hospitals like Saint Peter's with its Stroke Gold Plus Quality Achievement Award. The award recognizes Saint Peter's commitment and success in implementing excellent care for stroke patients, according to evidence-based guidelines including the use of tPA and many other stroke-related measures. "This award is important because it shows the commitment to excellence of, and the collaborative efforts among, the Emergency Department, radiology, neurology, pharmacy, nursing and all across the board," says Michael Hochberg, M.D., chairman of the Department of Emergency Medicine.
"It is also good for the staff to be recognized. We all enter medicine for altruistic reasons, and we don't expect thank-yous, but it is always nice to know one's hard work is paying off."
Related Read: Fight Stroke at the Grocery Store