Where Everyone is Family
The Durniens of Long Branch help celebrate Monmouth Medical Center NICU's golden anniversary.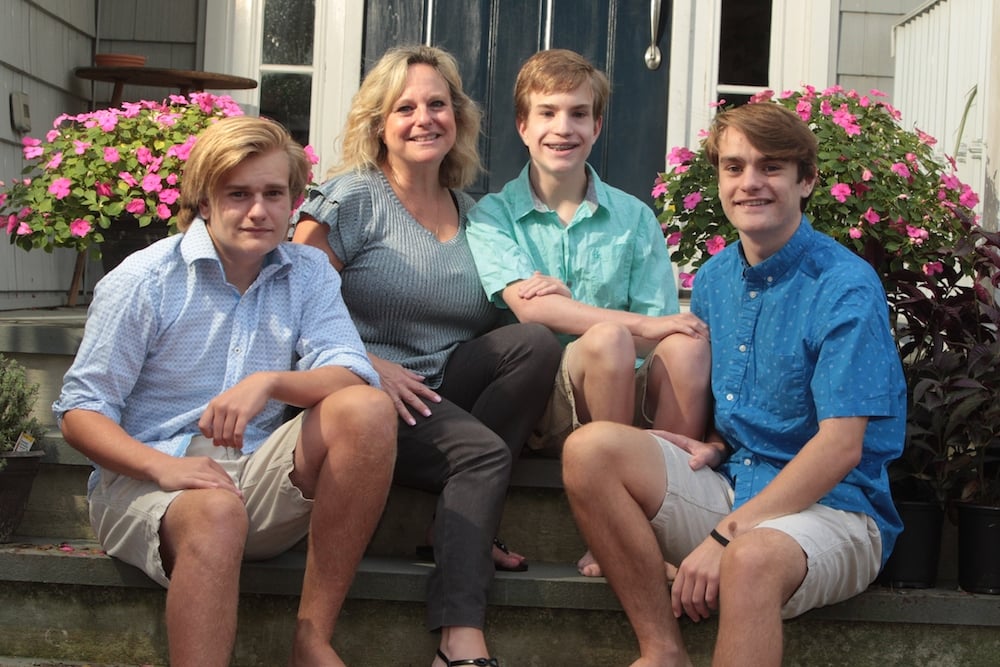 THE HIRAIR AND ANNA HOVNANIAN Foundation Regional Newborn Center (RNC) at The Unterberg Children's Hospital at Monmouth Medical Center (MMC) opened in 1968, making this year its 50th anniversary. It might be difficult to find someone who cel-ebrated the milestone more than 14-year-old Brian Durnien and his family.
Brian was due to be born in August 2004 but he had other plans, says his mother, Lori, a preschool teacher and Long Branch resident. She and her husband, Paul, a building code enforcer, already had two sons (Matthew, now 19, and Christopher, now 17) when in April of that year, Lori felt ill and drove herself to the hospital. Little did she know at the time that she was, in fact, in full labor. She still has the parking ticket from that day, which shows she pulled her car into the lot at 7:14 a.m. Brian was born exactly our hours later just 24 weeks' gestation. He weighed only 1 pound, 13 ounces, and was rushed to the RNC, MMC's neonatal inten-sive care unit (NICU).
As the first Level III NICU in New Jersey and one of the nation's best in terms of survival rates, the RNC provides specialized care for more than 500 babies annually, even those weighing less than a pound and born as premature as Brian. Staff members include board-certified neonatologists, specially trained nurse practitioners and neonatal nurses, therapists, social workers, technologists and a broad-range of subspecialists, including pediatric surgeons and radiologists.
Brian had multiple health problems—the most significant was a heart valve that hadn't closed, which caused bleeding on his brain. At 4 days old he had his first surgery to close the valve with a titanium clip. Over 115 days in the hospital, he had numerous transfusions, multiple infections, eating problems and breathing issues. When he finally left the hospital, Brian weighed 7 pounds and was still on oxygen. But his family brought him back a few months later, when Brian developed swelling in the brain and needed emergency surgery to put a shunt in to drain the fluid.
At every step of the journey, the doctors and nurses were nothing but supportive, Lori recalls. "They always encouraged us," she says. "They never gave up on him no matter what happened. It was the most terrifying time of my life, but those nurses kept our entire family going, including his two older brothers. Every Sunday was big brother day, and they were ready. If Brian had a bad day, they never let it get us down. They were always positive."
Brian had more health problems over the years and developed cerebral palsy as a result of the bleeding that happened at birth. But today, he is a freshman at Red Bank Catholic High School.
"His physical limitations aggravate him," his mom admits. But he's also stubborn and willing to try anything, she adds. "The nurses and doctors, particularly Dr. Carlos Alemany, at Monmouth said, 'Whatever you expect from him he will do. If you work with him he will do it.' Dr. Alemany saw great things in our son."
They were right, she says, and she thanks them for that. "Everything they did was done because they loved him so much and treated him like their own," Lori says. "They were his mothers when I couldn't be there."
TO LEARN MORE ABOUT THE HIRAIR AND ANNA HOVNANIAN FOUNDATION REGIONAL NEWBORN CENTER, CALL 732.923.7250. TO SHARE THIS ARTICLE ON YOUR FACEBOOK PAGE, VISIT MONMOUTHHEALTHANDLIFE.COM