Where the Birds Are
Spotting nature's airborne ambassadors has become a popular pastime, and our counties have great places for it.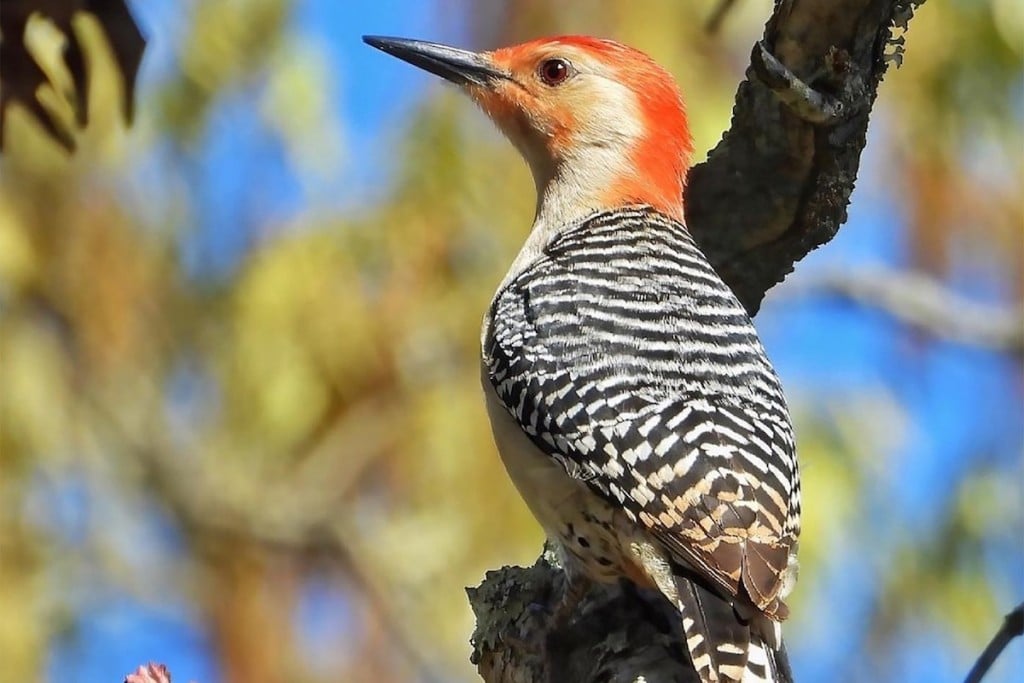 Who could get excited about a hobby whose essence is waiting and watching? Birders, that's who, and there are millions of them worldwide. Birding, or bird-watching, is a relaxing way to commune with nature, but it has thrilling moments too—such as when you identify one of the earth's roughly 10,000 feathered species that's new to you.
Birds are evolutionary links to prehistory, and they're also creatures of beauty, fascinating in their varied colors, sizes, shapes, movements and hunting and nesting practices. Birding has become so big that Instagram is packed with photos of cardinals and mourning doves, while live streams of trees, feeders and nests are watched by thousands on YouTube and Twitch.
Whether you're a casual watcher with a pair of binoculars or an ornithologist with spotting scopes and cameras, birding in Monmouth County is easy thanks to the area's varied landscapes and its efforts to protect the land. "As I started to educate myself more on birds and wildlife in general, my eyes were opened to the anthropogenic perils that they face," says Roberto Melendez, a nature photographer whose fascination with birds started when he watched David Attenborough's BBC nature documentary, The Life of Birds. "Thus, my mission slowly shifted more toward promoting conservation," he says. "Through my work, I hope to inspire others to engage in conservation efforts and to protect our natural world for future generations."
Where best to practice this hobby? Here's a birder's guide to a handful of our popular parks:
Allaire State Park
Five marked trails take visitors through the 3,200-acre park in Wall and Howell, and they're also frequented by an assortment of fine feathered friends all year long. From warblers and wrens to vultures and vireos, many make stops here during the migration seasons. As a result, nature enthusiasts often swing by and wait for the perfect photo op— Robert Doran (@disorientedchipmunk) captured the red-bellied woodpecker (on the cover photo) during a recent trip to the spot. For Toms River's Nick Pullano (@nickyboy46), colorful hummingbirds and summer tanagers always catch his attention. "I love when the male flashes his ruby red colors," he says.
This park covers roughly 736 acres in the Bayshore Region in Highlands. With plenty of woods and shoreline to explore, birders will likely see plenty of song and shore birds as well as birds of prey. Patience is key to photographing birds, especially swift-moving songbirds that are tougher to spot. Following sounds is helpful, says Gavin Shwahla of Point Pleasant Beach (@gavinwildvisuals). "I was exploring the trails of Hartshorne Woods Park when I heard the song of an American restart so loud it sounded like the bird was right in my ear," he says. Shwahla recalls slowly following the bird through the woods before setting up to take this photo. "He stayed just long enough for me to rattle off a few shots. He then flew back deeper into the forest, leaving me with another moment captured and my heart a little fuller."
Cheesequake State Park
With more than 1,600 acres of wooded area, camp grounds and more space dedicated to nature, one would never know that the Garden State Parkway cuts through the middle of this Matawan park. The birds probably don't realize it either, as they have plenty of perches and green space to check out. Keep your eyes peeled for raptors like red-tailed hawks and ospreys, shorebirds like great blue herons and gulls and little songbirds like sparrows and catbirds. Cranford resident Cheryl Sabin (@njgirl100adventures) recently snapped the above photo of an eastern towhee. "I love to go to Cheesequake Park during my free time to take pictures of birds and assorted wildlife," she says. "Bird photography for me is challenging and brings much joy into my life!"
Shark River Park
Roughly 10 miles of trails make up this park in Neptune, Wall and Tinton Falls, but birders and photographers of all skill levels can catch a glimpse of wildlife up and down the river. Like the anglers who cast lines along the river banks, birds of prey including bald eagles and ospreys are also on the lookout for a fresh catch. Bird watcher Chris Fraley of Freehold (@chris.a.fraley) enjoys seeing web-footed varieties as well, such as the hooded merganser that he photographed this past winter. "Shark River is a beautiful place to see a wide variety of birds, especially waterfowl," he says. "There are various access points as well as streets that run along parts of the river that enhance birding, photography or just getting out in nature."
Sandy Hook Gateway National Recreation Area
Sandy Hook's beaches are a popular destination for summer sun bathers, but the shore and adjacent woods are just as well-known for its birds. As many as 600 least terns and 60 piping plovers have nested here, as Sandy Hook is a major stop along the migration pathway for more than 340 species traveling the Atlantic Flyway. "There are so many birds to enjoy in Sandy Hook," says Kim Smerdon (@smerkim), who shot the osprey pictured below. While birds of prey are great discoveries, so too are songbirds. "I like photographing birds at Sandy Hook because of the great variety that migrate there during different times of the year—some are just passing through, while others stay," says Monmouth resident Kim Garrison (@kimhalligan1). "I came across this stunning male scarlet tanager (pictured above) perched on a tree during a recent visit to the park. It's a beautiful national recreation area with beaches facing oceanside and bayside, a maritime holly forest, salt marshes, ponds and other habitats for wildlife."