Whet Your Appetite
These Instagram foodies know how to make you hungry.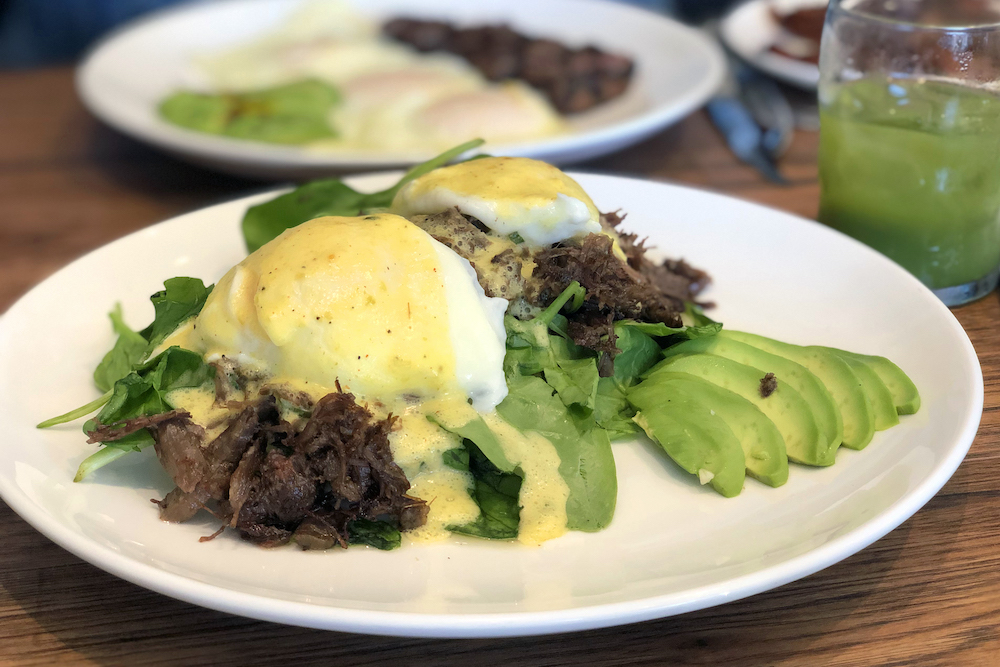 Maybe you follow one or two of them already. Foodie bloggers are the modern taste arbiters when it comes to where to eat and what to order in our county. Their Instagram feeds are colorful mosaics of decadent dishes, monstrous milkshakes and every carb known to man, and we're full of anticipation to see where their food travels take them next. These five are among the coolest of Monmouth County's illustrious food scene. Enjoy the "eats!"
If you live for Sunday brunch…
@thejerseyfork
6,588 followers *
Breakfast sandwiches, runny yolks and avocado everything can be found on Julia Gasparini and Michelle Russello's colorful feed. Though they both work full-time in their professions, the two foodies make time to find the latest new spots in Monmouth County and post shots of their meals, even if they have to make some artistic adjustments to their dishes. "Don't be afraid to play with your food after it's served! If you think you can make it look better, go ahead and rearrange it," they say. "You may have to sacrifice eating your food hot to get that gorgeous Instagram photo."
Eggs Benedict from Over Easy in Marlboro.
If you're cheese-obsessed…
@f00dme
27,400 followers *
For Rumson resident and full-time college student Willis Manelski, food blogging on Instagram has become more than just a hobby—it's a step toward her future in marketing. With almost 30,000 followers ogling over posts of her food adventures for the past two and a half years, Manelski says running her account has helped her shape her career goals. She believes the key to a successful food photo is perhaps the most elementary—to make it fun.
"Food photography is silly and creative, so get that awesome shot without caring about people looking at you," she says. "I've actually stood on tables to get the perfect angle."
Pizza from UNDICI in Rumson.
If you're a sushi lover…
@asburyparkeats
8,757 followers *
If California rolls and ahi tuna nachos sprinkled with scallions suit your fancy, you'd be wise to follow Freehold fiancés Rebecca Mahan and Mark Mahasky. The sushi-loving couple has been documenting their date-night dinners on Instagram for three years now, starting when they first discovered the culinary options popping up in Asbury Park, according to Mahan. But why, of all foods, do they post so often about sushi?
"Because," she says, "who doesn't love seeing a spicy mayo drizzle on top of—well, anything?"
Sushi from Langosta Lounge in Asbury Park; ahi tuna nachos from Barrio Costero in Asbury Park.
If you like your dessert before dinner…
@seasthedish
907 followers *
Bradley Beach natives Kacie Duesterdick and Matt Simonik love to share the sweet stuff around our county on their feed. Although the two have been personally documenting their foodie adventures along the Jersey Shore for years now, their account is the newest in our lineup of handles to follow, just shy of five months old. "We share a love for the Jersey Shore and the restaurants in our area" says Simonik.
Crepe from Ce La Vi in Red Bank; cannoli donut from Main Street Donuts in Belmar.
If entrees are your thing…
@jerseybites
17,700 followers *
Mains are the main attraction on blogger Deborah Smith's feed, with images like a perfect medium rare filet mignon fanned out on an oak cutting board and a juicy burger smothered in barbecue sauce and topped with all the fixings. Smith, the owner of jerseybites.com and author of The Jersey Shore Cookbook, created her account in April 2012. Her secret to a snapping a drool-worthy photo of your entrée? "Remember the rule of thirds," she says. "A plate half out of the image against a brick wall or on a dark table is far more interesting than a centered shot of just food."
Smokehouse burger from Max's in Long Branch.
*Editor's note: number of followers as of press date