Winter Fun, 5 Ways
Aspen ski trip canceled? Try a new outdoor activity that will banish cabin fever and keep you moving.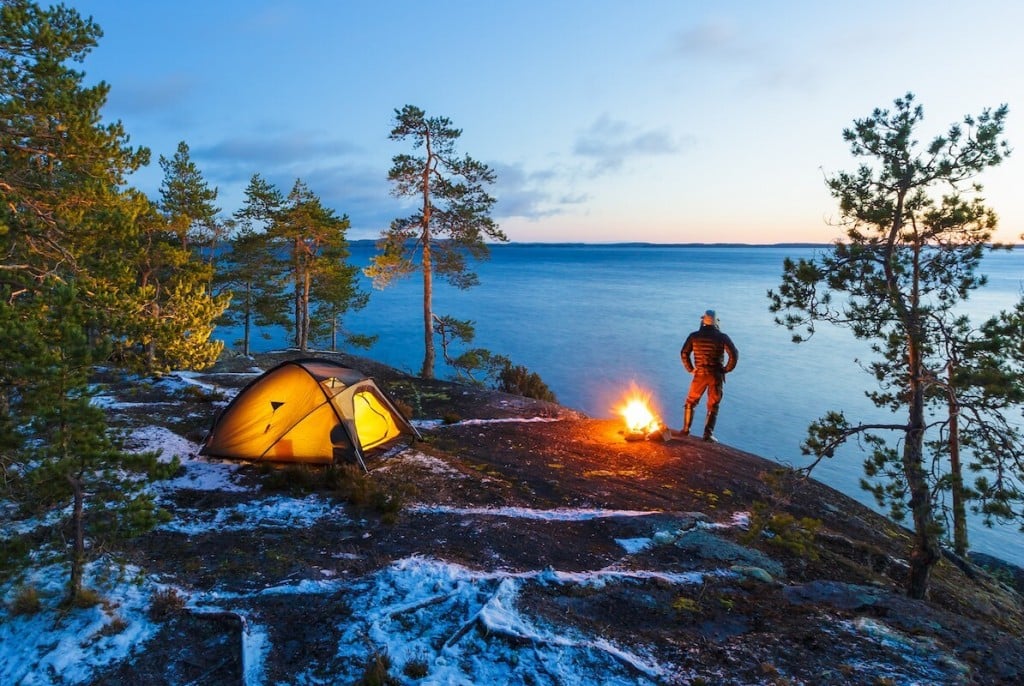 Monmouth residents spent much of 2020 cooped up indoors, riding out the height of the pandemic from the safety of our homes. Now, following a brief warm-weather respite, Quarantine 2.0 looms large as winter makes its return. But if you're not quite ready to hunker down and hibernate, a little cold and a few snowflakes shouldn't stop you from enjoying the outdoors. Of course, COVID- related orders may cancel many outdoor activities and travel plans, but a plethora of fun and adventure opportunities still awaits—all within driving distance. Here are five easy, inexpensive activities to try:
CAMPING
Fair weather camping is ideal, but pitching a tent when conditions aren't favorable can make for a more memorable trip. KOA (Kampgrounds of America) operates more than 500 North American campsites year-round, and two nearby locations—East Stroudsburg, Pennsylvania, and Plattekill, New York—are popular spots for winter camping. Each is equipped with tent sites for those willing to test their mettle against the elements, but they also include heated cabins for folks who want the "glamping" experience. KOA grounds also feature clean restroom facilities and showers, general stores and firewood delivery.
ICE FISHING
Sure, folks in Minnesota and Wisconsin have been at it for years, but you don't have to visit Great Lakes country to enjoy this increasingly popular sport. In fact, when conditions are right, anglers of all skill levels can set up their shelters and catch plenty of small-and largemouth bass at New Jersey's own Lake Hopatcong. Members of the lake's Knee Deep Club (kneedeepclub.org) can provide interested fishermen the scoop on fishing reports, techniques and equipment. A drive north to Lake Champlain or Oneida Lake in the Syracuse, New York, region will give ice anglers a shot at hooking walleye, perch and pike, among other species.
ICE SKATING
Social distancing at Rockefeller Center and Bryant Park will likely be a concern this season, but you can avoid the worry and continue your outdoor ice-skating tradition on this side of the river. Take a quick drive to the Asbury Hotel Ice Rink, where you'll find rentals, a fire pit area and a food truck. For more options, head up to Jersey City, which has a pair of open-air venues, Charlie Heger Ice Rink and Newport Skates. Both offer public skating and lessons while ensuring safety for all participants. If you don't mind adding an hour or so to your travels, the outdoor rink at Bear Mountain in New York offers a lodge-like experience with views of the park.
SNOWSHOEING
It's hard to beat a fall hike—there's something special about crisp autumn air and dramatic fall colors—but a trek through snowy woods in winter comes close. To experience it properly, though, you'll want to strap on a pair of snowshoes to your boots. With a quality set of snowshoes, available at stores like Ski Barn in Shrewsbury and Dick's Sporting Goods in Freehold, you can traverse trails and reach destinations you never thought possible without high-stepping through mounds of powder. (You'll still likely work up a sweat, though.) You can try snowshoeing in your backyard or any public land like Holmdel Park and Thompson Park in Lincroft (they rent equipment if needed), or head to Bruce Lake in Pennsylvania's Delaware State Forest on a weekend excursion. The snowshoe trails here are not groomed—motorized vehicles, bikes and other modes of transportation are prohibited—and highlight the forest's beauty.
CROSS-COUNTRY SKIING
Like snowshoeing, cross-country skiing is allowed in public parks—no chairlifts, no permits needed. On any given snowy day, cross-country skiers will descend on the six groomed cross-country ski trails at Thompson Park in Lincroft. Families who wish to load up the car for a getaway can escape to South Mountain Reservation in West Orange, which has 19 miles of skiable carriage roads and trails, or the High Point Cross Country Ski Center in Sussex. The latter is dedicated to cross-country skiing, with daily fees to explore the trails, lessons, equipment rentals and more.
By Darius Amos