Work from Home — And Play There Too
The first floor of a Chatham colonial was happily transformed with both serenity and practicality in mind. And it was worth the wait.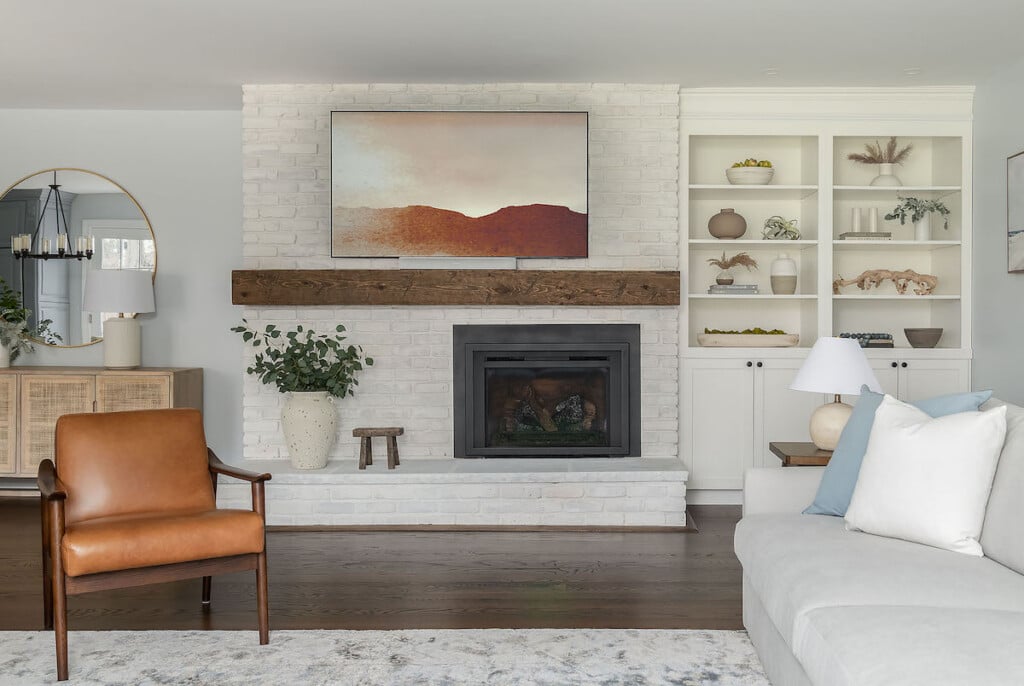 Design by Megan Pisano
Photography by Meghan Balcom
Text by Richard Laliberte
For any homeowner who feels that renovation seems to take ages, Megan Pisano of Megan Pisano Design in Chatham offers these sage words: "Trust the process."
That maxim guided and brought to fruition a quietly chic reno that recently transformed key rooms of a late-1960s Chatham colonial into a transitional retreat of calm and serenity peppered with practicality. The project did take more than a year. Replete with design puzzles and the occasional electrical challenge, "it had a lot of moving parts," Pisano says. "But the clients were patient and very happy with the results."
Goals were clear from the start: The new homeowners—a relocating couple with a toddler—wanted to create a sophisticated yet warm, relaxed and kid-friendly design for the first floor, particularly in an off- the-kitchen family room and a living room that needed to include an office work space. Built-ins would be integral to both rooms.
The first challenge: Tear away heavy, orangey, dated oak paneling that a previous owner had installed on the wall surrounding the family- room fireplace. "We crossed fingers because we didn't know for sure what was underneath the wood," Pisano says.
Demolition happily revealed exposed brick around the hearth. Pisano had floor-to-ceiling brickwork painted white, sharpening the room's focal point. The mantel was lowered, and a hearth extension previously topped with black tile was renovated with four clean slabs of white slate.
To the right of the fireplace, a crisp, white built-in by Heard Woodworking of Chatham (following Pisano's specs for finish, color, stain and hardware) helped set the stage for an integrated design throughout the downstairs that uses soft hues and warm tones in a palette of muted blues and grays. (The vibe extends into the kitchen, where Pisano had wood cabinets painted deep ocean blue with updated hardware in what she calls "a mini facelift" that nevertheless resulted in "a stunning transformation from the original dark oak.")
For the family room, Pisano chose a sectional and ottoman from Arhaus in soft, durable, child-friendly fabric. "The ottoman can move and act as a coffee table," Pisano says. "You don't need a lot of furniture in a room, and sectionals with ottomans are my favorite for families." Elegant, floor-to-ceiling, pleated drapes with fabric from Stout Textiles sewn by Denise Canney Custom Sewing contribute softness while adding height and dimension.
Subtle splashes of color enliven the space through cohering elements like pillows; a mottled rug over dark wood flooring (refinished throughout the level); wall artwork largely from Collected Living Co. in Chatham; and a Samsung Frame TV over the hearth that, when not used for entertainment, displays images that look like gallery pieces.
Charming natural details such as driftwood and eucalyptus lend the room a contemplative, almost marine quality. Rustic wood in the mantel—matched to the flooring—amplifies the peaceful "outdoors inside" atmosphere. "We wanted the mantel to pop, but not too much," Pisano says. In a space leading to the adjoining kitchen to the left of the fireplace, a rectangular rattan console and a large, round mirror add variety to shapes and natural textures.
Similar natural elements in the living room echo tranquility even though the ample wall-to-wall built-in by Serritella Construction features a sizeable desk surface appropriate for nose-to-grindstone work. "It's a multipurpose space," Pisano says. Newly installed French doors can close for privacy when necessary for business. "A lot of people take doors out," Pisano says, "but we added them because being able to isolate a room is good for an office."
As befits task-oriented setting, hints of energy gleam from gold touches in details such as cabinetry pulls, the bases of two gray leather swivel chairs from Restoration Hardware, a wall-hung shelf and a glass coffee table. Yet softer features like tasseled ottomans and Roman shades reinforce the restful colors that Painting Professionals LLC applied throughout the project.
The living-room window treatments posed one of Pisano's design challenges. "I had envisioned drapes, but the built-in—which was a priority for the clients and which we designed the room around— extended too far to allow them," she says. The relaxed, smile-like shape of the Roman shades offers an alternative way to convey a sense of softness and calm without competing with or obscuring the built-in's crafted beauty.
Pisano's attention to detail also carried to broader basics—installing ceiling lights throughout the rooms, for example—that are often lacking in older homes, and the source of some of the electrical obstacles she faced.
"Our design was a drastic change from what was there before," Pisano says. "But the clients liked my aesthetic and had trust. The result is an outstanding transitional space that's a dream for anything from a busy work-from-home day to a relaxing family movie night."