YLENIA GIUFFRIDA, M.D. & CARISSA MEYER, M.D.
ACTIVE ORTHOPEDICS & SPORTS MEDICINE, LLC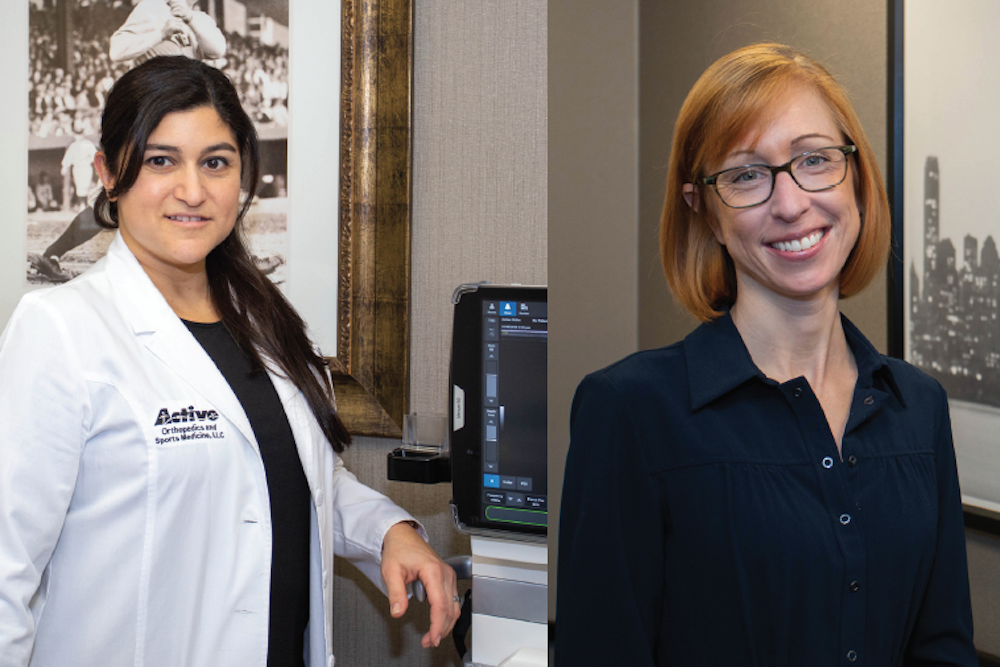 THE HAND AND WRIST SPECIALISTS at Active Orthopedics provide successful treatments to relieve pain, restore function, and improve quality of life for their patients.
Dr. A. Ylenia Giuffrida earned her degree in Biomedical and Electrical Engineering from Duke University, then completed her medical degree at the University of Medicine and Dentistry of New Jersey. She Fellowship-trained at the Hospital for Special Surgery in NYC. She is Board Certified in Orthopedic Surgery and earned the prestigious Certificate of Added Qualifications for hand surgery. She specializes in treatment of conditions affecting the elbow to the fingertips.
Dr. Carissa Meyer, also specializing in Hand and Upper Extremity surgery, received her medical degree from Tufts University School of Medicine and completed her fellowship at the pres-tigious CV Starr Hand Surgery Center in NYC.
Both Dr. Giuffrida and Dr. Meyer care for adults and children, with most of their patients coming from word-of-mouth referral. They also work with a respected network of primary physicians who refer patients to Active Ortho for their expertise in hand and wrist surgery. The office is a one-stop practice, providing a supportive staff that assists patients with scheduling, procedures and follow-up care.
Knowing that not all patient goals are the same, they provide advanced, state-of-the-art treatment that is tailored to each case, based on desires, personal histories, and the nuanced requirements of certain professions and avocational desires. One of the most innovative tools used by Dr. Giuffrida and Dr. Meyer, involves ultrasound technology that allows minimally inva-sive procedures to be performed under only local anesthesia, leading to quicker recovery. Dr. Giuffrida is involved in teaching other surgeons around the country about these minimally invasive techniques.
Serving as a role model in the community, Dr. Giuffrida speaks in area schools, inspiring female students to pursue careers in STEM.
25 Prospect Ave., Hackensack, NJ 07601 • 201.343.2277 • activeorthopedic.com