Your Backyard Survival Guide
From microbes to wild mammals, the great outdoors is alive with potential threats. Here's what to do if injury comes your way.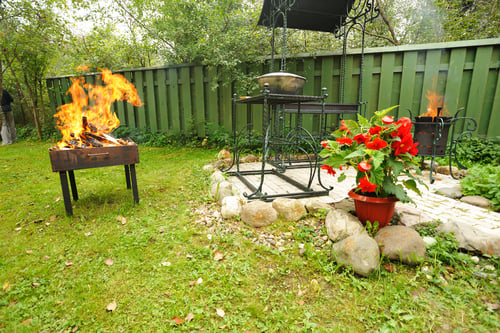 With coyotes, bears and other wild animals roaming the New York suburbs, you may be tempted to add "attack by large carnivore" to your mental list of patio perils. But let's focus on the more likely causes of backyard injury, whose risks range from merely annoying to life-threatening. Know how to deal with these injuries, and you just might be able to relax this summer.
What happened: YOU'VE DISCOVERED A TICK ATTACHED TO YOUR LEG.
Why you're worried: You may get Lyme disease.
What to do: The sooner you remove the tick, the less chance it has to transmit Lyme or another disease. Using fine tweezers, grasp the tick as close to your skin as possible and pull it straight up. Disinfect the bite site and tweezers. Save the tick in a plastic bag or jar to be tested in the event you get sick.
If only you had … checked yourself for ticks when you came inside. The insects take up to several hours to attach themselves, giving you time to get rid of them. If in the future you want to be utterly thorough, shower and change your clothes.
What happened: YOU'VE BEEN BITTEN BY A CHIPMUNK.
Why you're worried: Rabies!
What to do: Don't panic— your risk of rabies is low. Squirrels (a chipmunk is a ground squirrel), rabbits and other rodents rarely carry rabies. The more common carriers are bats, raccoons, skunks and foxes. If the bite barely broke the skin, wash it with soap and water, apply an antibiotic cream and cover with a bandage. If the wound is deep or the skin is torn and bleeding, apply pressure with a clean cloth and see a doctor.
If only you had … not tried to feed the chipmunk. Wild animals, no matter how cute, are still wild.
What happened: YOU'VE BEEN STUNG BY A YELLOW JACKET.
Why you're worried: This is your first sting, and you fear a life-threatening allergic reaction.
What to do: The chances you're allergic are remote: Hypersensitivity develops as a result of being stung, so future stings are the ones to worry about. But just to be safe, tell someone you've been stung, so if your airway begins to close or other serious symptoms develop, he or she will be ready to call an ambulance; you could also call the National Poison Control Center hotline at 1-800- 222-1222. Apply an ice pack to reduce swelling and slow the spread of venom. Acetaminophen or ibuprofen may reduce pain, as may a topical anesthetic cream.
If only you had … called an exterminator to remove the nest and laid off the perfume, which attracts wasps.
What happened: YOU STEPPED ON A RUSTY NAIL.
Why you're worried: You can't remember when you last had a tetanus shot.
What to do: Wash the wound with soap and water, scrubbing it to remove any dirt and debris. Apply antibiotic ointment and a Band-Aid. If the wound won't scrub clean or begins to look infected, call your doctor. Also consider a tetanus shot. You need one every 10 years. And if it's been more than five years, your doctor may want you to have a booster. Get the shot within 48 hours.
If only you had … cleaned up that construction debris—and not decided to recapture the Huck Finn–like feeling of going barefoot.
What happened: YOU FELL ASLEEP IN THE SUN, AND NOW YOU'RE TURNING THE COLOR OF A BOILED LOBSTER.
Why you're worried: You face the prospect of a sleepless night, fever-like chills, general ridicule and, down the road, an increased risk of skin cancer.
What to do: Keep the burned skin cool and moist. It's OK to apply aloe, moisturizing lotion or hydrocortisone cream. Aspirin or other anti-inflammatory medication may help. Don't break any blisters that form. If you develop fever or severe pain, see a doctor.
If only you had … applied sunscreen before going outdoors, not laid down in a chaise after drinking two margaritas, sworn off sunbathing forever and used the patio umbrella for its intended purpose.
What happened: YOU'VE BEEN BITTEN BY A SNAKE.
Why you're worried: You've been bitten by a snake!
What to do: Stay calm. Most snakes are not venomous. Only two poisonous species are native to New Jersey—the copperhead and the timber rattlesnake, both of which have triangular heads and slit-like eyes. But don't worry about identifying the type of snake. If the bite punctured the skin, get medical attention quickly. While waiting to be treated, keep the affected arm or leg immobile and lower than your heart. Don't apply ice or a tourniquet, and don't cut the wound to try to remove the venom.
If only you had … steered clear. Unless you're a herpetologist, stay away from serpents. Don't sit on stone walls, a likely habitat for rattlers.
What happened: THOSE WEEDS YOU PULLED MUST HAVE INCLUDED SOME POISON IVY.
Why you're worried: The itching is heinous, and the rash is spreading. How bad is this going to get?
What to do: Options for relief include calamine lotion, hydrocortisone cream, an oral antihistamine such as Benadryl and an Aveeno oatmeal bath. If the itching becomes unbearable or your eyes, throat or other sensitive areas are affected, see a physician. A prescription corticosteroid can do wonders.
If only you had … worn gardening gloves or used Ivy Block, an over-the-counter skin barrier.
---