12 Drinks of Christmas
Your holiday party will be a hit when you serve up these colorful cocktails— alcohol-free ones included.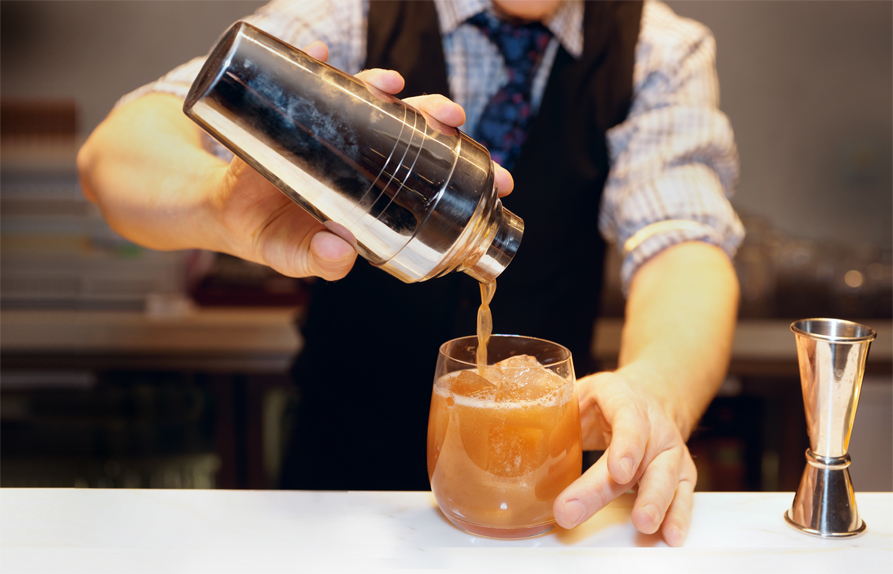 Let's see—was it seven "maIds-a-milking," or eight? And where do the "geese-a-laying" come in? You'll face no similar puzzlement with the dozen delightful cocktails we present here, as you're not required to consume them cumulatively. (In fact, please don't!) But we're sure at least one of these libations will find a place on your coffee table or cocktail bar for a festive occasion when guests are expected. They include nonalcoholic choices for kids or teetotalers. And they're sure to entrance the eye, thrill the taste buds and brighten the mood.
1. Poinsettia
½ oz. Cointreau or triple sec orange liqueur
3 oz. cranberry juice
Champagne
Chill all of the ingredients. Pour the Cointreau and cranberry juice into a chilled champagne flute. Stir well. Top with champagne.
2. Hot Brick Toddy
¼ tsp. cinnamon
1 tsp. sugar syrup
1 butter pat
Boiling water
2 oz. Redemption rye bourbon
Rinse an old-fashioned glass in hot water. Add the cinnamon, syrup, butter and enough of the boiling water to thoroughly mix the ingredients. Add the bourbon. Top off the glass with the rest of the boiling water.
3. Holiday Tequila Cocktail
4 strawberries (3 hulled, one with hull for garnish)
2 oz. silver tequila
¾ oz. spiced agave simple syrup
2 medium basil leaves, chiffonade (divided in half)
Spiced Agave Simple Syrup
½ cup agave nectar
2 Tbs. water
1 cinnamon stick
¼ tsp. coriander, coarsely crushed
¼ tsp. fennel seeds, coarsely crushed
3 cardamom pods, lightly crushed
For Spiced Agave Simple Syrup:
Add all ingredients to small saucepan and heat over medium-high heat. Stir and bring to a boil. Remove from heat, stir and let cool to room temperature before using. This can be stored for up to a week, covered and refrigerated.
For the cocktail:
Muddle the 3 hulled strawberries in the glass. In a cocktail shaker, add ice cubes, tequila, agave syrup and half of the basil. Cover and shake vigorously. Strain into glass with muddled strawberries. Add the remaining basil to the cocktail and garnish with a strawberry. You can add a few ice cubes to this cocktail and give a quick stir to mix up the basil leaves.
4. Old-Fashioned Apple Pie
1½ oz. Midnight Moon Apple Pie
1½ oz. rye whiskey
Orange slice
5 dashes Boker's Bitters
Muddle orange slice in glass. Fill glass with ice and add all other ingredients. Stir gently.
5. Stout Gingerbread Flip
1½ oz. stout beer
1½ oz. black strap rum
1 oz. ginger liqueur
½ oz. allspice dram
1 egg white
A couple dashes chocolate bitters
Fresh-grated cinnamon and nutmeg
Lemon peel and/or candied ginger, for garnish
Pour the stout into a chilled coupe (or double rocks) glass. In a cocktail shaker, combine the rum, ginger liqueur, allspice dram, egg white and bitters. Shake until combined. Add a big handful of ice, then shake again vigorously, about 30 seconds. Strain into the glass and top with cinnamon and nutmeg. Garnish with lemon or ginger.
6. Warm Berry Cider
1 cup Sierra Mist Cranberry Splash
2 sprigs fresh thyme
6 fresh cranberries
1 lime wedge
In a small pot, bring the cranberry splash and thyme up to a simmer. Pour over the cranberries in a mug. Squeeze the fresh lime wedge into the drink. Serve warm.
7. Satsuma and Pomegranate Campari
4 parts Satsuma, fresh squeezed
2 parts pomegranate juice, fresh squeezed
1 part simple syrup
1 part Campari
Simple Syrup
1 part sugar
1 part water
Place sugar and water in a pot and bring to a boil, stirring until sugar has dissolved. Cool before using.
Fill a tall glass with ice. Pour Satsuma juice over ice; set aside. Add the pomegranate juice, simple syrup and Campari to a cocktail shaker and shake until combined. Pour pomegranate and Campari mixture over Satsuma juice.
8. Winter Sea Breeze
1 oz. vodka (1/8 cup)
1 oz. grapefruit juice
½ oz. tonic syrup (2 Tbs.), such as Jack Rudy
2 oz. soda water (1/4 cup)
12 pomegranate seeds
3 mint leaves, for garnish
Fill your glass about ¾ full with ice. (A lowball glass is the perfect size.) Add the vodka, grapefruit juice, tonic syrup and stir. Pour in the soda water and garnish with the pomegranate seeds and mint leaves.
9. Peppermint White Russian
2 oz. Peppermint Mocha Kahlua
1 oz. vodka
2 oz. milk or cream
In a large glass or pitcher, add all the ingredients and stir to combine. Divide between small glasses and add ice to fill up the glass.
Optional: Crush peppermints or candy canes, wet the rim of the glass and press into the candy. This makes for an especially festive presentation.
10. Rosemary-Infused Cocktail
1 tsp. Rosemary Simple Syrup
4 oz. cranberry grape juice
Prosecco
1 oz. vodka
For the rosemary simple syrup
In a quart pan, add 1 cup water, 1 cup sugar and 2 sprigs of rosemary. Simmer until sugar is completely dissolved and strain into a glass jar.
In a cocktail shaker, add vodka, cranberry grape juice, simple syrup and shake. Pour into champagne coupe and top with Prosecco. Garnish with rosemary sprig.
11. Spiced Caramel Apple
2 oz. Domaine de Canton ginger liqueur
1 oz. Van Gogh Dutch Caramel vodka
2 ½ oz. apple cider
1 dash lemon juice
Rim a martini glass with agave syrup and crumbled gingersnap cookies and set aside. Add liquid ingredients to a cocktail shaker with ice and shake well. Strain into martini glass.
12. Junie-June's Christmas Eve Punch
Boil 2 cups of water and 2 cups of sugar for 5 minutes. Add 2 quarts water, 2 cups orange juice, ¾ cup fresh lemon juice, 1 teaspoon vanilla and 1 teaspoon almond extract. Pour in a punch bowl with ice and a bottle of 7Up or Sprite. Add 3 drops of blue food coloring to get the nice green color.