2 "Hearty" Tales of Recovery
These women feel better today than they did before they were diagnosed with cardiac problems.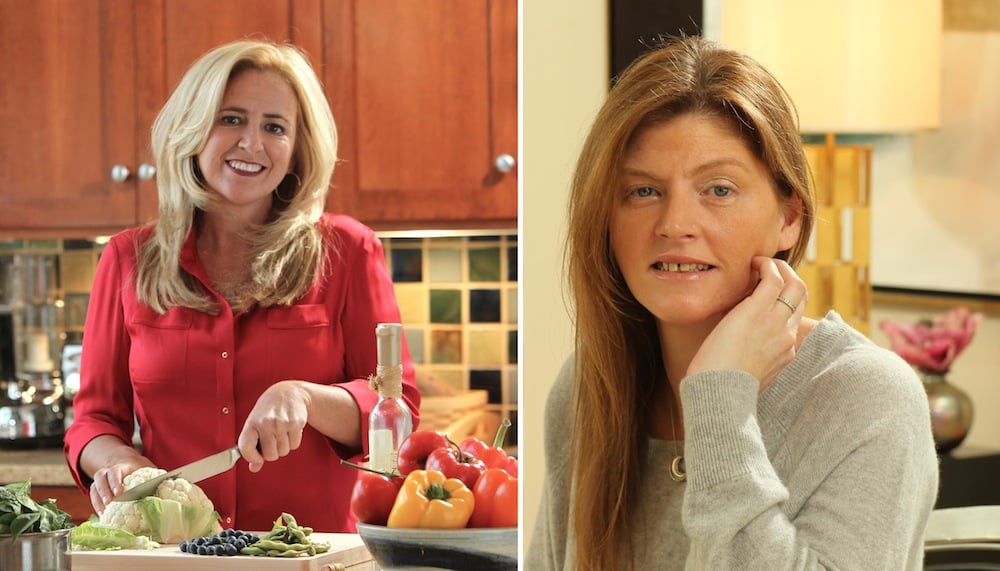 "Heart disease" used to be two of the scariest words in the English language. They still describe very serious conditions that require the finest up-to-date care and can strike at any age. But these days, treatment at a top facility such as Saint Barnabas Medical Center can return many heart patients to a full, vigorous and satisfying life. In honor of American Heart Month in February, we tell the stories of two such women.
Stephanie Brown: healthy makeover after a heart attack
At age 45, Stephanie Brown seemed in good shape. She ate reasonably and worked out with weights. But after a heart attack struck while she was sitting in traffic, the West Orange resident learned she needed to make some changes.
"I was taking on too much and not standing up for myself," says Stephanie, who works for a brokerage firm and runs a medical billing company on the side. "Now, I manage my stress and take time for myself."
When she had her heart attack, doctors found that two coronary arteries were completely blocked. They cleared the arteries and placed a stent (a metal mesh tube) inside one to help keep it open. Stephanie's cardiologist recommended Saint Barnabas Medical Center for cardiac rehabilitation.
"They're wonderful there," she relates. "They're so caring, they've become like my family."
At rehabilitation, Stephanie has strengthened her heart through carefully monitored workouts that keep her heart rate up for an extended period of time. She uses the elliptical machine, the treadmill and the stationary bicycle, among other equipment.
"When I started, I could barely do three minutes at a time," she recalls. "Now I can do an hour of nonstop cardio."
The rehabilitation team helped Stephanie in other ways too.
"I went to a lot of seminars at Saint Barnabas that have really helped," she says, "including stress management, healthy eating and low-sodium eating." She also took the hospital's yoga classes focusing on relaxation and breathing.
Stephanie now enjoys preparing a wider variety of vegetable dishes and healthy, Mediterranean-style fare in her big, cheerful kitchen. Canine companions Milo and Bubba are often by her side, helping to ease away the day's demands.
"I feel I've been given a second chance at life, and I'm so thankful," says Stephanie. "I have everything I need."
Sherrill Baron: thriving after cardiac crisis
At just 40, Sherrill Baron was hit by severe heart problems that left her unable to walk or speak. But less than six months later, the working mom is back to her normal routine—and healthier than before her illness.
"I feel better than I have in years," says Sherrill, who has two young sons with husband Paul. "I'm stronger; I have much more energy with my kids."
The health crisis started last summer, when the South Orange woman suddenly couldn't speak or feel the left side of her body.
Paul rushed her to Saint Barnabas Medical Center, where doctors quickly diagnosed a series of strokes—triggered by a mass on her heart. Three days later, Sherrill had open-heart surgery to remove the noncancerous tumor, which covered the back of her heart. When Sherrill's heart stopped on the operating table, doctors massaged the organ to restart it.
But Sherrill's ordeal wasn't over. When she tried walking, her heart rate skyrocketed. Doctors diagnosed atrial fibrillation, a problem with the heart's electrical system. Fortunately, medication addressed the problem.
Sherrill recalls that each time her life was on the line, the Saint Barnabas team came through for her. "I'm absolutely so grateful to them," declares the mom of Asher, 3, and Owen, 1. "They did everything to keep me here."
To assist in her recovery, Saint Barnabas also provided cardiac rehabilitation—initially at home, and then at the hospital. Sherrill's rehab includes heart-strengthening workouts and lessons in heart-healthy eating.
"I'm in good shape now," says the financial management consultant. "When I first got out of the hospital, I needed so much help. I couldn't lift the kids; I couldn't walk. Things have made a complete 180!"
To find out more about services available at the heart center at Saint Barnabas Medical Center, please call 1.888.724.7123 or visit barnabashealth.org/sbmc.