3 Great Dishes, Bergen-Born
You've been good, so here's your reward: original recipes from a trio of our county's stellar chefs.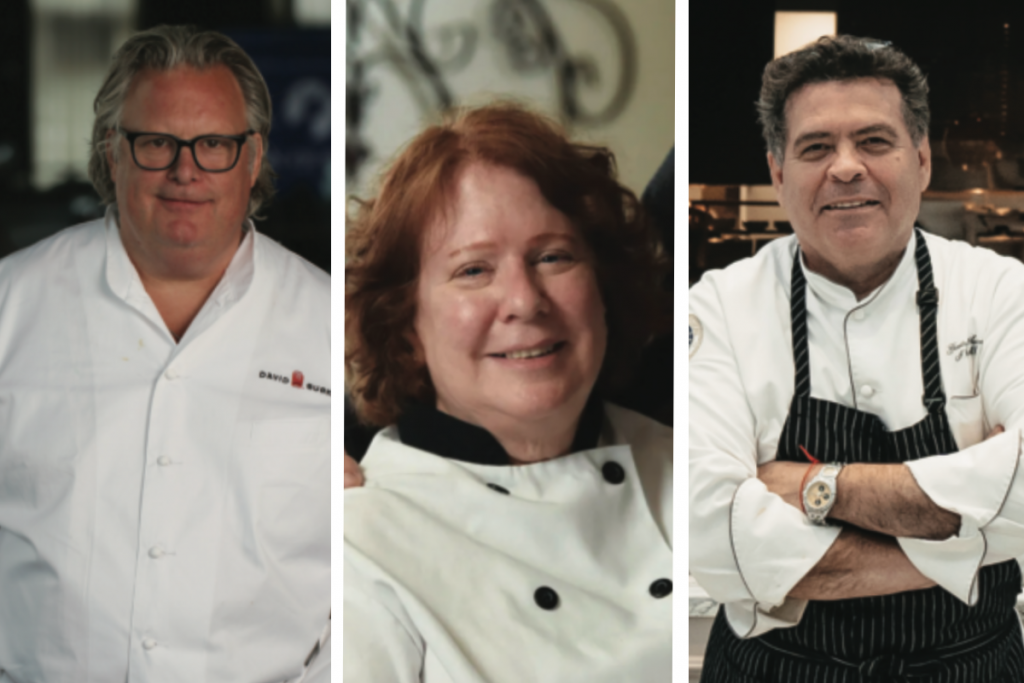 From its farmers' markets spilling with produce to fine dining establishments that lure patrons from well beyond its borders, Bergen County is a repository of all things food. But did you know it's also a locus of culinary creativity? Here, you'll meet three of the county's best chefs and be clued in on an original recipe from each.
David Burke may well be the busiest chef/restaurateur in the country, if not in the world. The New Jersey native, acknowledged as a pioneer in modern American cooking, has six restaurants in New Jersey alone—including Ventanas in Fort Lee, famous for its brilliant fusion of Cuban and Asian cooking—and 17 worldwide.
Linda Dickstein has been chef at Haworth's Andiamo for nearly three decades, garnering a passionate following for her inspired pan-Italian recipes. Her husband Don opened Andiamo in 1990, and after firing his first two chefs in as many years, he asked his wife if she'd step in. She did, and Bergen is the better for it.
Gaetano Ascione, executive chef at Carpaccio at American Dream, brings the world with him to Bergen County. A native of Naples, Italy, he's worked as an executive chef at Washington's Georgetown Club, the Allied Officers Club NATO in Naples and Quattro Restaurant at Houston's Four Seasons Hotel, as well as at top restaurants in South Korea, Singapore and South Africa. At Carpaccio, he showcases his specialty: traditional recipes presented with a contemporary flourish.
Maple-Glazed Candied Bacon
Serves 4
Created by David Burke
At Ventanas, this dish goes by the name of Bacon on a Clothesline, because that's the way it's served. But it tastes equally spectacular spread out on a platter. Chef Burke was inspired to create the recipe after working at a Las Vegas restaurant with fruit leather, which he served suspended from a towel rack. It's a favorite dish at Ventanas, and in the words of its creator, "a favorite dish must start with something everybody loves—and everybody loves bacon."
Ingredients:
1 ¼ cups pure maple syrup
2 Tbs. fresh lemon juice
2 Tbs. fresh orange juice
1 Tbs. orange zest
3 Tbs. coarsely ground black pepper
1 Tbs. mustard powder
3 Tbs. Dijon mustard
12 slices bacon, cut ¾-inch thick
Directions:
Preheat oven to 350°F.
Combine all ingredients except bacon in a medium saucepan and cook for 30 minutes over medium heat. In the oven, cook bacon on a wire rack over a rimmed baking sheet for 15 minutes.
Using a pastry brush, paint the reduced glaze on the bacon strips, one side at a time.
Place the bacon back in the oven, flipping over and glazing the opposite side every 10 minutes until golden brown. Serve immediately.
Busiate Allo Scoglio
Serves 4
Created by Gaetano Ascione
Chef Ascione calls this his "modern take on a classic seafood dish." "It has an intact sense of color, texture and taste," he says, "but without the use of additives or preservatives—just a lot of passion."
Ingredients:
extra-virgin olive oil
1 clove garlic, minced
1 bunch basil, torn
1 bunch Italian parsley, chopped
1 lb. pasta of any kind
3 oz. shrimp
3 oz. mussels
3 oz. Manila clams
1 tomato, diced
3 oz. calamari
salt and freshly ground pepper
Za'atar (a blend of herbs that includes sumac)
Directions:
In a large pan, add a drizzle of oil and sauté the garlic, basil and parsley; let simmer until golden.
Meanwhile, in a large pot filled with boiling water, add a sprinkle of salt and cook the pasta for nine minutes on high heat; drain, reserving two pints of the pasta water.
To the herb mixture, add shrimp, mussels and clams, and pour in a half pint of the pasta water; let it simmer until the shellfish open and the shrimp is pink. Add the tomato and calamari, turn off the heat, cover and cook in the steam until the calamari is just tender.
Add more pasta water if needed; season to taste with salt and pepper and Za'atar.
Serve the seafood over the pasta.
Split Pea Soup
Serves 4
Created By Linda Dickstein
To celebrate her favorite season, Chef Dickstein created this rich and flavorful take on a seasonal favorite. "This is a wonderfully hearty soup for a cool fall day," she says. "Pair it with a salad, and you have a perfect lunch or dinner."
Ingredients:
4 Tbs. vegetable oil
6 slices chopped applewood smoked bacon
1½ cups diced white onions
1½ cups diced celery
1 Tbs. crushed garlic
2 gallons chicken stock—more if the soup is getting too thick
1 lb. Idaho potatoes, diced
1 lb. smoked ham hocks
3 lbs. dried green split peas
2 bay leaves
salt and freshly ground pepper, to taste
Directions:
In a Dutch oven, sauté bacon in oil until crisp.
Add onions, celery and garlic, and sauté until soft on low-medium heat. Do not allow to brown.
Add potatoes, ham hocks, bay leaves and salt and pepper, and allow to heat for a few minutes.
Add 2 gallons chicken stock and dried split peas.
Simmer, uncovered, for 1 to 11⁄2 hours. Remove ham hocks and bay leaves. Pureé in a blender or robot coupe until smooth.
By Leslie Garisto Pfaff