3 Hikes You'll Like
Even wilderness novices can enjoy the great outdoors if they choose the right trek. Try this trio!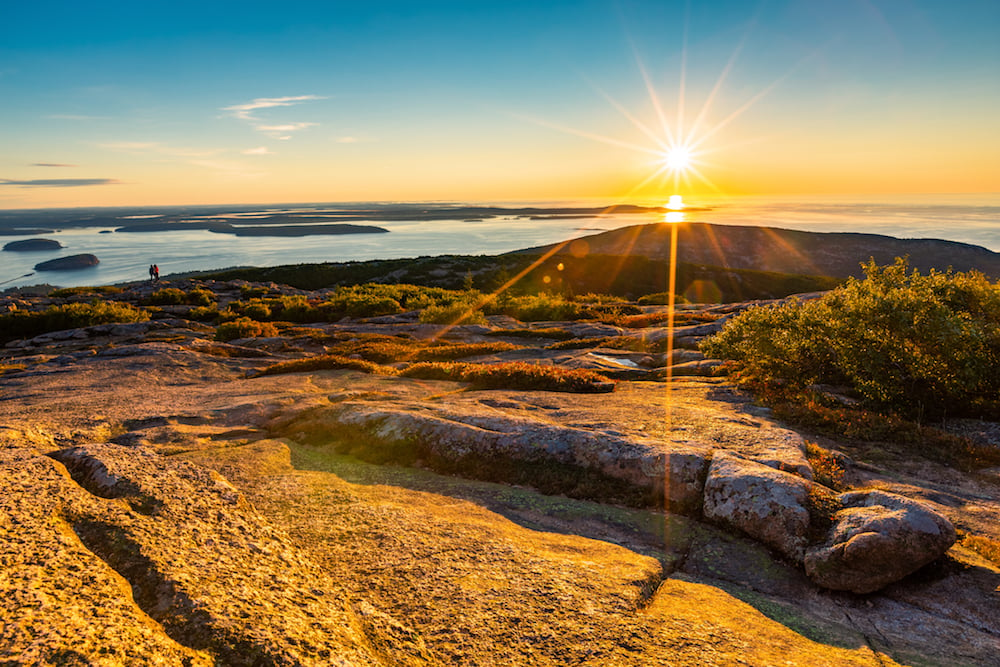 The joys of the outdoors aren't just for hardcore survivalists and rugged veteran campers. Even city slickers can appreciate nature's majestic scenery and serenity by meandering down a hiking trail. So if your travel plans this summer take you anywhere near Maine, Michigan or Georgia, think about packing some hiking boots and adding to your itinerary one of these three very special trails with inspiring vistas or if you are staying close to home, consider a day trek at one of the local parks mentioned on page tk. You'll be taking the advice of Ralph Waldo Emerson, who counseled: "Never lose an opportunity to see something beautiful."
CADILLAC MOUNTAIN SUMMIT LOOP
Bar Harbor, Maine
Difficulty: Easy to Moderate
Looking to immerse yourself in quintessential New England wilderness—but stay close enough to town to be back for Happy Hour? A visit to Maine's Cadillac Mountain in Acadia National Park is sure to please. The mountain's summit is the highest peak within 25 miles of the North Atlantic seaboard and has one of the earliest sunrises in the U.S., making this a popular pre-dawn adventure. On clear days, you can see Mount Katahdin to the north and Nova Scotia to the east as well as views of Acadia's forests, glacial lakes and harbors and the Porcupine Islands. There are dozens of hiking trails to choose from to reach the summit, encompassing a variety of difficulty levels—the easiest being the paved Cadillac Mountain Summit Loop. This route is both kid- and dog-friendly and there is a gift shop that also sells refreshments, with restrooms and water fountains at the summit. For those looking for more of a challenge, the 7.5-mile South Ridge Trail winds through blooming fields of wildflowers, forested patches and exposed granite walls with a perfect spot for a respite at picturesque Featherbed pond.

MACKINAC ISLAND OUTER LOOP
Mackinac Island, Michigan
Difficulty: Easy to Moderate
Located in Lake Huron at the eastern end of the Straits of Mackinac lies an island known for dramatic limestone bluffs, coastal charm and a quaint village that time seems to have forgotten. Because cars and trucks are strictly prohibited anywhere in Mackinac, technically the entire island can be considered a hike. With 82 miles of dedicated parkland and 70 miles of trails, there are many routes to choose from; however, some are more popular with cyclists and horseback riders. The Outer Loop is one of the best ways to soak in all the natural splendor of this Midwestern oasis while on foot. This family-friendly trek is long—8 miles—but the terrain is undemanding and it will take you around the perimeter of the island with views of beaches, crystal-blue lake waters, picturesque harbors and Arch Rock, the iconic 50-foot wide natural limestone arch that rises 145 feet above Lake Huron. More serious hikers will want to check out Tranquil Bluff Trail, Mackinac's longest and most challenging trail. It is a bit rugged and steep and gets close to the cliff's edge, but the reward is an amazing view of the lake far below. Along the way you can break off the trail into the surrounding forest and find points of interest including Eagle Point Cave.

PROVIDENCE CANYON TRAILS
Lumpkin, Georgia
Difficulty: Moderate to Difficult
Who knew there was a "Little Grand Canyon" in the Southeast? Located about 150 miles southwest of Atlanta, Providence Canyon is a 1,103-acre outdoor recreation area that encompasses 16 canyons. On the hike you'll see waves of sculpted sandstone canyons and cliffs in a spectrum of rock colors—red, white, purple, pink and orange—as well as vibrant green patches of evergreen forest. If you're lucky, you'll come across the orange-to-red plumleaf azalea, said to be the rarest azalea in the Eastern United States. It grows exclusively in this region and blooms in July and August, long after most azaleas have lost their luster. There are several trails to choose from, based on your experience level—from the 2.5-mile canyon loop trail that gives a nice, leisurely taste of the formations to a 7-mile loop that offers more options for hiking and camping as well as access to the canyon floor.