3 New Cafés To Try In Bergen County
Get this bread—and a cup of brew too—at these brand-new cafés in our county.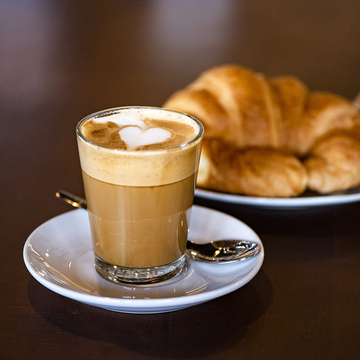 You may have been ordering the same cup of joe every day of the pandemic at your local coffee jaunt, but it's spring of '22, folks. It's time to change things up in every which way.
Luckily, a trio of new coffee-shop-slash-bakeries has opened in our towns, offering tried-and-true caffeinated favorites and baked goods, as well as some special treats for when you step out of your food and drink routine. Let us introduce you to your new favorite spot:
Cozie Café, Fair Lawn. Nestled within The Beauty Loft salon in the Radburn area is this brand-new shop that opened in mid-March, one of only two locally owned coffee houses in Fair Lawn. They get their breads and baked goods from Balthazar Bakery, but all of their drinks are made in-house, such as their signature S'mores latte (hot or iced), unsweetened and freshly steeped iced teas and FroZies, a Frappuccino-like beverage that will be available for the season starting April 15.
*14-25 Plaza Rd., Fair Lawn, 201.254.9029
View this post on Instagram
Gregory's Café, Paramus. This New York City-born café has crossed the bridge to our neck of the woods, where customers can indulge in a delicious cup of coffee from beans that are brewed four days a week in their Long Island City facility. Gregory's takes their coffee seriously (and they get the stuff imported from all over the world), but they have food on the menu too, including fresh muffins, breakfast sandwiches and grab-n-go options such as a parfait or overnight oats. P.S.: They're stocked with gluten-free and vegan options too—and yup, there's a drive-through!
*393 Rte. 17, Paramus, 201.857.7050
View this post on Instagram
Liv Breads, Englewood. Long liv breads (and other doughy favorites) at this artisan bakery, which already has a retail location in Millburn and a kiosk at The Mall at Short Hills. The first Bergen County spot has a similar menu containing sourdough breads, pastries, salads, sandwiches, soups and of course, hot and iced coffees and teas. Liv Breads is currently taking holiday orders for Passover and Easter, which you can make online.
*23 Nathaniel Pl., Englewood, 201.731.3334