5 Bergen Spots To Cater Your Seder
Prepping, cleaning and cooking for Passover is next-level exhausting. Make it easier on yourself by getting your seder food to-go from one of these local eateries.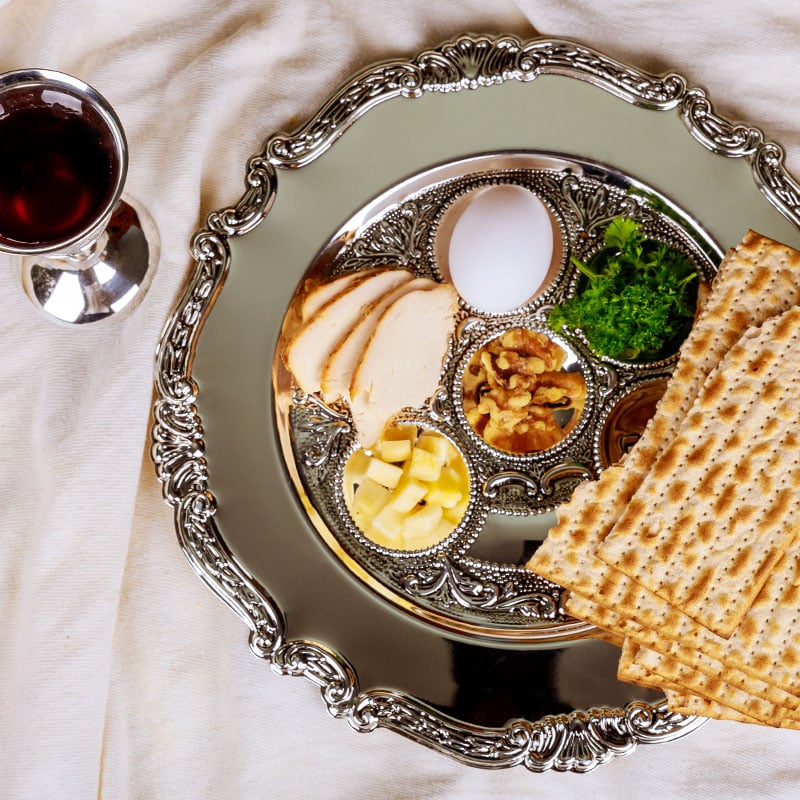 There's an old joke that many Jews want to "pass over" Passover each year—it's a holiday that entails eight days of refraining from bread products, legumes and the like (check out the full list of foods you can't eat on Passover). For those who observe the holiday to its fullest, that also means flipping over your kitchen to exclusively kosher for Passover (KFP) food items and cookware. Trust us—it's a lot of work for just one week!
So, if you'd rather take some of the pressure off and cater your seders this year, which fall on April 15 and 16, explore these options in Bergen County at which you can place your orders online for either a small group or a crowd. All you have to do is heat and serve!
Note: Not all of these places are certified Glatt kosher for Passover and are instead "kosher style." If that's important to you, be sure to call and ask their kashrut status before placing your order.
Foster Village, Bergenfield. Choose among this Jewish delicatessen's Passover 2022 dinner packages, which include a meat of your choice and appetizers, sides, salads and matzah for eight to 10 guests, or their a la carte option, where you can pick and choose what you want and exactly how much of each item.
*469 S. Washington Ave., 201.384.7100
Grand & Essex Market, Bergenfield. Starting April 11, the takeout department at this kosher supermarket will be fully Glatt kosher for Pesach; think along the lines of soups, sides, main dishes and more. Be sure to indulge in one of their famous meat platters, and don't forget a signature potato kugel!
*89 New Bridge Rd., 201.244.9955
The Kosher Nosh, Glen Rock. This kosher-style deli has all your Jewish favorites, from gefilte fish to matzah farfel to carrot tzimmes, a delicious, sweet side dish containing sweet potatoes, prunes, carrots and an orange juice glaze. Check out the Kosher Nosh 2022 a la carte menu.
*894 Prospect St., 201.445.1186
Petaks, Fair Lawn. This Fair Lawn spot known most for their catering business has an extensive Glatt kosher Pesach to-go menu with the likes of stuffed cabbage, glazed brisket, homemade cole slaw and potato pudding. They even offer "tiny packages," the perfect amount of food for three to four guests.
*19-05 Fair Lawn Ave., 201.797.5010
Whole Foods, multiple locations. This chain's Passover menu allows customers to order a meat of your choice and various side dishes for four people (asparagus, chicken liver, even charoset for your seder plate), or choose a brisket, salmon or roasted chicken dinner (sides included) to feed your whole family in one fell swoop.
And you can't end a seder without the perfect desserts. Place your order for specialty kosher chocolates at Matisse Chocolatier in Englewood, or indulge in a wide array of KFP cookies, macaroons, cupcakes and pies at Butterflake Bakery in Teaneck.
Where will you be stocking up for Passover this year? Tell us on Instagram @bergenmagnj!