5 Christmas Tree Farms To Visit Now
Continue the tradition (or start a new one) by cutting down your 2021 tree at these nearby locations.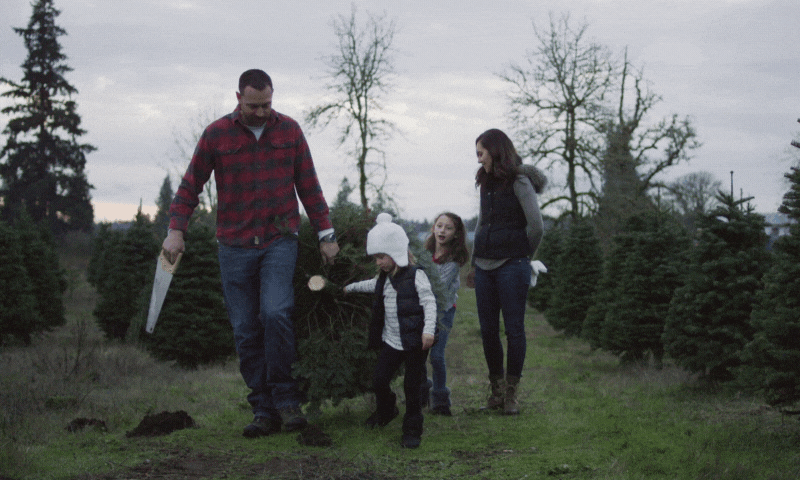 It's hard to stray far from familiar holiday customs like drinking eggnog and listening to Bing Crosby, but new traditions are welcome. Picking out a live Christmas tree, for instance, has become a popular new ritual for many Bergenites in recent years.
No, the process doesn't involve going to the hardware store or neighborhood parking lot sale for a pre-cut evergreen. Instead, families are bundling up and headed to local farms, where warm beverages, tractor rides and acres of choose-and-cut Christmas trees await. If you've never tried it, think of it as winter's version of pick-your-own apples or pumpkins. You'll roam rows and rows of live, firmly planted Douglas firs, Fraser firs, blue spruces and more until you find the perfect one—then (in most cases) you'll perform a Paul Bunyan on it and take it home. Many farms provide saws for cutting and twine to tie trees to cars, though each location has individual rules and restrictions.
Though there are no Christmas tree farms in our county, you can enjoy a little Michael Bublé during a quick road trip to one of the nearby farms below. Those interested are encouraged to call ahead for availability—many other farms have already sold out for 2021!
Holiday Tree Farm, Augusta. This farm in Sussex County has acres of firs and spruces from which to choose and cut, or simply ask the staff to do the dirty work for you. Hot chocolate and cider are also available for those who want to warm up.
*44 Augusta Hill Rd., Augusta, 973.948.7488
Evergreen Valley Christmas Tree, Washington. Those up for a drive to Warren County will find plenty of trees at this farm. Choose the perfect tree, and cutters will take care of the rest!
*77 Jackson Valley Rd., Washington, 908.835.0557
Fairview Christmas Tree Farm, Long Valley. With 15 acres of fresh Fraser and Canaan firs from which to choose, this Morris County spot has the perfect tree for your living room. Saws are provided.
*91 E. Mill Rd., Long Valley, 908.867.8108
Kingfisher Farm, Hardwick. It's the final weekend of choose-and-cut at this Warren County farm, where assorted firs and spruces await.
*55A Primrose Rd. Hardwick, 973.945.4725
Pluts Christmas Tree Farm, Long Valley. You'll select your favorite from the collection of planted evergreens, but staff will assist cutting it for you. Wreaths, mailbox décor and other items are also available.
*220 Flocktown Rd., Long Valley, 908.852.6669
And when the calendar turns the page, don't just toss your tree to the curb. The mulch yard isn't the only destination for old Christmas trees: There are ways to recycle your Christmas tree and put it to good use—just remember to remove all the decorations first!