5 Empanada Shops We Love
Ditch the chips and skip the fries because these bite-sized turnovers are the perfect snack for outdoor eating.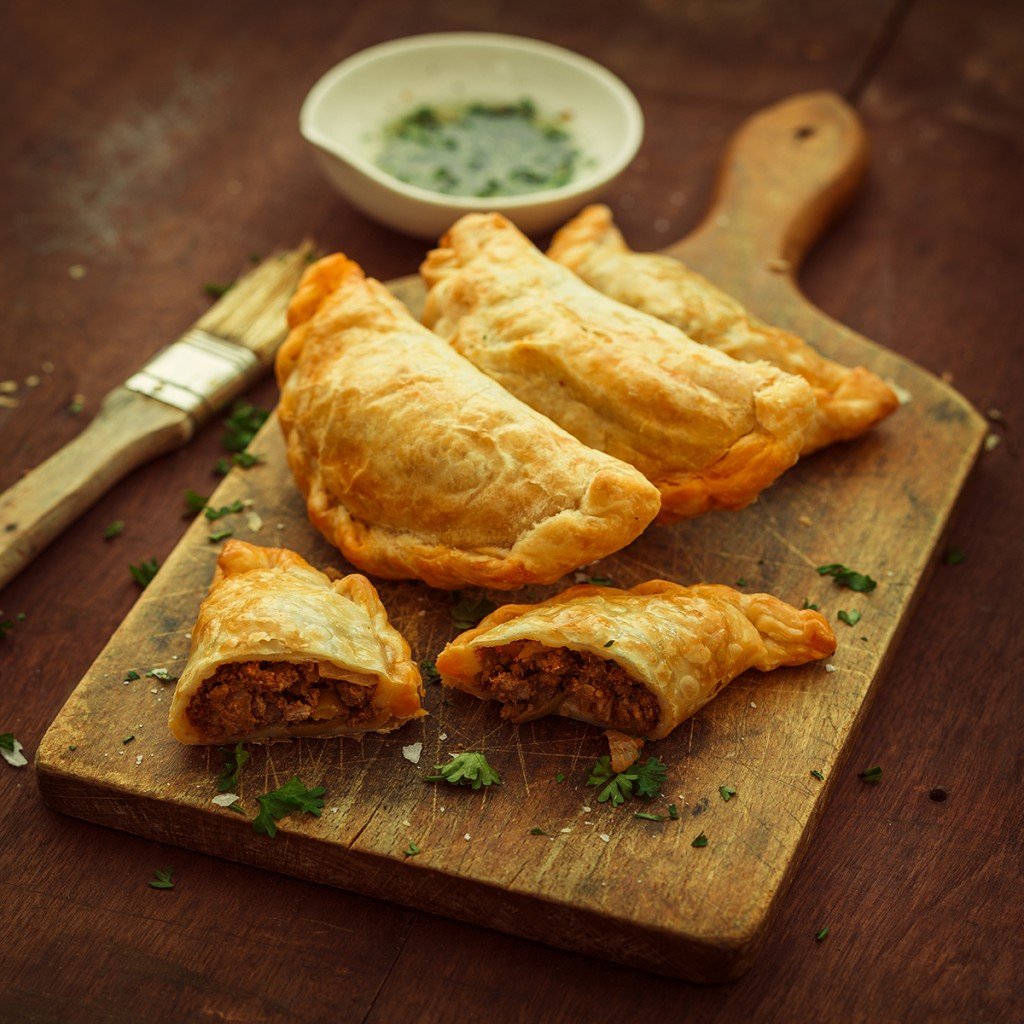 Birria tacos are the new darlings of foodie feeds on Instagram, and thanks to the quarantine, many users have also been posting pics of their home-baked breads and pizzas. But social media hasn't forgotten about the empanada, the classic Latin American mini turnover that had every mouth watering not too long ago—and still does. In fact, the empanada game in Bergen County has just gotten better.
If you're new to the scene, you've arrived at the right time. Empanadas, similar to dumplings found in Chinese cooking, have come a long way since the days when they were just the fried doughy pouches filled with any of the three basics: beef, pork and chicken. Nowadays, you'll find more flavors, veggie fillings and dessert options. And the good news is they're still affordable, sharable and very Instagrammable. (Pro tip: Cut the empanada in half and show off the delicious stuffing—then tag us @bergenmagnj.)
With National Empanada Day coming up on April 8, grab a handful from one of our five favorite shops below. They're the perfect snack, whether you're picnicking in the park or entertaining friends in the backyard.
Arepa & Dulce de Leche Bakery, New Milford. This hidden gem, which specializes in Argentinian, Colombian and Uruguayan treats, has gained a large following since opening last summer—and the empanadas are a big reason why. The Argentinian varieties are a must-try.
160 Henley Ave., 201.483.9090
The Empanada Mamis, Garfield. They've taken empanadas to another level with fillings like sweet potato queso, corizo spice, chicken parm and more. If you want to spice things up even more, dipping sauces like passion fruit chili and Caribbean jerk are available.
221 Palisade Ave., 973.928.4427
Empanada Mania, Bergenfield. One of Bergen's original shops dedicated to empanadas, the folks here have assorted options (spinach feta or Thai chili chicken, anyone?), but you should also be on the lookout for specials. Also watch for their food truck (nominated again in our Best in Bergen Readers' Choice Poll), which makes the rounds in the area during festival season.
62 S. Washington Ave., 201.374.2150
The Empanada Shop, Wood-Ridge. They have all the classics as well as vegetarian options, but if you're a fan of their fillings, skip the dough and try one of their bowls. You can order any stuffing—beef, pork, chicken, Buffalo chicken, spinach and more—with rice and beans for a "filling" meal.
251B Valley Blvd., 201.559.2165
Mambo Empanada, Rutherford. This Latin bistro has plenty of entrées, but it's easy to simply order a few empanadas and call it a day. Theirs are jumbo-sized and available with fillings like Cuban-style ground beef, mac 'n cheese and Nutella and banana. Like Empanada Mania, they also use Instagram to announce new flavors and specials.
313 Union Ave., 201.933.3888