5 Essentials For Backyard Camping
Here is the gear you need—all available in Bergen County—to turn your yard into the perfect campground.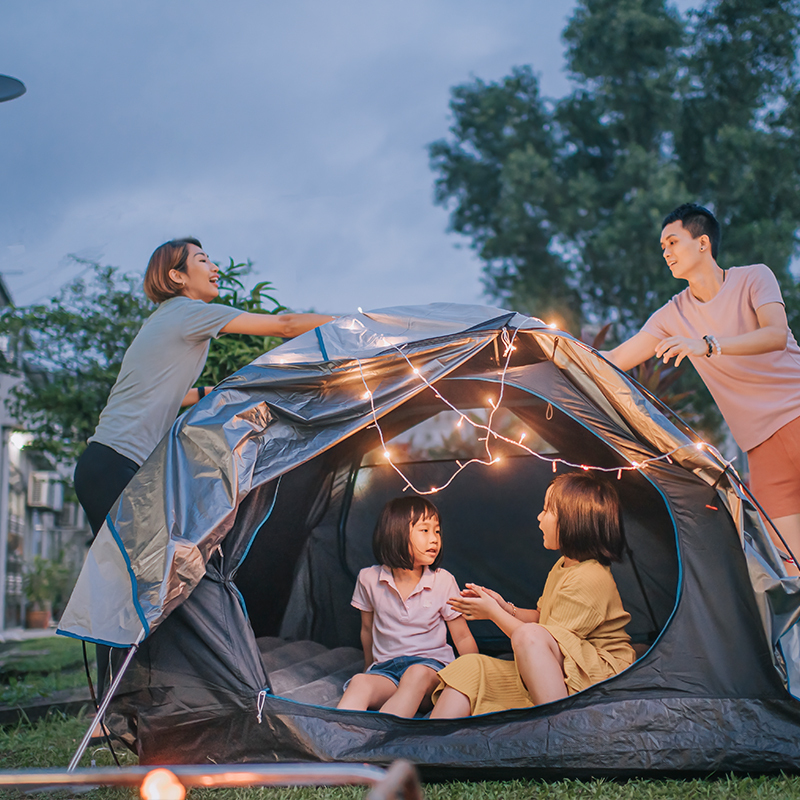 Sometimes enjoying the great outdoors and camping out is easier said than done. New Jersey's popular campgrounds get booked up early, so scoring a reservation at your favorite spot isn't a guarantee. If you still have the urge to pitch a tent and enjoy a campfire, here's a simple solution: Use your yard!
OK, your backyard isn't exactly roughing it, but all you and your family need to replicate a camping experience are a few essentials. Below are some of our recommendations, each available locally. They'll come in handy on Global Sleep Under The Stars Night, Aug. 8, or any time you decide to camp out.
Fire it up. Watch the stars twinkle in the sky or see them glow on the side of the Sunnydaze Décor steel firepit. The large round shape and mesh screen allow families to gather around when it's time to tell campfire stories or roast marshmallows.
*Available at The Home Depot, multiple locations.
Everybody in. You'll feel like you're in a living room when you settle into the Space Camp Tent by Eureka!. With enough room for six people and all their gear (10 interior pockets!), this three-season tent provides comfort for the entire family.
*Available at Ramsey Outdoor, 835 Rte. 17 S., Ramsey, 201.327.8141
Sleep tight. It's still summer, but some nights do get chilly. Marmot's Nanowave sleeping bag is lightweight with multiple zippers so you won't overheat, and its synthetic insulation will keep you comfortable even when temperatures hit around 45 degrees Fahrenheit.
*Available at Campmor, 810 Rte. 17 N., Paramus, 201.445.5000
Give 'em s'more. Tired of charred marshmallows and broken graham crackers? The Rome s'more maker will guarantee the perfect campfire treat every time. The open wire cage fits three s'more sandwiches so no one will be left out! It's a must-have for National S'Mores Day on Aug. 10.
*Available at Campmor, Paramus.
Don't bug out. Now that you have a perfect backyard campsite, don't let nasty mosquitoes ruin the night. Thermacell's rechargeable mosquito repeller creates a 20-foot, scent-free barrier that wards off those blood-sucking insects. The battery provides almost six hours of protection on one charge.
*Available at REI, 2200 Bergen Town Center, Paramus, 201.226.1560
What's your must-have piece of camping gear? Tell us on Instagram @bergenmagnj.