5 Haunts To Visit
These bewitching destinations are so frightfully perfect for the season it's downright spooky!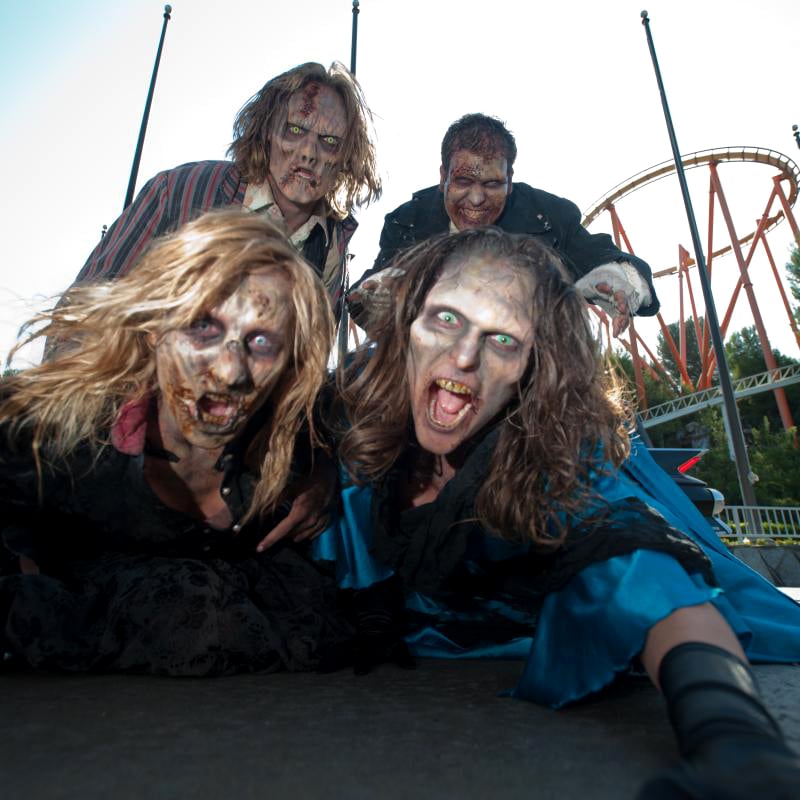 By: Gianna Barone
Here at BERGEN we love a good getaway. And while a relaxing spa weekend or some R&R by the sea may be fine for the rest of the year, October calls for something a little scarier. So we've found some frightening destinations that have it all—ghosts, witches, zombies and even some ominous ravens floating around. For an unforgettable Halloween-time junket, set your GPS—or grab an old-fashioned map.
SALEM, MA.
Have a wicked good time this Halloween when you drive up to Salem, fabled as home and burial ground to 17th-century witches. Bask in all of the black magic of this town, which has lovingly been dubbed "Witch City" over time due to its mystical roots. Venture out in the evening for a "Bewitched After Dark" historical walking tour, which guides you through a dozen of Salem's historically haunted locations. Daytime scares can be found on a tour of The Witch House, the former home to a judge who presided over the 1692 witchcraft trials and the last remaining structure in Salem that is directly linked to the hysteria. Plan a night here on Oct. 19 to hear "Tales from The Witch House"—tour guides share their scariest Salem stories in the home's dark chamber. Sit down for a spell and enjoy some New England clam chowder and a brew of your own at Turner's Seafood, reportedly home to the ghost of one of Salem's first accused witches. Check outbewitchedafterdark.com for tour ticket info.
CAPE MAY, N.J.
That's right—one of your favorite beach destinations along the Jersey Shore is also home to some of the most notorious haunted houses in the country. Hop on the "Ghosts of Cape May" trolley tour run by Cape May MAC (that's the Mid- Atlantic Center for the Arts and Humanities) with your guide, psychic medium Craig McManus, and find out why legend says this Victorian-era vacation spot is riddled with spirits. For an even spookier experience, opt for the "Graveyards, Ghosts & Mansions" tour, which pays a visit to nearby Cold Spring Presbyterian Cemetery and the 1800s-era Emlen Physick Estate, where the ghosts of Dr. Emlen Physick and his family are said to haunt the hallways. After a long day, retire to your quarters and grab a bite (and maybe another kind of spirit) at Elaine's, a haunted bed and breakfast. If you book a spot on its annual "Ghost Hunter Weekend," your stay also includes a private reading from an in-house psychic, a walking ghost tour around town, dinnertheater performances and guided exploration of the estate with real paranormal-detecting tools. Visit capemaymac.org for tour tickets.
BALTIMORE, MD.
Nevermore will you look at Baltimore the same after an eerie weekend in the city that is famously linked with the raven-loving 19th-century horror author Edgar Allan Poe. Kick off your gothic getaway in "Poe-tober" with a tour of the Westminster Hall and Burying Grounds, a former church and graveyard where Poe, his wife, his brother, his grandfather and his mother-in-law are interred. While early October travelers to the site can find themselves in the midst of the International Poe Festival, an annual weekend dedicated to Poe lovers, a trip on Halloween night calls for an extra-immersive experience— a tour of the catacombs and an ultra-dramatic reading of Poe's most chilling work, The Tell-Tale Heart. A morning venture to the Enoch Pratt Free Library also provides an inside look at Poe's works; familial letters and even a piece of his coffin reside here. Baltimore is also home to a host of nightly ghost tours that invite visitors to ponder the mysterious death of this critic nicknamed the Tomahawk Man for his savage assessments of others' writing. Top off your trip with a stop at The Horse You Came In On Saloon, where it is believed that Poe had his last drink. Check out baltimore.org for ticket info.
SLEEPY HOLLOW, N.Y.
Don't lose your head amid the spooky fun on a trip to this small Westchester County village. Home to the legendary Headless Horseman from Washington Irving's tale The Legend of Sleepy Hollow, the town is both historic and haunted. Brave visitors can trek out to the Philipsburg Manor on designated nights in October for Horseman's Hollow, an event in which ghosts, undead townspeople and witches plague the grounds of the hollow and escape the clutches of the Headless Horseman, who ruthlessly stalks the hollow in search of his severed cranium. Visitors also can check out the Old Dutch Church to hear Irving's tale recited aloud with as much gusto and terror as one could ask for in a ghost story. When you're not being chased by ghouls, stop by the Bridge View Tavern in town for traditional pub food and a locally sourced craft beer. For ticket info, visit hudsonvalley.org.
JACKSON, N.J.
Walking Dead fans, look no further: Six Flags Great Adventure's annual Fright Fest is back in all its undead glory. A fan-favorite event among amusement park junkies and zombie lovers alike, Fright Fest is a Halloween-themed spin on New Jersey's prized amusement park. Complete with designated "scare zones" and haunted mazes like "Blood Shed" and "CarnEvil," this year's festival is sure to pack maximum thrills. New hot spots for 2019 include the postapocalyptic "Aftermath" maze, where unfortunate parkgoers must run for their lives from disease-infected zombies, as well as a few surprise attractions that will be unveiled on opening night. Dine on American fare or Asian cuisine in the park. For a less scary attraction, check out the "Blood Drums" show, in which percussionists use pyrotechnics for one horrifyingly incredible concert. For tickets and packages, go to sixflags.com.