5 Knitting Stores To Help Perfect Your Craft
Find the yarn and supplies you need to start your next project—after all, sweater weather is only a few weeks away!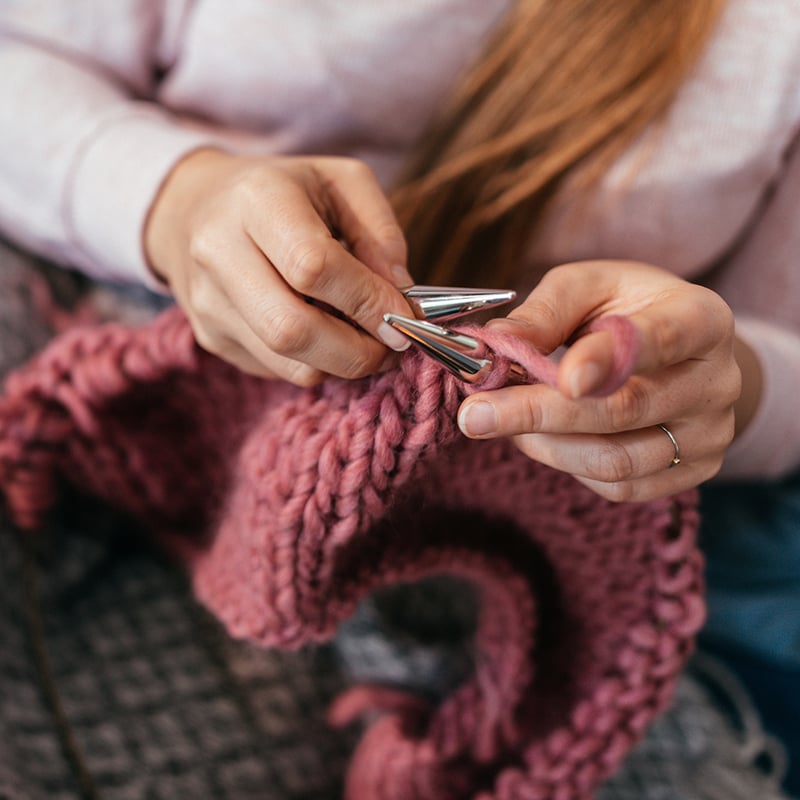 Long before we picked up new hobbies during quarantine, knitting was an at-home pastime for creation and relaxation—and it still is! That's because the therapeutic motions of knitting provide many health benefits. It's known to lower blood pressure and improve hand-eye coordination, and it can also reduce stress and anxiety—something we all need as daily schedules get busier in fall.
On top of the benefits to our well-being, you get rewarded with a handmade beanie, socks or, in the case of Olympic British diver Tom Daley, a cool cardigan to wear during the Summer Games. During the Tokyo Olympics, Daley was seen knitting to calm his nerves between dives.
Knitting also is an ideal activity for families, says Ellen B. Rubin of Luv2Knit, as August is Family Fun Month. "Sitting down and knitting together creates a cozy atmosphere that is perfect for conversations," she says. "It provides an escape from social media and a better alternative to watching TV all day."
If you want to get started, browse the craft aisles at your local big box store or pick up supplies (and perhaps sign up for a class) at one of Bergen County's knitting specialty stores. Here are a few to check out:
Biscotte Yarns Knitting Store, Northvale. This Northern Valley-based shop offers plenty of yarn, patterns, kits and tools for all skill levels, from beginner to long-time knitters. A Canadian company, Biscotte also has easy online tutorials.
*260 Livingston St., Northvale, 551.655.9973
Close Knit Yarns, Midland Park. Visit this neighborhood store for a full range of fibers, accessories and more. Classes and private lessons are also available.
*22 Paterson Ave., Midland Park, 201.891.3319
Knitapestry, Waldwick. This 10-year-old store has a large selection of colorful yarns and accessories for your next project. Not sure what to knit? Sign up for one of their events to make a vest or sweater.
*38B Franklin Tpke., Waldwick, 201.857.8310
Yarn Diva…& More, Hillsdale. Yarn, needles, buttons, jewelry—this shop has everything you need to knit sweaters, shawls, hats and more.
*428 Hillsdale Ave., Hillsdale, 201.664.4100
Yarndezvous, Teaneck. This popular store carries dozens of yarn brands in assorted colors as well as varied styles of accessories and tools.
*495 Cedar Ln., Teaneck, 201.357.4710
What knitting project are you working on? Tag us in your photos on Instagram @bergenmagnj.