5 Spots In Bergen That'll Teach Your Kids To Swim
Hoping to get your little one more comfortable in the pool this summer? It's not too late to sign them up for swim classes in the county.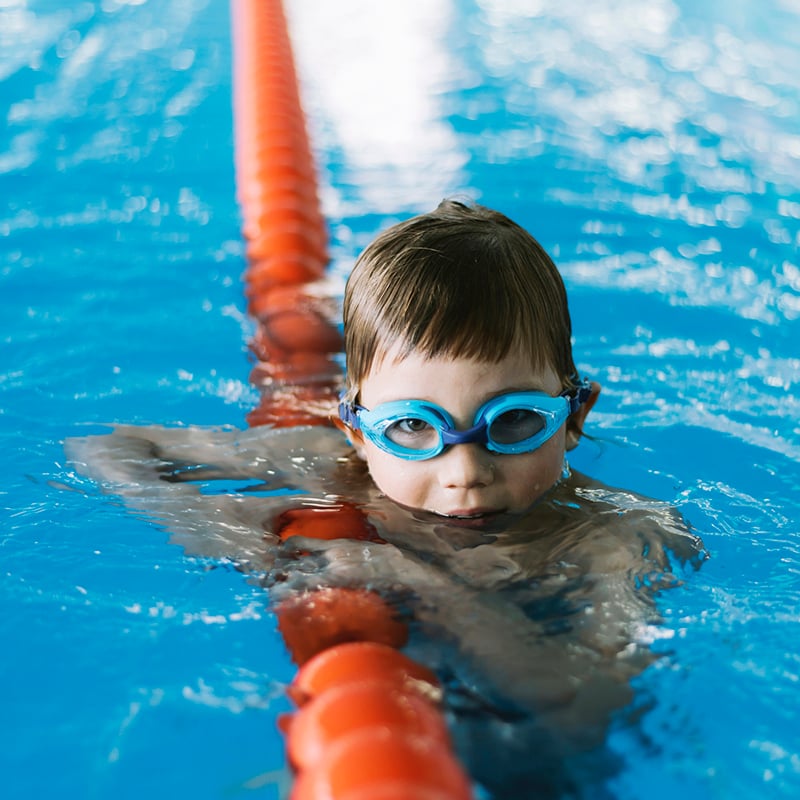 The ability to swim is a life skill kids should learn—not only do swimming lessons give little ones an extra layer of protection in the water, says the American Academy of Pediatrics, it helps them build confidence as well. Many swim schools start teaching babies as young as 6 months old, but it's never too late to teach your son or daughter how to swim and to get them more comfortable in the pool (or ocean).
Luckily, there are so many swim schools in Bergen County that can get the job done. Local clubs and private gyms such as Life Time Fitness in Montvale, Kaplan JCC on the Palisades in Tenafly and various area YMCAs (Garfield, Ridgewood, Rutherford, Wyckoff) offer lessons, but here are some Bergen-based swim schools that don't require membership and that offer swimming lessons exclusively:
Big Blue Swim School, Paramus. Opening this summer on Route 17, Big Blue Swim School starts teaching babies as young as 3 months (and kids up to age 12) how to swim. They offer weekly classes at their brand-new facility, which has a 90-degree pool and a comfortable viewing area where parents can watch from the sidelines. Inquire for pricing.
*305 Rte. 17 S., 201.808.3115
Blue Water Divers, Rochelle Park. This spot hosts lessons for kids 6 months up to 15 years, and students are grouped according to age and skill level. Teachers have prior swim coaching experience, and follow the school's lesson plans to help each kid reach his or her true potential. Inquire for pricing.
*201 Rte. 17 S., 201.843.3340
Goldfish Swim School, Closter. Infants, toddlers, elementary school-aged kids and pre-teens can benefit from the various group lessons at Goldfish, which boasts attentive teachers and flexible class times. Inquire for pricing.
*91 Ruckman Rd., Closter, 201.571.1573
Safe Splash Swim School, Paramus and Lodi. Infants, toddlers, kids, adults and children with special needs will all feel at home here, where teachers use a specific curriculum to get kids swimming with confidence. Inquire for pricing.
*260 Rte. 4 E., Paramus, 201.345.7558; 199 Main St., Lodi, 201.676.7909
Take Me to the Water Swim School, Englewood, Ridgewood, Paramus. This school partners with local pools throughout the county—Crowne Plaza Hotel in Englewood, the Ridgewood YMCA and the Hampton Inn in Paramus—to teach kids basic swimming skills and how to be confident in the water. As with the other schools, classes are available for all ages and abilities, and are semi-private or group lessons. Inquire for pricing.
*Multiple locations, 201.530.7200
 Will you be signing your little ones up for swim lessons this summer? Tell us on Instagram @bergenmagnj.