5 Ways To Protect Your Child's Vision
Whether or not your son or daughter needs (or wears) glasses, here's what to keep in mind during Child Vision Awareness Month.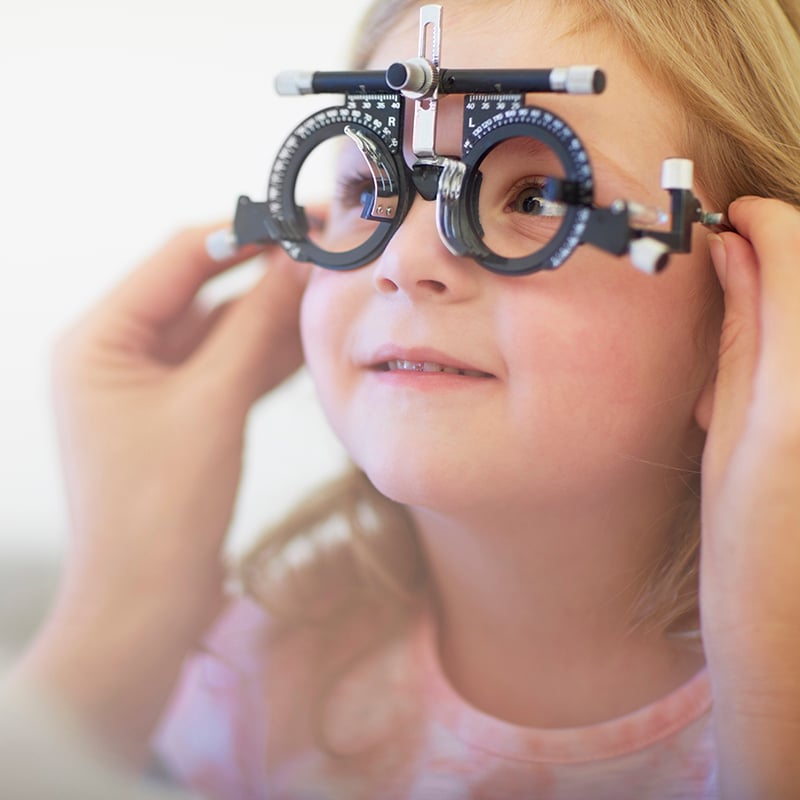 If your kid needed glasses, would you know? Your little one may think it's normal that they can't see what their teacher writes on the board, or that everyone sees trees as blurry green blobs rather than individual leaves. But they don't know different. That's the goal of Child Vision Awareness Month in June, when we make it our mission to make sure no child is suffering from impaired vision. According to the American Optometric Association (AOA), as much as 80 percent of a child's learning occurs through the eyes, so seeing well is key to development.
Whether you're an educator, a parent, a grandparent or even an aunt or uncle, there are things you can do to make sure the kiddo in your life is seeing to the best of their ability. Here are a few tips to keep in mind:
Get your child checked out. Your newborn will undergo a standard eye screening at the hospital or at an early ped appointment. According to the American Optometric Association (AOA), your baby should get its second comprehensive eye exam between 6 and 12 months old by either a pediatrician or an ophthalmologist. This exam won't just test their vision, but can help detect refractive errors such as myopia (nearsightedness), hyperopia (farsightedness) and astigmatism. As with any condition, early detection is key and can help prevent vision issues later in life. From there, experts recommend getting your child's eyes examined once a year from ages 2-5 (each age will screen for different conditions; ask your doc if you want to know specifics).
If your kid hasn't yet had yearly eye exams, though, you'll need to make their first appointment before they start school. In May 2019, New Jersey passed a bill that requires children ages 6 and younger who are entering a public preschool, public school or a Head Start Program for the first time to have a comprehensive eye examination by Jan. 1 of the child's first year of enrollment in the school or program.
Look out for these "symptoms." It may be hard to know for sure if your child is having vision troubles, especially if they don't have the words to describe what they can or can't see. But according to James Tracey Eye Care, with locations in Wyckoff, Woodcliff Lake and Midland Park, get your child checked out if they demonstrate the following: have trouble holding their place while reading, squint a lot, rub their eyes or get teary-eyed often, complain about headaches or fatigue, close one eye while reading or watching TV or sit abnormally close to books and screens to see better. Eye problems may also be to blame if they're doing poorly in school or in extra-curricular activities such as sports.
Buy glasses if needed. If you suspect your kid may need glasses, book them an exam at an eye center that treats children; these shops will also have a vast selection of children's eyewear from which your kid can choose. Try a boutique shop such as Linwood Optical in Westwood, The Eyeglass Place in Ramsey or Levato Eyewear in Ridgewood. Prefer a chain store? Your best bet is LensCrafters in Paramus, Pearle Vision in Paramus or Warby Parker at Garden State Plaza.
Protect your child's eyes. Whether or not your son or daughter ends up needing glasses, you'll want to keep those peepers in top-top shape. Safeguard their eyes by making sure they wear sports goggles while playing baseball, basketball, football, racquet sports, soccer, hockey and lacrosse; wear sunglasses that block 99 to 100 percent of both UVA and UVB rays; and apply a sunscreen of an SPF of 30+ to eyelids when out in the sun.
Limit screentime. To prevent digital eye strain, AOA suggests the 20-20-20 rule for both kids and adults: Encourage your child to break from the screen to focus every 20 minutes on something at least 20 feet away for 20 seconds and blink 20 times. It also suggests limiting the use of devices an hour before bed, because screentime has been shown to disturb kids' sleep patterns and cause Asthenopia, eye fatigue that can happen during a period of prolonged focus on a screen.
Do you think your kiddo may need glasses, now or in the future? Tell us your thoughts on Instagram @bergenmagnj.