5 Ways To…Celebrate National Red Wine Day
Toast to the end of summer with a glass (or bottle) of red vino on Aug. 28, National Red Wine Day.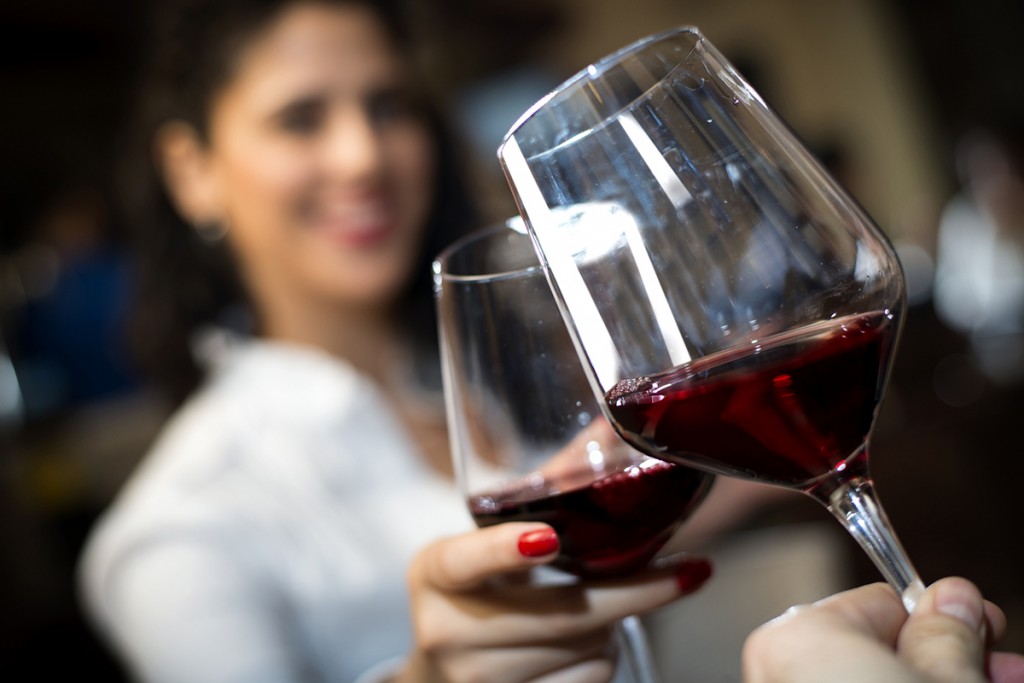 TGIF, and TG…that today, Aug. 28. is National Red Wine Day. It's the end-of-summer national "holiday" that ushers in the festive fall flavors and gives us an excuse to drink the dark varietal in any way we please. And that's not a bad thing, considering red wines are supposedly good for heart health, help lower cholesterol and are rich in antioxidants. So, whether your red glass or bottle of choice is a Malbec or a Merlot, a Cabernet or a Bordeaux, here's how to get your drink on this weekend in and around Bergen County:
Visit a wine bar. Nothing says the end of summer like sipping a glass of vino on the patio. Wine bars are notorious for their overflow of options, and most local ones are offering outdoor dining (well, outdoor drinking) during the pandemic. Choose from an abundant selection of full-bodied, middle-bodied and full-bodied reds at Spuntino Wine Bar in Clifton, or go for a tasting with a "winetender" in the outdoor courtyard of Tomasello Winery Tasting Room at Abma's Farm in Wyckoff. Pure bliss.
Pair it with steak. Red wine and meat go together like peanut butter and jelly, so treat yourself to a delicious filet mignon dinner on National Red Wine Day. Savini Restaurant in Allendale has one of the most extensive wine lists in the county, and their staff can tell you which varietals to pair with which meat entrées. Meanwhile, River Palm Terrace Steakhouse, with locations in Edgewater and Fair Lawn, has won some coveted Wine Spectator Restaurant Awards, so you're in for a treat there too.
Pick up your vino curbside. If you're still not ready to be out in public, the good news is tons of local liquor stores are making it easy for you to get the goods without leaving your car. Place an order online or over the phone and then pick up your selections in the parking lot of liquor shops such as Mahwah Wine and Liquors, Quick Stop Wine & Liquor in Ridgewood and Radburn Liquors in Fair Lawn. Wine drinking made easy!
Purchase the proper accessories. If you want to drink like the pros, it starts with having the right equipment at home. Invest in a decanter (any of these decanters from Bed Bath & Beyond will do the trick). Also be sure to buy a set of wide-rimmed wine glasses from Crate & Barrel, which will make the wine taste smoother. And lastly, get yourself an electric wine bottle opener (this Oster wine opener from Target is highly rated) that'll remove the cork—and thus get the party started—in a matter of seconds.
Make a red sangria. You can drink the red wine as is, or you can whip up a batch of summery red sangria for your family or for a crowd. All you'll need to follow this simple but yummy red sangria recipe is two bottles of red Spanish wine (like Toro or Grenacha), plus some fruit, brandy and triple sec. Bonus points if you pair it with a charcuterie plate: you can personalize your meat and cheese platter with PlateD by D, a new charcuterie board business based in Lodi.