52 Tips for a Better You
Boost your health and well-being in the new year by trying small but significant changes—one for every week of 2019.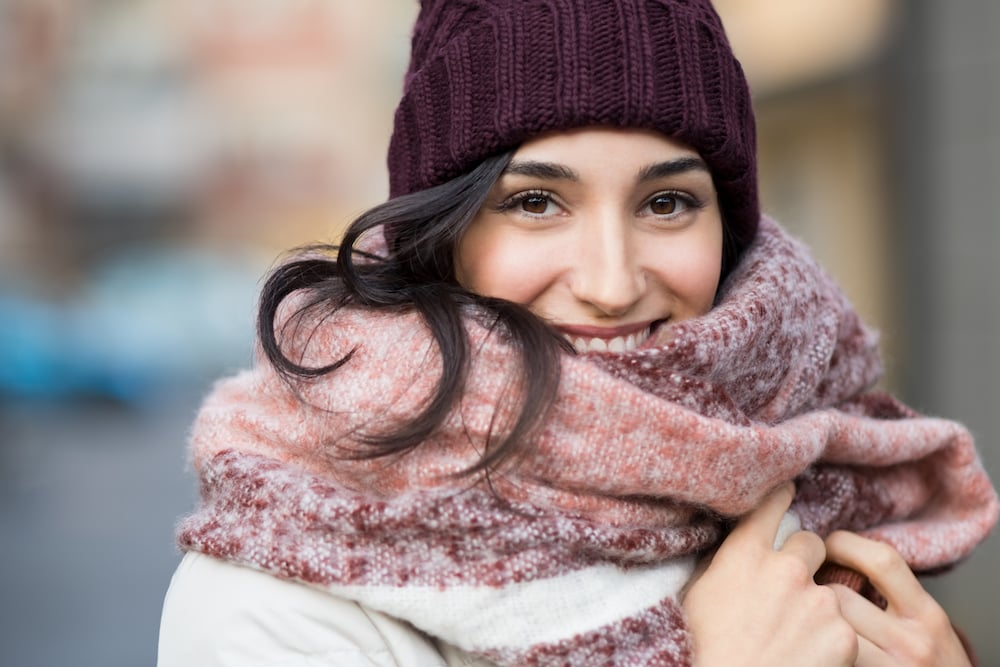 In January the year ahead is all possibility, and every week an opportunity to find a new way to maximize health, well-being and good times. Here we've made that a little easier, with 52 simple suggestions designed to help you feel good, do good and be your very best self.
1. Warm up before you workout. While some studies have questioned the benefit of stretching before exercise, warming up is a proven way to improve your workout and avoid injury. Michael Blauner, an in-home personal trainer in Bergen County, is a fan of the dynamic warmup, which he describes as "movements that are easier, lighter versions of the movements you're about to vigorously engage in." They work, he says, because "they get the appropriate muscles activated and engaged."
2. Don't sweat the sunscreen. Recent reports that zinc oxide nanoparticles—a common ingredient in some of the most potent sunscreens—might be toxic appear to have been debunked by an Australian study published in November. So guard your skin by slathering on that SPF without fear—and repeat often, per product directions.
3. Get a blood-pressure check. Lowering high blood pressure can help you avoid cardiovascular diseases like stroke and heart attack—especially if you follow the American Heart Association's new guidelines, which define healthy blood pressure as 130/80 and below, revised downward from the old standard of 140/90. If you have mild hypertension, cutting back on salt, becoming more active and/or losing weight may bring your BP in line with the new recommendations.
4. Go low on gluten. Cutting out all gluten—an umbrella term for the proteins found in wheat—is essential for those with celiac disease. Now researchers at the University of Copenhagen have found that the rest of us may benefit from cutting back—rather than cutting out—gluten, a move that can improve gut bacteria, banish bloating and even help us lose a few pounds.
5. Tweak your fats and carbs. For a healthy diet, which should you cut: fat or carbs? Actually, you'll do just fine if you continue to eat both, according to researchers at Harvard and Boston Children's Hospital. The trick, they discovered, is replacing saturated and trans fats with unsaturated fats and ditching refined carbohydrates for whole grains and unstarchy vegetables.
6. Take un-selfies. A recent study indicated that excessive selfie-posting could alienate online friends. Instead of focusing on yourself, point your camera outward at the world around you. You'll find that documenting its wonders is also a way to appreciate them.
7. Break up with Dr. Google. Is there anything scarier than looking up your symptom online and being confronted with the worstcase scenario? A New York University study of online videos on prostate cancer, for instance, found that 77 percent contained misinformation and 19 percent recommended untested treatments. So if you have a serious question about your health, ask a real live doc.
8. Sleep heavy. For a better night's sleep, try a weighted blanket. Designed to mimic the feeling of being swaddled, the blankets appear to ease anxiety, according to several recent studies. That could lead to longer, deeper sleep.
9. Work out like a warrior. A ninja warrior, that is. The highly successful reality show American Ninja Warrior is bringing its brand of over-the-top obstacle courses to gyms across the country. Northvale's High Exposure climbing center, for example, offers a constantly changing series of Ninja-inspired obstacles—from warped walls to devil steps—for kids and adults at every level of fitness.
10. Donate love. Giving in any form is good for us, but giving love is especially gratifying. Consider interacting with premature babies in a maternity ward, delivering food (and good cheer) to shut-ins, and caring for shelter animals. To find out how your kind heart can do the most good, contact the Bergen Volunteer Center (bergenvolunteers.org).
11. Clean your showerhead. It's the spot in your bathroom you're most likely to overlook on cleaning day, but a recent study found that it can harbor microbes that have been implicated in lung infections. Wash it every other week with a household cleaner containing ammonia.
12. Invest in organic fruits and veggies. Proponents of an organic diet have long proposed that it can reduce the cancer risk posed by pesticides, and a new study from the Sorbonne in Paris supports that idea. Researchers found that eating more organics significantly lowered the risk of breast cancer and lymphomas. If you can't go all-organic, aim to replace the foods highest in pesticides, like apples, grapes, strawberries and spinach.
13. Clean your sinuses with eucalyptus oil. According to the website Medical News Today, products containing menthol don't actually treat congestion. Eucalyptus oil, on the other hand, is a true decongestant. Pour a little on a tissue and keep it near your head at night, or mix it with hot water and inhale the vapor.
14. Let the sunshine in. Sunlight naturally lifts the spirit, and it can make your house healthier too. University of Oregon researchers found that bacteria were more likely to reproduce in dark rooms than in those flooded with UV light.
15. Breathe through your nose. It could help boost your memory, according to a new Swedish study. If you're chronically congested, see an allergist or ear, nose and throat specialist. And for nighttime congestion, try using nasal strips like Breathe Right, which help increase air flow through the nose.
16. Brush with bamboo. Americans consign 25,000 tons worth of nonrecylable plastic toothbrushes to landfills annually. Bamboo brushes, on the other hand, are biodegradable and, unlike plastic brushes, antimicrobial as well, adding another layer of protection against the germs that can cause bad breath and gum disease.
17. Knead your feet. A foot massage is bliss not just for your aching feet but for your whole overburdened body. Most professional foot rubs come with a relatively low price tag— $35 an hour, for example, like at Thai Foot Massage in Waldwick (thaifootspanj.com).
18. Roll on brighter skin. If you don't have time for a daily facial, a jade facial roller might be the next best thing. Researchers at Tokyo Healthcare University recently revealed that massaging your face daily for 10 or more minutes with a facial roller improves the dilation of blood vessels long term, which can lead to brighter, healthier-looking skin.
19. Stash a tube of zinc oxide in the kitchen. For those inevitable cooking nicks and burns, nothing beats zinc oxide for its healing properties. A number of clinical trials have shown that the white stuff famous for shielding noses can also protect the rest of your skin against infection and speed healing in the process.
20. Take yourself out for a meal. If you're hungry for something more elegant than Chinese takeout but can't find a dinner companion, there's no longer a reason to stay in. According to Waitrose, the British food retailer, the taboo against dining out solo is rapidly disappearing. Just ask the folks at Amsterdam's Eenmaal ("one meal"), an upscale restaurant devoted entirely to single diners.
21. Fuel happiness with flower power. Rutgers researcher Jeannette Haviland-Jones proved that just looking at flowers makes us happier. To immerse yourself in joy-boosting blooms, join a garden club (there are branches of the Garden Clubs of New Jersey in Demarest, Ho-Ho-Kus, Saddle River, Tenafly and Wyckoff) or visit a public garden (Ridgewood's James Rose Center, for instance).
22. Break out the board games. There's a reason old-fashioned board games are experiencing a major resurgence: Unlike video games, which are often played solo, analog classics like Clue and Monopoly require you to share the fun with others. And as you probably recall, they're a blast to play.
23. Store food safely. Plastic storage containers can leach toxins into food when heated or if the food you're saving is acidic. So store tomato sauce, pickles and other acid-rich foods in glass, metal or ceramic. To find the safest plastic, check the recycling number on the container and opt for 1, 2, 4 or 5.
24. Try some vegan seafood. No, it's not an oxymoron. The folks at Whole Foods say we'll see lots more sea vegetables on the shelves this year, in everything from kelp jerky to a tuna substitute made from algae. Ocean veggies are excellent low-calorie sources of fiber, antioxidants and a variety of vitamins and minerals.
25. Forage a farmers market. It's the best way to find super-fresh, locally sourced produce, including items that may not have reached the shelves at your neighborhood supermarket—such as ground cherries, dandelion greens and wild mushrooms. The market in Ramsey (ramseyfarmersmarket.org) is huge, but there are great farmers markets in Paramus, Westwood and Ridgewood too. (For a complete list, go to nfmd.org/nj.)
26. Learn a new skill. Have you always wanted to play the guitar, bake a perfect pie crust or arrange flowers like a pro? There's nothing more satisfying than pursuing a passion—except acing it. Check out online tutorials or classes at Bergen County Community College (bergen.edu) and at retailers like The Guitar Center, Kings Supermarkets and Stone Mill Gardens.
27. Foster a pet. We may never feel more fully human than when we're interacting with an animal. If you're not ready to commit, fostering—caring for a dog or cat in your home until forever owners are found—offers similar benefits. "Fostering enriches two lives," says Noreen Delaney, founder of Happy Tails Pet Rescue in Paramus (happytailsrescuenj.com), "that of the pet you save and your own."
28. Use your vacation days! More than half of us don't, even though research has shown a correlation between vacations and well-being, not to mention improved heart health. "Most people today are chronically overscheduled and under-rested," says Waldwick therapist Jill Pantaleo, LCSW, "and vacations offer an opportunity to recharge physical and emotional batteries in a far less stressful environment." She notes that "staycations" afford the same benefits "without the increased stress of the demands of travel."
29. Dare to negotiate. It's surprising how many goods and services have negotiable prices, among them appliances, electronics, mattresses, furniture, tires, cable and satellite radio subscriptions, credit-card fees and services, such as landscaping and personal training. It never hurts to ask, "Is this your best price?"
30. Get e-organized. Try a to-do list app like Wunderlist or Todoist to boost organization and fight procrastination.
31. Take a break from sitting. Until those cool-looking pedal desks make it to market, be sure to get up and get moving every 20 minutes (kids too!). According to a study published in The Annals of Internal Medicine, it just might extend your life.
32. Give a gift, just because. A surprise gift has a powerful impact for the recipient and the giver. In fact, research out of the University of British Columbia found that spending money on others served up greater satisfaction than spending it on oneself. Short on cash? Lending a hand with a necessary task delivers a similar sense of satisfaction.
33. Paint a statement wall. Nothing lifts your spirits like a change of color, and with a special wall of a different hue that makes a statement you can create that change in an afternoon. Try Behr's 2019 color of the year, Blueprint, a blue tempered with just enough gray to evoke a misty lakeside morning.
34. "Write away" your worries. So-called "expressive" writing— writing about what troubles you—can help vanquish your troubles, according to a Harvard University study. That's because writing helps you focus your thoughts and break the cycle of worry. Psychologists suggest writing daily until you've gained perspective—and relief.
35. For better sex, exercise. Need a compelling reason to work out? A 2018 University of Texas study found that women who exercised for at least 30 minutes a day experienced more satisfying lovemaking and a stronger libido. Researchers also determined that moderate exercise before sex boosted pleasure, possibly by increasing blood flow.
36. Eat green, red and yellow. A Harvard study found that a diet high in leafy greens and red-and-yellow fruits and vegetables protected against memory loss. So the next time you're at the market, don't forget to shop the rainbow.
37. Invest in close relationships. Harvard psychologists studied the university's Class of 1980 to determine who among them was happiest and why. They found that the most satisfied alums were those who carefully tended their closest relationships. Instead of taking your besties for granted, take the time to talk, lend a hand and give some love.
38. Kick off your shoes. Before the advent of pavement and hardwood floors, human beings went barefoot, and it's still the best way to avoid foot problems like bunions and hammertoes. It also promotes better balance—and keeps your floors cleaner!
39. Eat mindfully. An outgrowth of mindful meditation, mindful eating is a way to focus purposefully on your meal without distractions like work or TV. "Eating mindfully," says Ridgewood nutritionist Sara Cowlan, "allows us to fully experience the joy of eating and feeling satisfied, and to follow our internal cues to know when we've had enough." To learn more, try the Mindful Eating Tracker app or go to Mindful. org (mindful. org/what-ismindful- eating).
40. Adopt a plant. House plants are more than just this year's hip home accessory. Research has shown that exposure to green, growing things can make us happier. And plants also help filter indoor air. If you're convinced you have a brown thumb, choose tough-to-kill plants like philodendron, snake plants and aloe.
41. Give (and get) more hugs. In every one of the world's cultures, hugs are a way to soothe emotional pain and bring people closer— which is why researchers at Carnegie-Mellon University weren't surprised to find that hugs can help improve relationships when offered after an argument. (Weirdly, they also seem to ward off colds.)
42. Reach new heights. Taking in a spectacular aerial view can help put everyday stresses in perspective. Check out the dazzling water vistas at Ramapo Reservation or the bird's-eye view of the Governor Mario M. Cuomo Bridge from Nyack's Hook Mountain.
43. Raise your voice in song. Singing releases feel-good endorphins, which makes it a natural stress-slayer. Sure, you can do it in the shower, but it's even more fun with friends. Great area karaoke spots include Volume Up in Edgewater and Rodeo and The Grand Wine Bar, both in Palisades Park.
44. Give your feet a vinegar bath. Seriously—vinegar's antimicrobial properties fight foot odor, athlete's foot and toenail fungus. In a large basin, create a soak of one part vinegar to two parts water, then immerse your tired tootsies for 10 to 20 minutes.
45. Question your doctor. Doctor visits can be stressful and short (17.4 minutes on average, according to the National Institutes of Health), which is why we often forget to ask important questions. Make a list of concerns before you go, including basic questions like "Why are you prescribing that?" and "What does that mean?"
46. To make more friends, question first impressions. Your gut may tell you that the person you just met isn't someone you'd care to know better, but according to a new University of Texas study, your gut could be way off. The study found that we tend to ascribe personality traits based on body type: Men with broad shoulders are extroverted; overweight people are careless; and so on. The takeaway: To make more friends, don't jump to (possibly erroneous) conclusions.
47. Get into a kayak. Kayaking builds upper-body and core strength, offers a great cardiovascular workout and gets you up close and personal with nature (and your kayaking buddy). Hackensack Riverkeeper leads paddling expeditions of the Meadowlands, the Hackensack River and Overpeck Lake, as well as moonlight paddles at Laurel Hill Park (hackensackriverkeeper.org).
48. Relax with ASMR. It stands for autonomous sensory meridian response—that wonderful tingle you get from a scalp massage or a gentle tickle up and down your inner arm—and research shows that it can induce relaxation and even help you fall asleep. Check out YouTube for ASMR videos (which often involve whispering, a major tingle inducer).
49. Switch to dark roast. Canadian researchers recently woke up to the fact that coffee can protect against Parkinson's and Alzheimer's disease. It's not caffeine that perks up the protection but phenylindanes, produced during the roasting process. And the longer the beans are roasted, the higher they are in phenylindanes. Espresso never looked so smart.
50. Kick a habit. If you're longing to stop (fill in the blank: biting your nails, bingeing on junk food, wasting time on social media, etc.), experts recommend tackling one habit at a time, substituting a good habit for the one you'd like to ditch, and giving yourself sufficient time—it takes at least three weeks to break a habit. For some tech cheerleading, try an app like HabitBull or HabitForge.
51. Get CO-savvy. You may already know you need a carbon monoxide detector. But are you aware of how many you ought to have and where they should be placed? At least one for every floor you spend time in, plus one for each bedroom, placed just outside bedrooms and near—but not on—the ceiling. For more CO safety tips, visit the National Fire Prevention Association's website, nfpa.org.
52. Pump (a little) iron. Doctors have long touted the bone-building benefits of weight training, but a new study out of St. George's University in Grenada indicates that it may pump up your heart as well. In fact, working out with weights for just an hour a week appears to reduce heart disease more effectively than such cardiovascular activities as running and swimming.