6 Bergen County Spots That'll Cater Your Seder
All you'll have to do for your seder is order, heat and serve thanks to these half-dozen kosher and kosher-style restaurants offering holiday takeout.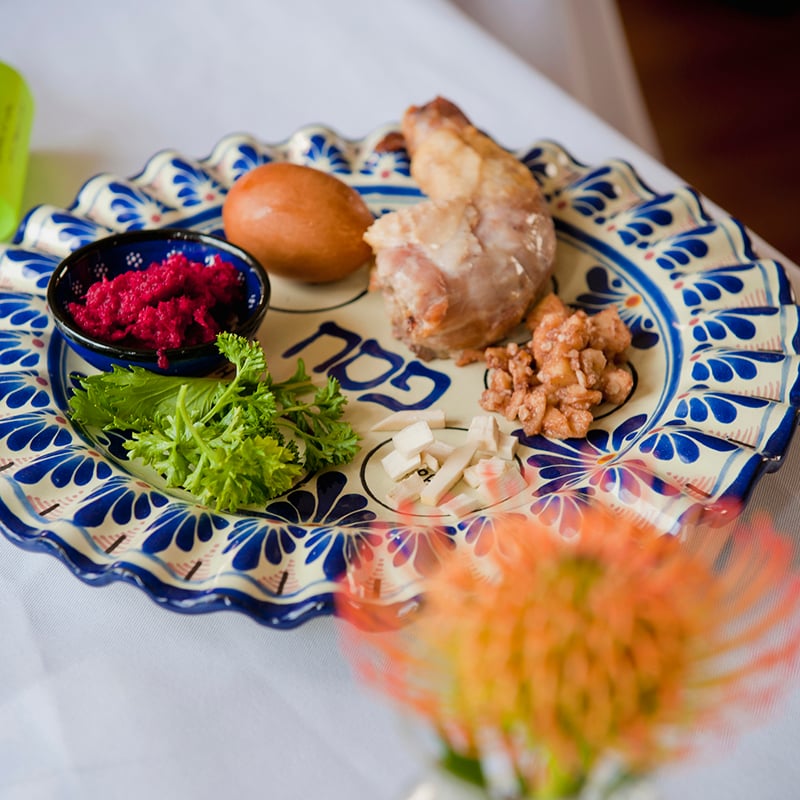 Almost every Jewish holiday involves celebrating with more food than your sensitive Jewish stomach can handle—that's just a fact. But Passover food is different than all the other holidays. Those who observe Passover, or "Pesach" in Hebrew, refrain for eight days from consuming bread products, legumes and the like (check out the full list of foods you can't eat on Passover). And more observant folk go the extra mile, switching over to their kosher for Passover (KFP) dishes and ridding their entire homes of bread products. It's a lot!
So, why not make it just a little bit easier on yourself for 2023? These half-dozen delis, restaurants and grocers in Bergen County are offering takeout for Passover so you can cater your seder. Check out the offerings below, and once you figure out where you're ordering from, get in touch to find out their order cut-offs and pickups times. Many of these stores' hours will change ahead of the holiday.
Also, note that some of these spots are certified Glatt kosher, whereas others are just "kosher style" (meaning they don't mix meat and milk, and may not have a separate Pesach kitchen). Inquire within!
Foster Village, Bergenfield. This Jewish deli claims to have the best pastrami in all of Bergen County—and there's only way to find out if that holds true without the bread. Their Passover 2023 dinner menu includes a meat of your choice and appetizers, sides, salads and matzah for eight to 10 guests. Or, if you'd rather pick a choose what you want and how much of each item, opt for the a la carte option.
*469 S. Washington Ave., 201.384.7100
Grand & Essex Market, Bergenfield. For 2023, this Glatt kosher grocery store is offering a full-service catered seder for 10 guests, which includes one fully assembled seder plate, two main dishes, one kugel, one compote, one soup, two salads and three side dishes, all of your choice.
*89 New Bridge Rd., 201.244.9955
The Kosher Nosh, Glen Rock. This kosher-style deli has all your Jewish favorites for Passover; their complete seder menu serves 8 to 10 guests and includes a "shmear" appetizer such as chopped liver, matzah ball soup, one main dish and side dishes of your choosing like carrot tzimmes or matzah farfel. There's also an a la carte menu if you prefer to pick and choose.
*894 Prospect St., 201.445.1186
Ma'adan Catering, Teaneck. This Glatt kosher deli's "complete dinner menu" for Passover includes gefilte fish, one main meat entrée of your choice, side dishes and dessert—all you have to do is enter the number of guests you're feeding. Alternatively, select which items you want one by one; we recommend the chicken marsala, sweet matzah kugel and chocolate sandwich cookies.
*464 Cedar Ln., Teaneck, 201.692.0192
Petaks, Fair Lawn. This Fair Lawn spot known most for their Glatt kosher catering business has an extensive Pesach menu with yummy favorites such as stuffed cabbage, cranberry relish, chopped liver and potato pudding. They also offer "the big package" (serves 10 people) and "the small package" (serves five people), so you don't have to worry about having too much or not enough food for your seder.
*19-05 Fair Lawn Ave., 201.797.5010
Whole Foods, multiple locations. This chain's kosher-style Passover menu allows customers to order a meal for 4 or for 8 people in one fell swoop (the wine-braised brisket meal and the herb-roasted chicken meal both sound delish). Otherwise, you can add individual items to your cart, such as citrus asparagus, lemon salmon and potato latkes.
Who will be catering your seder for 2023? Tell us on Instagram @bergenmagnj!