6 Bergen Gymnastics Spots For Your Little Tumbler
On National Gymnastics Day, Sept. 17, take your Olympian-in-training to one of these local gymnastics gyms.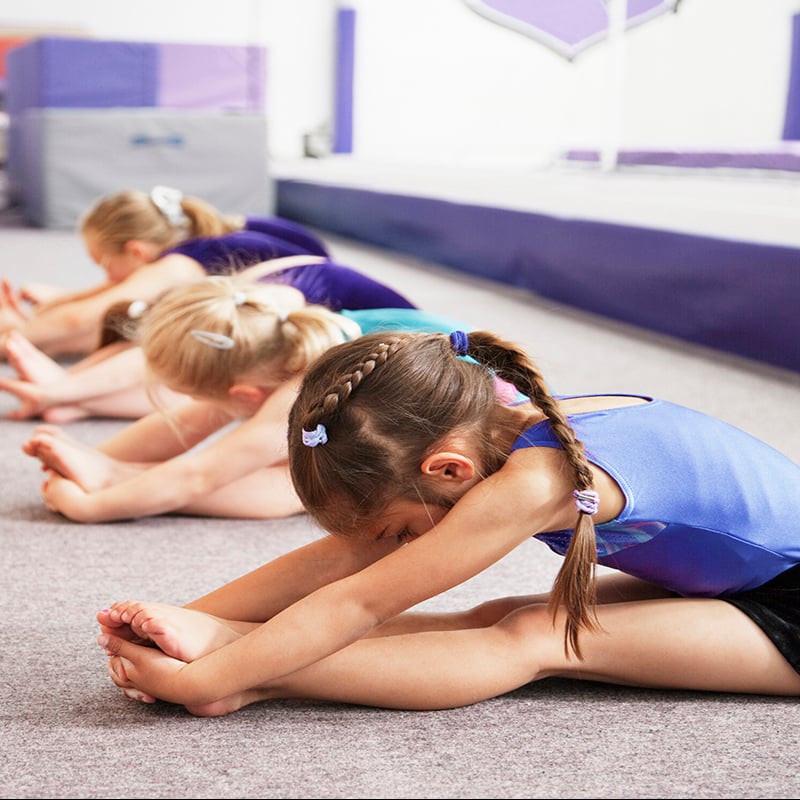 Still looking for some good-for-you, fun after-school activities for your kids to do this academic year? Let us pique your interest in gymnastics. This ancient Greek sport is not only fun for little ones who need to expend some energy (don't they all?), but it has a bevy of health benefits too: Gymnastics helps improve core strength and flexibility, as well as build muscle.
Of course, it also helps instill teamwork, self-determination and listening skills. And now's the time to give it a go since it's back-to-school season, which means you're bound to find a class for your kid, but also because Sept. 17 is National Gymnastics Day.
Not sure where to go or how to start? There are quite a few great gymnastics gyms right here in Bergen County that have one-off classes or weekly sessions for kids of all ages. P.S.: Many of them do birthday parties too! Here's a few worth checking out:
Aeon Fitness & Gymnastics (157 Patterson St., Hillsdale). If you think your kid may make gymnastics a life-long hobby, Aeon is your spot. They have classes for kids 18 months to 18 years and a 10,000-square-foot facility with all the best-of-the-best equipment: We're talking trampolines, tumble tracks, vaults, bars, balance beams, climbing ropes and more. Parents can watch from the WiFi-equipped viewing area, where you'll get a complete view of the entire gym. Aeon also has Ninja Warrior fitness classes for kids ages 5 and up.
ENA Gymnastics (600 Winters Ave., Paramus). This long-standing Bergen County staple believes in teaching not just gymnastics, but also self-confidence, coordination and flexibility—skills that will help kids in every sport (and in life!). Junior classes are offered for little ones 18 months to 5 years, followed by general classes and then advanced classes for the older bunch looking to brush up on their technique. Have an older kid who wants to test the waters first? Enroll him or her in their open gym session, held every Friday night from 8 to 9:15 p.m.
Meadowlands Gymnastics Academy (69 Rte. 17 S., Hasbrouck Heights). There's no lack of variety here; gymnasts at MGA have 16,000 square feet worth of equipment from which to choose, from foam pits to tumble mats to uneven bars. Kids are divided into separate boy and girl gymnastics classes starting at age 4 and a half. They also offer tumbling classes, a new Ninja Warrior program, private lessons and more.
Tumble on Up (140 Hopper Ave., Waldwick). Run by Dana Krakower, a former gymnast and dancer with 20 years of experience in the sport, this new-ish gym in Waldwick has a large space with tons of mats and equipment to help little ones perfect their form. She offers classes for toddlers to tweens, as well as open tumbling, one-on-one coaching sessions, drop-ins and private parties.
The Little Gym (48 Franklin Tpke., Waldwick). This chain has a few locations in North Jersey, all of which offer something for every age group; babies and toddlers can enjoy parent/child classes where they'll be introduced to basic gymnastic skills. Gymnastics classes are leveled—beginner, intermediate and advanced—and are offered for kids ages 4 to 12.
United States Gymnastics Development Center (100 Leyland Dr., Leonia). Students at this Leonia gym are placed in class according to both their age and skill level, and are guaranteed to be just a little bit challenged (rather than bored). The age group starts at Mommy & Me classes for babies and toddlers up to middle school and high school, and unlike other gyms, US Gym Leonia offers classes for adults too, which take place after work hours and focus on skills and techniques. Ninja/tumbling classes are an option here too for kids ages 5 and up.
Any other great Bergen gyms we forgot? Tell us on Instagram @bergenmagnj!