6 Hot Wings To Spice Up Your Summer
Match your food to the temperature outside with these hot and spicy chicken wings, all available in Bergen.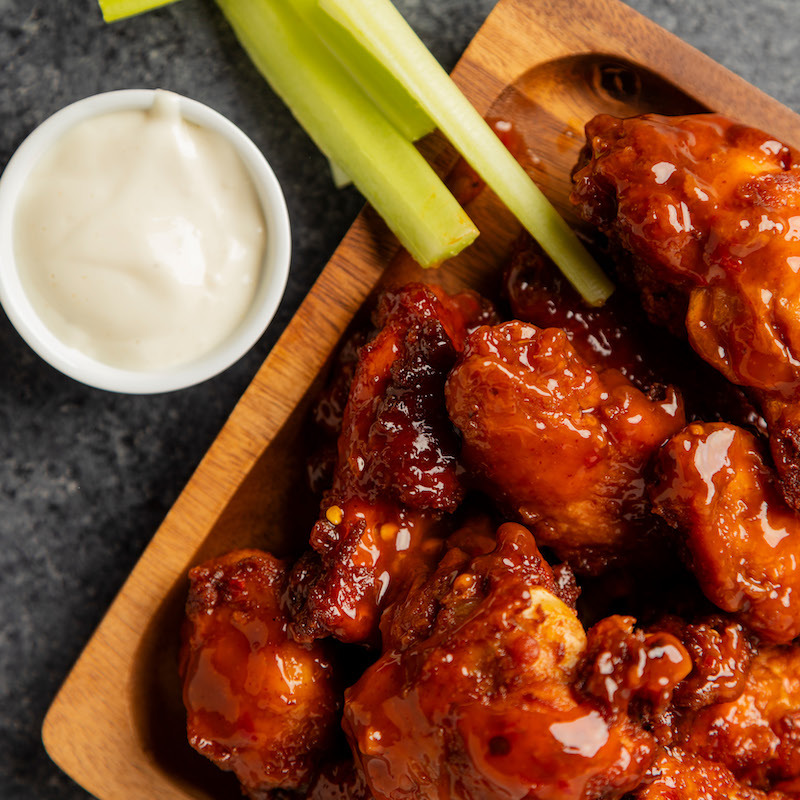 Odds are you've seen clips (or at least memes) of celebrities pushing the limit, trying to eat spicy wings while simultaneously getting interviewed on the viral YouTube show Hot Ones. But you too can get in on the fun and flavor by checking out some of Bergen County's hottest wing spots, particularly on National Chicken Wing Day on July 29.
Add a little flavor to your summer with these spicy wings available at locally owned eateries in Bergen, including:
BSO Wings Express, Dumont
View this post on Instagram
The new kid on the block is holding their own in the sea of spicy wing spots in our county. The brand-new BSO Wings Express has eight types of handmade wings; you can choose your level of spiciness if you order the brown sugar, buffalo or sweet sugar options. They even have a soft opening special this summer: Get 10 wings (two types) with two orders of fries or six sliders and two orders of fries for $22.
*44 E. Madison Ave., Dumont, 201.267.0029
Buffalo's Chicken, Wood-Ridge
View this post on Instagram
Buffalo's wings appear on many "best" lists in New Jersey—you're obviously going to have to judge them for yourself though, right? Try a dozen wings in their signature spicy sauce, or opt for a 15-wing sampler with three sauces of your choice if you're indecisive. Whatever you do, order the cornbread on the side (it's also great for dipping!).
*261 Hackensack St., Wood-Ridge, 201.728.4717
Don Chicken, multiple locations
View this post on Instagram
Don Chicken has seven locations in Bergen County (Carlstadt, Closter, Englewood, Fort Lee, Palisades Park, Ridgewood and River Edge), all of which offer their signature Korean-style hot chicken in all forms (wings, sandwiches, platters, etc.). Get 10 or 20 wings in your flavor of choice (we suggest the good ol' Hot & Spicy!), or opt for drumsticks, boneless or a combination of both.
*Multiple locations, 201.389.3613
Hangry Joe's Hot Chicken, Northvale
View this post on Instagram
Hangry Joe's offers Nashville-style chicken sandwiches, but also on the menu are chicken wings, nuggets, fingers, bites and chicken and waffles. Choose your level of spiciness: plain, mild, medium, hot and angry hot, the last of which literally requires diners to sign a waiver. P.S.: Two new Bergen locations in Closter and Ridgewood are coming soon.
*269 Livingston St. Northvale, 201.297.7111
Lauren's Chicken Burger, Carlstadt
View this post on Instagram
We're not totally sure why "wings" isn't in the title of Lauren's Chicken Burger because they're among this spot's most popular menu items. The volcano wings are their signature spicy wings, but the wild wings and mango habanero bring the heat too. Dipping sauces include Lauren's signature sauce and honey mustard, as well as Korean garlic, volcano hot sauce, wild buffalo sauce and mango habanero to match the wings.
*430 Rte. 17 S., Carlstadt, 201.347.9544
Peck Peck Korean-Fried Chicken, Teaneck.
Peck Peck has you covered no matter how big your appetite or your party—you can get five, eight, 12 or 20 pieces of their signature wings. The sweet and spicy option is your best bet if you want a kick, even "kickier" when dipped in their spicy mayo or "spicier sauce" sauce.
*250 DeGraw Ave., Teaneck, 201.530.5858
Who has the best spicy wings in Bergen? Tell us on Instagram @bergenmagnj.