6 Spots For Horseback Riding In Bergen County
Is this the summer to try horseback riding? Our area makes it easy, with a bunch of local equestrian centers for riding, boarding, learning and more.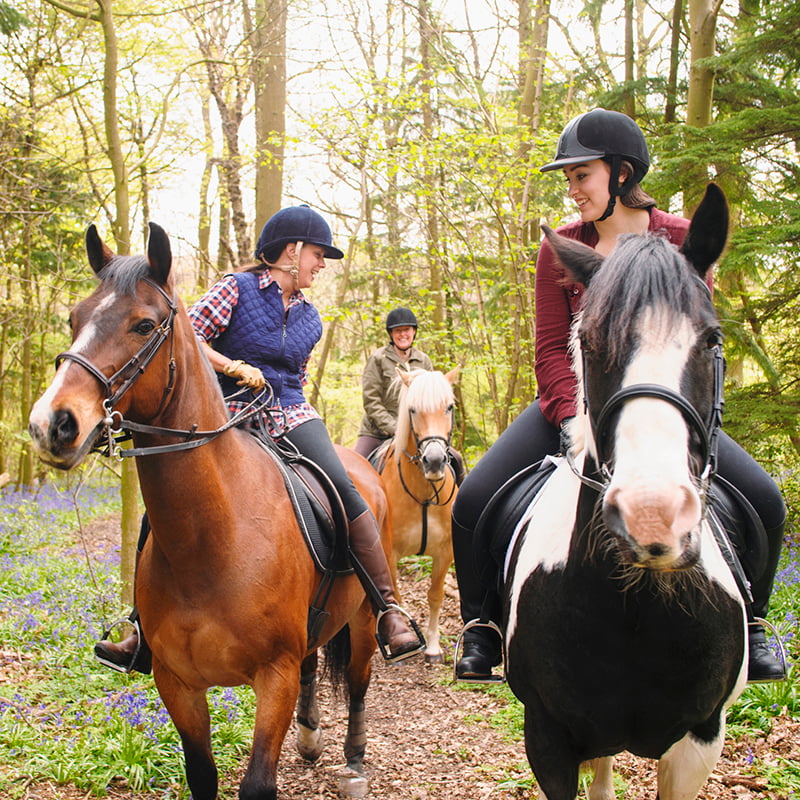 On any other day we'd tell you to hold your horses. But on July 15, National I Love Horses Day, do as you wish. Whether you're a horse aficionado or prefer a casual, occasional horseback ride, Bergen has something for every type of horse-lover.
Here's a guide to horseback riding in Bergen County for kids and adults, and how and where to book your ride(s) this summer:
Bergen Equestrian Center. One of two official horseback riding facilities in Bergen County, this one located within Overpeck County Park in Leonia features 22 acres and boards about 75 horses. Lessons for kids and adults are tiered by level of experience, starting at $63 for a half-hour of private lessons for Bergen beginners up to $85 for more advanced riders. Riders will take the horses around the riding rink. Bergen Equestrian also offers Horse 101 classes for kids and adults ages 5 and up (as one-offs or a package deal), as well as kid-only programs during winter break, summer break and after school (pricing for each program varies).
*40 Fort Lee Rd., Leonia, 201.336.3370
Bergen County Horse Rescue. Roughly 17 acres of preserved farmland are now home to 24+ horses that were rescued by this organization and saved from abuse and neglect. Riding isn't done here, but guests can book a grooming session ($100 for two people) or a farm tour ($50 for six people on select days of the week) to get up-close-and-personal with the animals.
*350 Ramapo Valley Rd., Mahwah; 201.336.3370
Misfit Farm. Lessons and horse training are services available at this farm in Leonia, where learners will ride the horse on their indoor arena or outside farmland. Pricing is available upon request, and both private and group lessons are available for kids and adults. Misfit Farm also hosts clinics in the spring each year, a three-day intense course of horsemanship and riding 101.
*40A Fort Lee Rd., Leonia, 201.233.7410
Rockleigh Equestrian Centre. Whether you're a leaser, boarder or just someone who's interested in learning more, there's a horse-riding lesson for you at the REC. Lessons are private, 30 minutes, full service and are $65 each for the public and take place in the lighted outdoor ring with courses that change weekly. Ready for a challenge? They also have a cross-country course with 34 obstacles for more established riders.
*24 Piermont Rd., Rockleigh, 201.768.9745
Saddle Ridge Riding Center. The second of two of Bergen County's official horse-riding facilities, Saddle Ridge Riding Center in Franklin Lakes has it all, from boarding to lessons to leasing as well as indoor and outdoor arenas for riding. SRRC offers two types of classes; one-to-one Working Student Training Class and Horsemanship 101, where students will learn proper horse care, saddling and more (pricing available upon request). Summer camp for kids is $600 per week, Monday through Friday from 9 a.m. to 1 p.m., and still has some availability for the end of the summer sessions.
*900 Shadow Ridge Rd., Franklin Lakes, 201.847.9999
Winter Haven Equestrian Center. Boarding, leases and indoor or outdoor private or group lessons are among the offerings at WHEC, with indoor and outdoor arenas for riding. Lessons are made by appointment only and are $65 per half hour (or $70 if paying by credit card).
*695 Valley Rd., Oakland, 201.644.7230
Where do you go (or want to go) riding in Bergen? Share your picks with us on Instagram @bergenmagnj.