7 Bagel Spots We Know You'll Love
Not to brag, but New Jersey has the best bagels in the country—in part thanks to these 7 Bergen County bagel joints.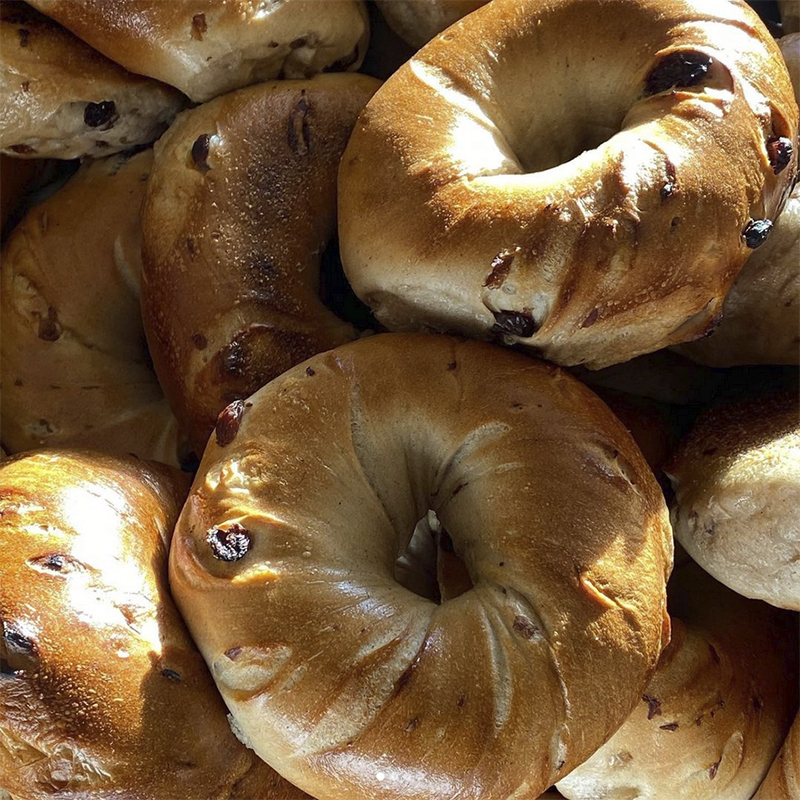 Whether you've been living in New Jersey for four days or four decades, there's one thing we all know to be true—we take our bagels very seriously. So, it's not super surprising that last week, the official @NJGov Twitter account poked fun at a fellow tweeter from California's super depressing everything bagel, calling it a "cry for help."
this is not an everything bagel this is a cry for help https://t.co/kASsbA9ub8

— New Jersey (@NJGov) July 14, 2021
Of course, this social media exchange prompted Garden State residents to chime in with their favorite bagel spots in New Jersey (and New York)—we are, after all, the self-proclaimed Bagel Capital of the World! As for us? We're partial to Bergen County's bagels, of course.
In honor of National Bagelfest Day on July 26—although every day is an excuse to celebrate this delicious round carbohydrate—we present to you our seven local favorites:
Bagel Emporium, River Vale. Don't be fooled by this tiny storefront, as Bagel Emporium's bagels are larger than average. One of our editors describes these bad boys as "the perfect blend of crisp outside and chewy inside." The size is just a bonus.
*216 Rivervale Rd., 201.358.9116
The Bagel House, Lodi. Comparable to Manhattan bagels, the selection at this local favorite is vast, and each one is perfectly doughy and not too dense. They have a large selection of cream cheeses too, including unique flavors such as onion and jalapeno.
*324 Main St., 973.928.5200
Bagel Nosh, Waldwick. You get more than what you pay for at this Waldwick spot—$1 per bagel is a steal for such bagelicious bliss. Innovative flavors such as sundried tomato cream cheese and bacon cheddar cream cheese are even better when spread on a bagel of this caliber of fluffiness.
*24 E. Prospect St., 201.652.9746
Boxcar Bagel & Deli, Bogota. You get double the size and double the flavor at Boxcar Bagel—they're fluffy, giant and doughy, three characteristics of the perfect bite. Customers say the bagels are good enough to eat plain, but better with a smear of the house-made veggie cream cheese. Another pro: The staff here is polite too.
*10 River Rd., 201.343.4604
Goldberg's Famous Bagels, Allendale and Glen Rock. The Goldberg's guys run quite an operation, with a huge assortment of bagels (like their French toast bagel), flagels and daily spread specials at their three locations (two of which are in Bergen County). They're known for their specialty bagels—like a green bagel for St. Patrick's Day, for example—but the everyday menu is raved about too.
*235 Rock Rd, Glen Rock, 201.652.9822; 51 West Allendale Ave., Allendale, 201.962.7122
River Road Hot Bagels, Fair Lawn. This place consistently ranks as one of the top spots in the county based on Yelp reviews. The tiny, family-owned store has a line out the door on most weekend (and even weekday) mornings, but it moves fast and is worth the wait. Try the whole wheat everything bagel, recommends one of our editors. (They can be hard to find elsewhere.)
*13-30 River Rd., 201.791.5646
Teaneck Road Hot Bagels, Teaneck. The Teaneck outpost of Hot Bagels (no relation to the Fair Lawn store) is insanely good—in fact, earlier this year, Food & Wine magazine dubbed this place as among the best bagels in America. "These Kosher bagels are absolutely the perfect size, no larger than a fist, bragging the perfect texture inside and out," writes Food & Wine. "All this perfection is taken for granted by the clientele that have been coming here, and no place else, for years."
*976 Teaneck Rd., 201.833.0410
Which other Bergen bagel shops should've made our list? Reach out to us on Instagram @bergenmagnj and let us know what we missed!