7 Over-The-Top Burgers To Try Now
When ketchup, lettuce and tomato aren't enough, these creations—available in Bergen County—will surely whet your appetite.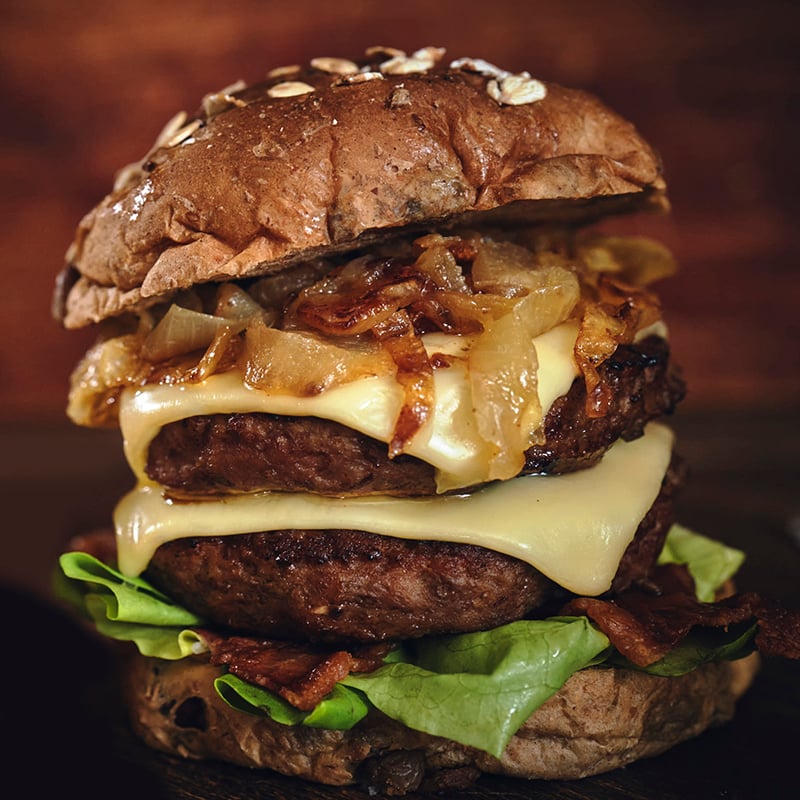 Our unofficial scientific research says nine out of 10 Bergenites will consume at least one burger over Memorial Day Weekend, most likely on May 28, National Hamburger Day in the U.S. and International Burger Day around the globe. And with meatless burgers all the rage these days, even our vegetarian and vegan friends can partake in the food festivities.
Though most burger bashes this MDW will happen at backyard barbecues, our county is filled with locales featuring some of the best and most creative burgers. Chains like Shake Shack and Bareburger, for instance, are regulars on our Readers' Choice poll (stay tuned for this year's results), as are local favorites Biggie's in Carlstadt and Steve's Burgers in Garfield. But there are dozens of other restaurants dishing out juicy, mouth-watering patties, some served with no more than just cheese and ketchup, but others are piled sky-high with veggies and additional meats and cheeses.
Below are seven of our favorite over-the-top burgers from eateries beyond Bergen's most popular. See which ones you want to try next!
BBQ Burger at Valley Burgers and Brew, River Vale. Craving barbecue and a burger? Get the best of all worlds with this burger, a beef patty topped with pulled pork that's smothered with barbecue sauce and cheddar cheese. You might need a bib for this one.
*640 Westwood Ave., River Vale, 201.383.0957.
Biddy O'Malley Burger at Biddy O'Malley's, Northvale. This restaurant's signature burger is a flavor explosion, with a custom blend patty topped with caramelized onions, Gruyère, arugula, pancetta and Malbec butter.
*191 Paris Ave., Northvale, 201.564.7893
Five-O at ReBar and Kitchen, Lodi. Have yet to have a bite from this popular eatery's burger bar? Start with this tasty mashup: It's a beef patty topped with sweet Thai chili, glazed grilled pineapple, roasted red peppers, pepper jack cheese and black forest ham.
*132 Essex St., Lodi, 201.368.8181
Jalapeño Hat Trick at The Lab Burger Co., Oradell. Kick your burger up a notch with this spicy creation. The meat is topped with pepper jack cheese, pickled jalapeño peppers, hot sauce, caramelized onion and served on a sweet Hawaiian roll.
*235 Kinderkamack Rd., Oradell, 201.261.7700
Jersey Burger at Midland Brew House, Saddle Brook. This is Jersey's breakfast special in burger form: A perfectly cooked patty with fried egg, cheese and Taylor ham—no pork roll here!
*374 N. Midland Ave., Saddle Brook, 201.797.0070
La Mortal at Hamburguesa, Carlstadt. The Mexican-spiced burger is topped with usual suspects like ketchup, mustard, mayo and cheese—but it also shares bun space with a hot dog, bacon and jalapeño peppers. Can your stomach handle the challenge?
*403 Hackensack St., Carlstadt, 201.580.0222
The Mac Attack at Dog House Saloon, Washington Township. They pledge "excess at its finest" at this local hangout, and we believe this burger—an Angus beef patty over deep fried mac and cheese bites, bacon, cheddar and barbecue sauce—tops our "deliciously excessive" list. Close second: the Cheetos Cheeseburger.
*270 Pascack Rd., Washington Township, 201.722.1820
What's your favorite burger in Bergen County? Tell us on Instagram @bergenmagnj.