8 Decked-Out Homes To Visit This Halloween
In between pumpkin patches and apple cider donut runs, check out these Bergen homes that go all out for spooky season.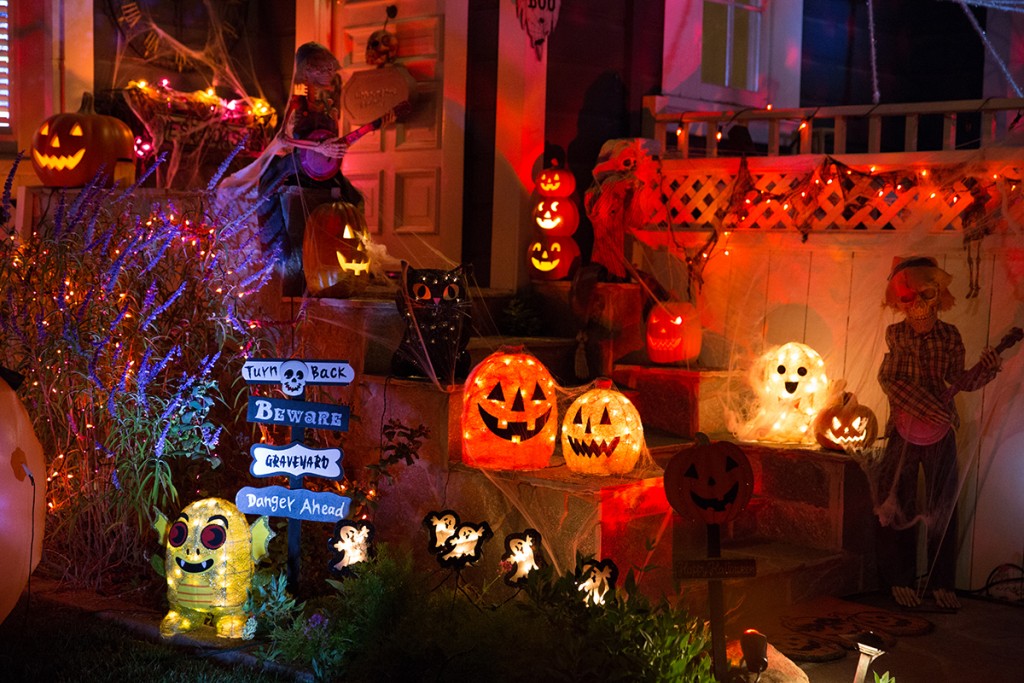 You may have some pumpkins and mums on your stoop, and perhaps there is a skeleton or two who is making himself cozy on your front lawn, but trust us—that's nothing. Many homes throughout Bergen County and the surrounding areas go all out for Halloween. We're talking interactive displays, Christmas-esque light shows, the whole nine yards. Some homeowners have toned things down since COVID—while others like the popular exhibit at Kipp Avenue in Hasbrouck Heights have closed completely this year—but these residences are raring to go for Halloween 2021.
So, if you're on the hunt for a fun, free, family-friendly and festive activity to do this month, bookmark this page and prioritize these local stops. Just click the links for details on each exhibit's hours, weather limitations and more (when applicable).
The Carbonaro House. Scaredy cats (and impressionable kids) should stay away from this display at 381 Center St. in Wood-Ridge that's straight out of the zombie apocalypse. The creepy dolls, ghosts, goblins and monsters that populate this front lawn and patio are pretty much guaranteed to haunt your dreams.
"Halloween Highway." The neighbors on Clinton Place in Hackensack earned themselves this nickname because, year after year, they put out amazing displays leading up to Oct. 31. One haunted highlight for 2021 is 281 Clinton Pl., which features an old-school church scene with a guillotine, caskets, tombstones and more eerie props.
The Martorana Christmas House. Just a quick drive from Bergen County, 396 Fairfield Rd. in Wayne is a sight to behold in December, but the Martorana family also has an impressive Halloween display, which includes larger-than-life inflatables of all your favorite spooky characters. Evenings are the ideal time to visit, as lights go on at 4 p.m., and sometimes, you'll find special guests pacing the driveway with treats.
Nightmare on River Road. Since October 2020, this indoor attraction and fundraiser benefitting the Bergen County Boy Scout troops moved outdoors to New Bridge Farm and Garden at 563 River Rd. in New Milford. It's a festive haunted farm with corn mazes, a spooky walk-through greenhouse, over-the-top décor, plus photo ops and "free hugs" from goblins and zombies.
The Ridgewood Halloween Maze. The Stewart family has been setting up a 1,000-square-foot maze in their backyard at 124 Sheridan Ter. for 26 Halloweens now, complete with mechanical ghouls, spiderwebs and plastic bones to set the mood. Kids and adults alike go back year after year to see if they can make it through the maze, which takes the average guest about an hour to solve.
The Perez House. Dozens of moving animatronics and bright purple and orange lights make this residence at 11 Deacon Pl. in Cresskill an after-dark must-see. Zombies, goblins and more creatures of the season moan, groan and make the experience that much creepier. Bonus: Don't forget to say "hello" to the robot girl sitting on the porch, who asks passersby if they want some candy.
The Stranger Things House. The Carotas of Fair Lawn are big fans of Stranger Things (and '80s pop culture in general), and their Halloween decorations are an incredible ode to the hit Netflix series. Stop by the bend of Henderson Boulevard and 11th Street to check out the ornate display and count how many references to the show you can find, from the monster villain to the famous light-up letters. The owners have said they plan to put on this display for as long as the Duffer brothers continue making new seasons!
335 Main St., Ridgefield Park. If haunted isn't really your vibe and you're more into smiling pumpkins, cute aliens and friendly ghosts, this display is for you. An inflatable alien pulling a cart full of pumpkins, plastic skeletons and a larger-than-life blow-up jack-o-lantern sitting guard on the roof are some of this home's highlights.
Though it's not a residence, the Harvest & Halloween Drive Through in the Stew Leonard's parking lot at 700 Paramus Park in Paramus, behind the pumpkin patch, is worth a gander too. This free farm-themed drive-through exhibit features inflatable characters, gourds, decorations and animatronics. Customers can also tune their car's radio to a special radio station to hear Clover the Cow's spooky Halloween soundtrack.
What's your favorite Halloween house in Bergen County? Tell us who we forgot below or on Instagram @bergenmagnj.