8 Parks for Winter Hikes
Want exercise, scenery and a cure for cabin fever? Lace up your boots and head for one of these locales in and around Bergen.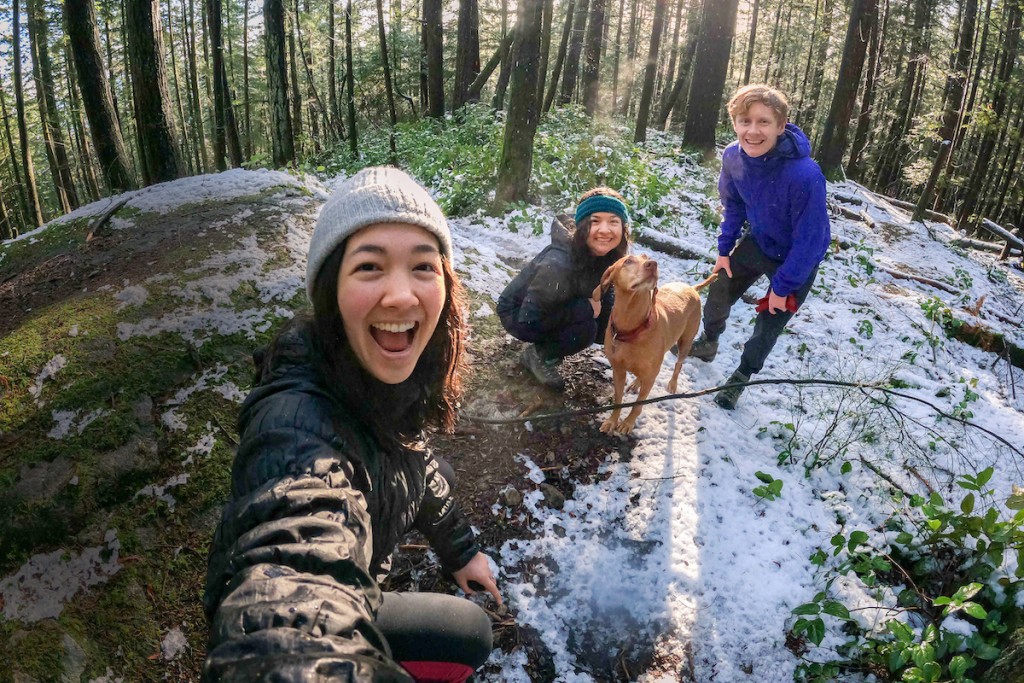 It's a good thing January isn't trying to be June; it'd fall on its face. But this cold month has its own glories, and many of them are best experienced in a place you may have forgotten about lately—a place called outdoors.
Don't pick a blizzard or a sub-zero day, of course, if you're thinking of checking out that zone. And don't fail to be suitably wrapped. But if you venture out, you'll find that beauty is a year-round phenomenon in our area's parks and woodlands. A hike through them can not only break your hibernation and get your heart rate going; it can also offer you a different perspective on familiar landscapes. (And think of the cup of hot chocolate that awaits when you're back inside!) On these pages is a guide to several hiking spots in and around Bergen that are ideal for a winter hike. Adventure beckons—enjoy!
Garret Mountain Reservation, Woodland Park.
Level: Easy.
Hikers of all ages and skill levels can enjoy the Yellow and White Loop Trail at this locale in nearby Passaic County. Modest hills along the 2.9-mile trek will get blood flowing and quickly warm the body on the coldest days. Well-marked paths brush alongside historic structures, an equestrian center and a lake, and stop-off points offer spectacular views. Despite its "easy" rating, the trail demands stable hiking boots because of its rocky environment—it is a mountain, after all!
The Celery Farm, Allendale.
Level: Easy.
This gem tucked into a residential neighborhood features a flat, 1.2-mile loop that circles Lake Appert. Several portions of the path may fill with mud or ice in wintertime, so leave the sneakers at home and slip into a pair of waterproof boots with good tread. Observation platforms along the trail are perfect for a quick respite, but expect to share space with novice bird watchers and experienced ornithologists—the lake and park are habitats for winter water fowl.
Campgaw Mountain, Mahwah.
Level: Easy.
You might think hiking at Bergen's lone ski resort would include steep inclines, but the main Campground Trail here (marked with red blazes) is suitable for all skill levels. A well-marked loop takes visitors on a 3.2-mile trek around the park, including a gradual 439-foot elevation gain to the top of Campgaw. You can take in the breathtaking views at the summit and claim bragging rights over skiers, who rely on chairlifts to make it to the top. Although the hike is a relative "walk in the park," you'll have to navigate loose rocks—so don't forget your boots.
Dekorte Park, Lyndhurst.
Level: Easy.
The draw here isn't the hiking challenge (a pair of sneakers will do if the ground is dry); it's nature and serenity. Nearly four miles of flat trails—including boardwalk, pavement and gravel surfaces—take visitors across Bergen's beautiful swampland and up close and personal with wildlife. Birds of prey, waterfowl, skimmers and more can be spotted from nearly every corner at DeKorte.
Hook Mountain State Park, Nyack, N.Y.
Level: Moderate.
A quick trip to Rockland County, New York, will bring hiking enthusiasts to this gem, which at its summit provides a remarkable view of the lower Hudson River valley. To get there, visitors follow the Hook Mountain and Nyack Beach loop, a roughly 6-mile trail that features both easy walking and challenging climbing. Break out your best hiking boots for this one, and even consider trekking poles to traverse unstable ground. Snowy and icy conditions might be too dangerous for novice hikers and those without microspikes or crampons.
Palisades Interstate Park, Alpine.
Level: Moderate.
There are several trails in this 12-mile park that cut through the woods and meander along the Hudson River shoreline, but one of the most enjoyable is the Shore Trail and Long Trail Loop. The 5.7-mile loop scores a moderate rating because a good portion is made up of loose rocks (watch your footing!), while a steep but manageable incline looms at the 2.5-mile mark. Remember to dress in layers, as the wind off the Hudson along the Shore Trail can get chilly. The loop is heavily trafficked during peak season, but prepare for quiet days in the woods during winter.
Ramapo Valley County Reservation, Mahwah.
Level: Moderate.
One of our county's premier hiking destinations, this 4,200-acre wooded park features 21 hikeable miles over five loop trails. Perhaps the most popular is the yellow-blaze Vista Loop, a light heart-pounder (3.5 miles with a 636-foot elevation gain) and big-time showstopper with fantastic overlook views at the apex of the trail. Expect some rocky terrain, which can pose an extra hazard when covered with snow and ice. For a longer trip, try the 7+-mile Ridge Loop, which includes short rock scrambles, easy water crossings and a 1,000- foot elevation gain. Expand journeys further by following outlets to nearby Ringwood State Park and Ramapo Mountain State Forest.
South Mountain Reservation, West Orange.
Level: Easy/Moderate.
The Turtle Back Zoo in Essex County is the main attraction of this area, but families can have plenty of fun on the adjacent Turtle Back Trail Loop. This approximately 3.5-mile hike follows a serpentine path into the forest and includes rolling hills, rocky grounds and water crossings (which can be precarious depending on weather). Heavy-soled boots are recommended any time of year, but especially during winter hikes here.