8 Tips for Safe Shoveling
Simple steps you can take to avoid injury and accidents as you clear snow this winter.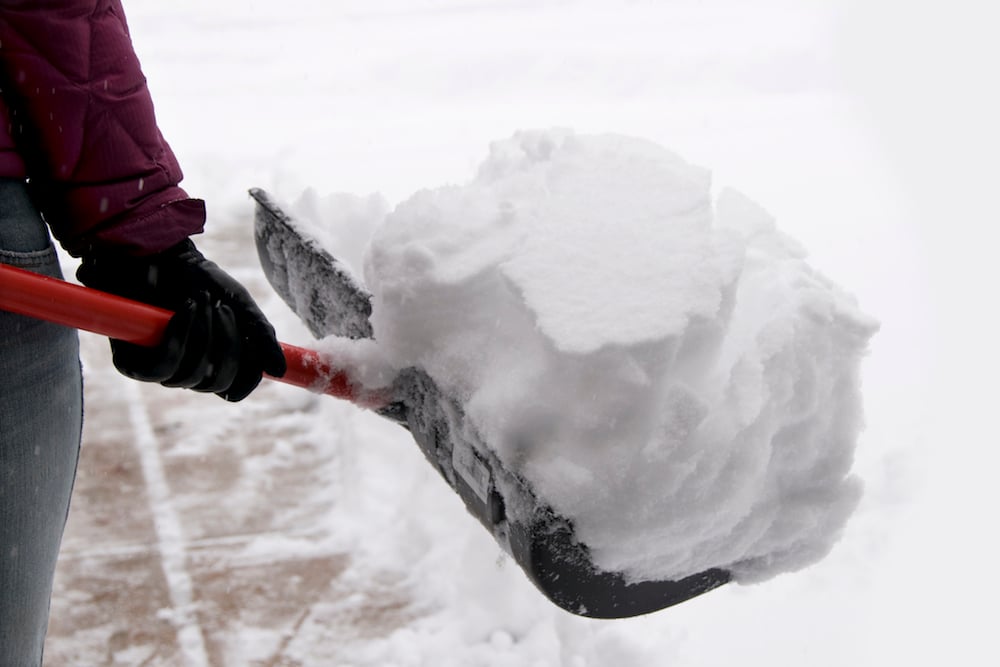 It may not seem so, but shoveling snow is technically an aerobic workout—it's quite vigorous and can place stress on the heart and body. "Shoveling snow can actually pose a serious cardiac health risk to some of us," warns George Becker, M.D., medical director of The Valley Hospital Emergency Department in Ridgewood.
But with a little preparation, you can help protect your health and safety when shoveling in even the worst of winter conditions. Before the next storm hits, read up on these tips from the American Academy of Orthopaedic Surgeons on how to reduce injury while shoveling—but be sure to get the go-ahead from your doctor first if you don't exercise on a regular basis, have a medical condition or are middle-aged or older.
Plan Ahead:
1. Warm Up
Before you begin, warm up your muscles with light exercise for about 10 minutes. Dr. Becker also advises not to "eat a heavy meal or drink alcoholic beverages prior to or soon after shoveling."
2. Dress the part
A warm, water-resistant coat, thick socks, insulated gloves and a hat are obvious necessities when shoveling, but don't forget sensible footwear. Wear shoes or boots with slip-resistant soles to prevent falling. Dress in layers so you can remove clothing as you warm up.
3. Start Early
You have the best chance of avoiding injury by shoveling frequently during a storm and shortly after it falls, as fresh, powdery snow is lighter and easier to move than when it's wet.
Be Safe:
4. Use the Proper Equipment
Choose a small shovel that's comfortable for your height and strength. Proper positioning is key; place your hands on the tool grip to increase your leverage.
5. Push, Don't Lift
Push snow rather than lift it to avoid strain on your body. If you must lift, do it properly; squat with your legs apart, knees bent and back straight. Lift from your legs, not your waist.
6. Adopt the Proper Technique
Scoop small amounts of snow into the shovel and walk to where you want to dump it. Don't overload your shovel, and don't dump loads of snow over your shoulder or to the side, as this requires a twisting motion that will put tension on your back.
7. Clear Your View
Adjust your hat or scarf so it doesn't obstruct your sight of the area that you are clearing and be sure you have a full view. Be on the lookout for ice patches and uneven surfaces.
8. Pace Yourself
Prevent dehydration by drinking plenty of water and "take frequent rest breaks during shoveling," Dr. Becker recommends. Stretch when you're done to help prevent muscle soreness. If you experience chest pain, shortness of breath, or other signs of a heart attack, stop the activity and seek emergency care.
"You might also break out in a cold sweat, feel short of breath, nauseated, lightheaded, or uncomfortable pressure, squeezing or fullness in the center of your chest," adds Dr. Becker. "Every minute is crucial when experiencing a heart attack," so seek help at the first sign of symptoms.
Watch for Signs of Frostbite
Frostbite is most common on the fingers, toes, nose, ears, cheeks and chin. Because of skin numbness, you may not realize you have frostbite until someone else points it out. Signs and symptoms of frostbite include:
Cold skin and a prickling feeling
Numbness
Red, white, bluish-white or grayish-yellow skin
Hard or waxy-looking skin
Clumsiness due to joint and muscle stiffness
Blistering after rewarming
Seek medical attention if you experience:
White or pale skin, numbness or blisters
Increased pain, swelling, redness or discharge in the frostbitten area
Fever
New, unexplained symptom