A Basement Mans Up
A rustic-industrial-inspired design creates a den so perfect for Dad that everyone else enjoys it too.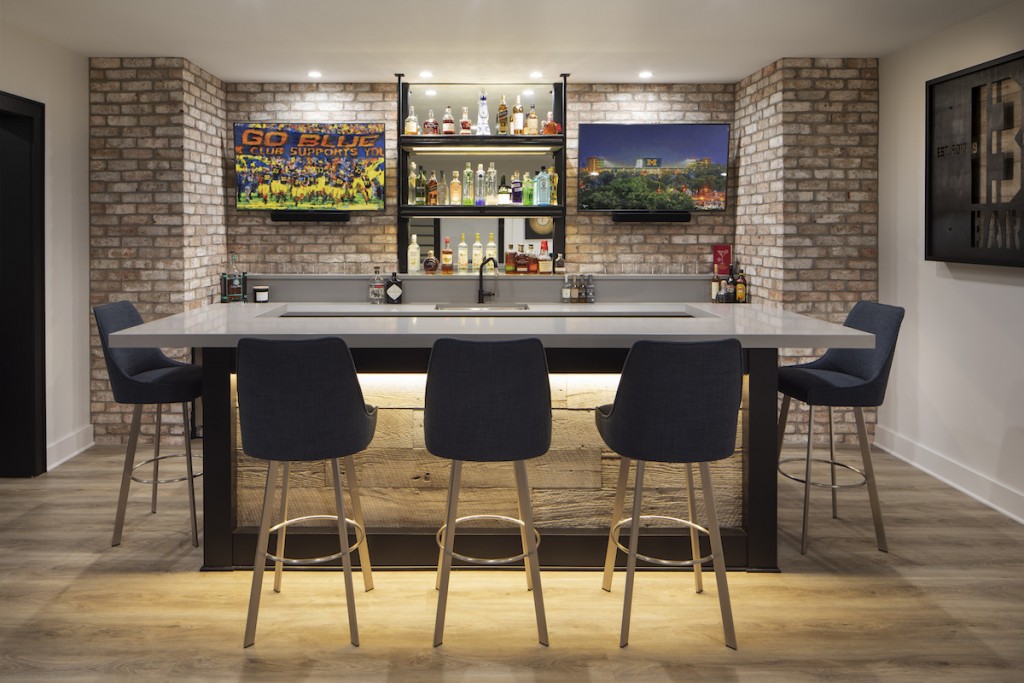 While the "man cave" idea suggests hiding away, its aesthetic can sometimes give off the opposite vibe: "Come one, come all." That's what a Cresskill couple achieved when they set out to revamp their unfinished 2,000-square-foot basement. They found remodeling consultant Robert Zick of Creative Design Construction & Remodeling in Northvale and his team, and tasked them with creating a downstairs entertaining space for the pair and their three grown sons.
"They wanted a game area, a media area, a bar, a guest room and a gym," Zick recalls. "They were empty nesters, and it was really important to them to have a welcoming space for their children when they visited."
Zick and his crew began by presenting the homeowners with various design themes to see which style struck their fancy, and the winner by a landslide was the rustic-industrial look. They chose an elegant, masculine black-and gray-color palette incorporating many homey features, such as reclaimed wood detail on the bar's island and a brick feature wall behind it. The team also included in the plans several "man cave" must-haves: For example, they placed two TVs flanking the bar's exposed metal shelving to allow for viewing of different sports at once, and installed sound-reducing elements between the basement ceiling and upper floor in case gatherings got loud.
That bar is undoubtedly the room's focal point, so it had to have some well-thought-out details. A fully functioning entertainment center with a wine fridge, a dishwasher, a microwave drawer and an ice maker allows for easy hosting. Matte-black, Shaker-style cabinets with matching millwork details paired with double-thick gray countertops with a step-up bar add visual appeal.
The billiards room next door contains a 12-foot shuffleboard table and a pool table, while "the gym exists off the bar entry to provide privacy," Zick says. "The floor plan is open by design but separates spaces with strategically placed archways and millwork."
The finished product is great for Dad, but a solitary hideaway this isn't. Mom likes it too, and the clients got what they wanted in that the space is irresistible to their sons when they come by—and for guests as well. "The 'boys' are independent, busy professionals, but all enjoy the bar and game area when they visit," says the designer. "Plenty of open space allows for large gatherings with family and friends."
Text by Haley Guttenplan
Design by Robert Zick