A chat with Bruno Jamais
The 49-year-old Parisian, an Englewood resident and former maitre d' at manhattan's famous Daniel, on cars, food and how-despite a setback- life's still moving full speed ahead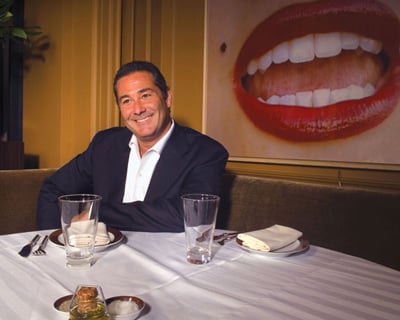 Tip of the chapeau: "I'm indebted to chef Daniel Boulud for giving me the opportunity to preside over one of the country's finest venues for classic French cuisine. He taught me English too."
Cars for a cause: "I always had a passion for cars, and a talent for restoring antique ones. I owned a Ferrari, a Porsche, a Lotus, a Maserati and several American cars from the '50s. But I sold my collection to support my Manhattan restaurant, Bruno Jamais, for the last eight months prior to its closing on New Year's Eve, a victim of the economy."
An era's end: "I'd like to thank the loyal patrons of my establishment over the past seven years."
Plans for 2010: "Finding myself and my next passion."
The race of life: "Race-car driving is therapy for me, and I love the thrill of speed. Sometimes I race alone, other times I take a 'co-pilot' who is not afraid to go fast. The fastest I've driven is more than 200 miles an hour-on a Porsche track close to Paris."
Current wheels: "A Range Rover." Ultimate stress-buster: "A long ride on my Harley-Davidson."
Favorite meal: "Not necessarily a complicated one, but one that's well prepared and presented. Say, a rib eye or Porter- house steak with potatoes gratin or truffled mashed potatoes."
Go-to healthy meal: "Any type of lean fish and steamed vegetables."
Sip of paradise: "I usually like a good Bordeaux such as Chateau Latour or Mouton Rothschild. In the summer, Paul Goerg Rosé Champagne."
Local dining: "I like to go to Solaia, my friend Michel Bittan's Italian restaurant in Englewood."
Why live in Bergen: "It's close to Manhattan, but has what I believe is a bet- ter quality of life."
Personal look: "I like to wear Loro Piana and Berluti-sporty casual and chic. And watches that match my outfit, such as Panerai and Audemars Piguet."
Frames of reference: "I have a collection of art from the French artist Cyrille Margarit, who works with digital photos projected onto brushed aluminum. The pieces were on display at my restaurant."
Film favorites: "The Shawshank Redemption, Midnight Express. And Basic Instinct – I'm a huge Sharon Stone fan." Must-see TV: "Top Chef on Bravo."
Musical choices: "Jazz, classical and some '80s pop. I like Ray Charles, James Brown and Billy Paul. Billy Paul's 'Your Song' basically became a theme song for my restaurant. The customers would hear it at least once in an evening."
Quartet of passions: "Besides life and love, cooking, traveling, collecting car memorabilia-and my beautiful Siberian husky, Mr. B."
Travel thrill: "The island of St. Barts in the Caribbean."
On the nightstand: "Car magazines."
Bestadviceever: "To treat everyone with equal respect and always to act ethically, personally and professionally."
En famille: "I have a daughter, Jessica, who is 26. She lives in France, has a boyfriend in the restaurant business and works for a temp agency that specializes in restaurants and the hospitality industry. And I am getting married in 2010 and trying to become a father again."
Can't live without: "The people I love."