A chat With Joanne English Rollieson
The 49 year old Englewood resident, a cancer survivor and 'Cover Girl' finalist, on being pretty, prepared and positive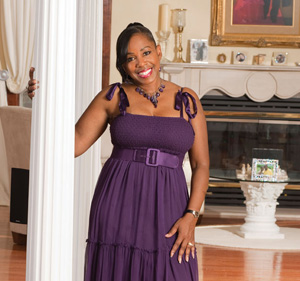 Clear purpose: "I was diagnosed with Hodgkin's disease in my 20s and treated, and in November I will celebrate five years as a breast-cancer survivor. At one point the doctor gave me six months. As a two-time cancer survivor, I feel God has given me another life so I can help someone."
Giving it a whirl: "Once I would never have entered a 'cover girl' contest, but I was like, 'Joanne, why not? I'm doing things I might not have done before. I'll go for it!'"
New priorities: "Before I was diagnosed with breast cancer I was busy, but in the wrong way-working, working, not taking time for myself. I think stress contributes to cancer. Now I'm going to do what I want."
Stay-young secrets: "I always eat a 'colorful' plate of food, as per my doctor's orders. I work out 20 to 30 minutes every day, a different kind of exercise each day-I have a treadmill, weights, medicine ball and an Ab Rocket."
Makeup maven: "I enjoy choosing an outfit in the morning and making myself pretty. I lost my eyelashes from chemo, so I put on false eyelashes and all my makeup and have fun. Looking good has a lot to do with attitude."
Maternal wisdom: "I have two sons, Jason, 30, and Marco, 29. My husband and I were strict disciplinarians. They had to do their homework and be home by a certain time. If they wanted a new pair of sneakers, they had to earn it with their behavior."
Dinner engagement: "Kids who don't have a strong family sometimes make the streets their family. For us, dinner together was important. And if something was going on at our house, it was family meeting time."
Best advice: "My father, Whittie English, was the first African-American contractor to build more than 75 Bergen homes. He told me: 'Work hard, then it's OK to play hard'; 'Don't take no for an answer'; and 'You don't have to be a millionaire to look like one.'"
Heels and wheels: "You should have seen me when I was starting out in real estate at age 19! But I wore a suit and high heels and I carried a briefcase, and I got through. If you look the part, they'll respect you. I kept a good credit rating, and that enabled me to invest in real estate. With the money I made, I bought a red Mercedes Benz. I became known as the young agent with the red Mercedes."
'Realtor to the stars': "I got myself invited to entertainment and sports-industry parties-if Puffy [rapper Sean Combs] or the president of Motown was having one. I'd introduce myself as 'realtor to the stars' and say, 'If you want to move to Jersey, see me.' Soon people said, 'Here's Joanne; she works with celebrities.' It was a domino effect."
Easiest sale: "I sold singer Mary J. Blige her house in Cresskill about 10 years ago. It was easy, because celebrities know what they want-they don't have to see 100 houses."
Cancer survivor's credo: "Cancer need not be a death sentence. Live life to the fullest, share your story, support others, have faith and be thankful for every day you wake up. Every year I host a fundraiser for Englewood Hospital called the 'Think Pink Spring Bling.' We have pink food and everyone-men, women and children-wears pink."
Makes it worthwhile: "Someone who'd been to one of my parties came up to me a year later and said, 'Thank you, Joanne! When I heard the doctor at your event talk about early detection and self-exams, I found a lump- just in time. I believe you saved my life.'"