A Cut Above
TV hair guru Tabatha Coffey wins Bravos for her hip cuts and her straight-shooting style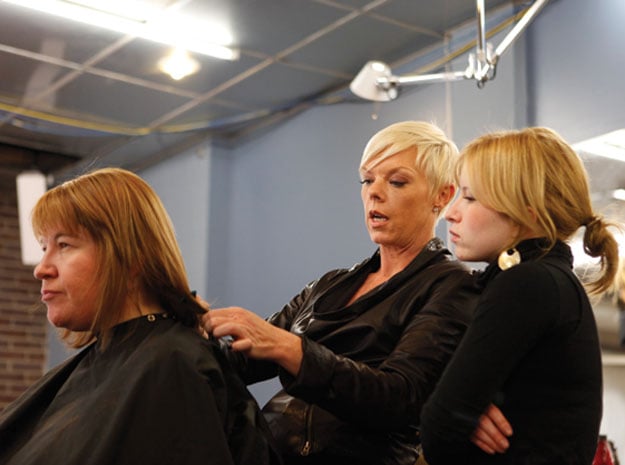 As a child growing up in surfers paradise, Australia, Tabatha Coffey spent much of her free time cutting her Barbies' hair into funky coifs and styling the tresses of any friend willing to sit still long enough. She vividly recalls early trips to the beauty parlor with her mom.
"I loved the smell of the salon, seeing the transformation of the people in those 'special' chairs and how all the women looked so happy when they left," says the 42- year-old Fort Lee resident. "From the beginning, it seemed like this was what I was meant to do."
And apparently that was true:
Having run her own thriving Ridgewood-based salon, Industrie Hair Gurus, for the past eight years, the outspoken stylist recently became the star of two hit reality shows on TV's Bravo channel, Shear Genius and Tabatha's Salon Takeover, the latter of which recently finished up its second season.
As a representative for Joico, a hair-care products company, she's traveled the world educating other hairdressers. And as a respected beauty consultant, she is often quoted in the world's top fashion magazines such as Marie Claire.
Just how did the plucky blonde embark on a career that would take her literally across the globe?
Coffey started early, for one thing:
At age 14, she got her first summer job sweeping the floors of a salon in her hometown, a small suburb on Australia's famous Gold Coast.
One year later she began an apprenticeship program at The Australian Technical College–Gold Coast. The curriculum was demanding, requiring her to attend classes, sit for exams and gain practical experience by working at the nearby Stephen Pratt salon.
"Fifteen was a bit young to do all that," admits Coffey. "But it made sense, because I always knew it was the work I wanted to pursue."
After graduating, Coffey realized that to further her education she had to make a drastic move. "London was really the mecca of hairdressing, so I left Australia when I was 19 to start training and working at the Vidal Sassoon Academy," she says. This was a period ripe with inspiration, and Coffey credits her growth in large part to the mane masters under whom she studied. "My mentors valued the integrity of their craft," she explains. "It's not about coming in at nine, cutting someone's hair and going home at five. A person can be transformed in the hands of a good hairdresser. There's honor in that-but also great responsibility."
Coffey used her newly sharpened skills to manage a salon in London's affluent Kensington neighborhood. "Lots of interesting people and personalities walked through that door," she explains. "I had clients who worked at Buckingham Palace or were related to the Queen. Another time I cut the hair of a Turkish princess."
Such variety helped Coffey develop the maxim by which she still abides: There's no such thing as a perfect cookie-cutter haircut. "Trends come and go, but they don't fit everyone," she says. "I want to give each person the best possible style for their face and hair type."
Eventually the bustle of London became wearisome, and Coffey decided it was time for another big change. "I had never been to America before, but I had family in New Jersey so I decided to give the move a try."
Though the adjustment was initially difficult, the stylist soon found much to love about the Garden State. "I don't understand why New Jersey sometimes gets a bad rap!" she says, laughing. "It has incredible clothing boutiques, great doctors and fantastic restaurants." When working at her salon she regularly orders lunch from two nearby spots, Best of Everything and Sabu Sabu Deli, and often dines at Ridgewood's Mediterraneo Restaurant. "I love that the town is peaceful and relaxed," says Coffey-especially now that her life has become more chaotic.
After auditioning on a whim for the first season of Shear Genius, the pixie-like blonde quickly became famous as the show's spunkiest contestant. Though she was eliminated after the sixth episode due to poor teamwork with Tyson, her partner for the day, America loved her candor and intensity: Coffey was voted "Fan Favorite" and awarded a $10,000 prize.
A few months later Bravo called to offer an even better boon-her own spin-off series. On each episode of Tabatha's Salon Takeover, Coffey has one week to save a failing hair parlor from destruction. Her canny business sense and impeccably chic style have yielded consistently positive results, yet the owners aren't always appreciative of her forthright approach.
"Because I'm pointing out all the things they're doing wrong, people often get offended by what I suggest," she says. "But I don't have time to hold their hands or work in an overly nice manner."
One thing Coffey does always have time for is her clients. "I'm still at the salon all the time-unless I'm traveling for the show or for work, I'm there cutting hair."
Indeed, Coffey hasn't lost the childlike wonder that first drew her to this craft. "There is magic in that final moment, when everything comes together," she says. '"You see a bit of sparkle in the customer's eye, and you know that person really feels good. It's incredible to realize that you helped make that happen."