A Drive to Give Back
A Fair Lawn woman's "do good" attitude is rewarded with a brand new Mini Cooper.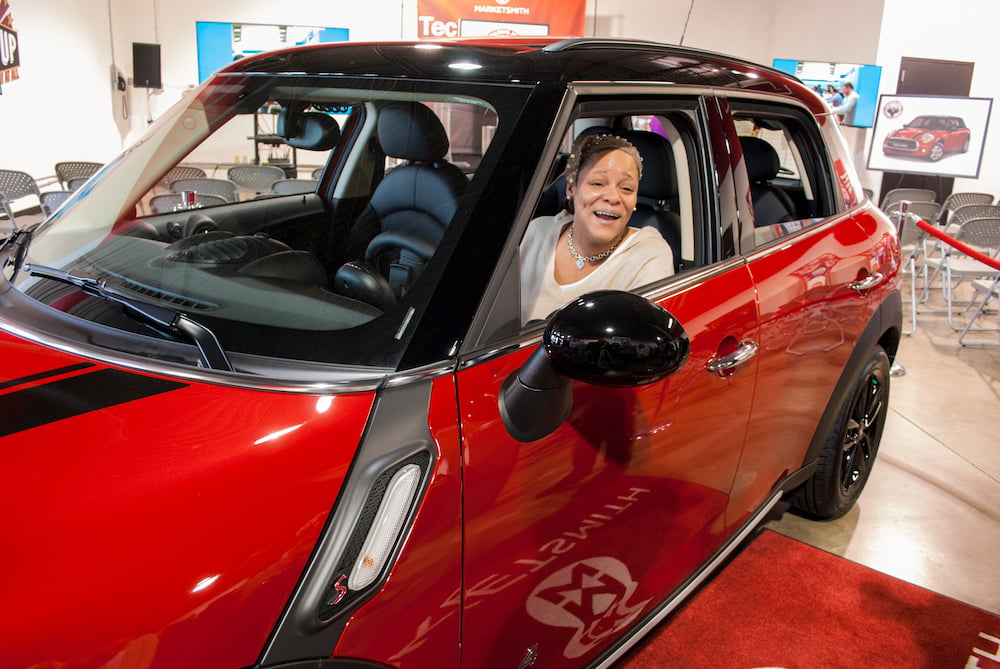 The vanity plates on Ayanna Thompson's new car pretty much sum up all you need to know about her: "WONDER WOMAN."
Smiles seem to follow wherever she goes. At her job, for instance, at Marketsmith Inc. in Cedar Knolls, she's called "one of the company's brightest lights, bringing up morale, rallying the troops, and always thinking of innovative ways staff can interact and bond."
In addition to her role as direct marketing manager, Thompson, 45, is a single mother of two and has turned one of her favorite hobbies into a thriving enterprise—a cake-decorating business called Danjae's Delights. But the Fair Lawn woman still finds time to give back in any way she can, whether it's by participating in a walk/ run to raise money for cancer research or simply teaching arts and crafts and, yes, cake decorating to children in an after-school program.
So when her boss, Marketsmith founder and CEO Monica C. Smith, announced a company-wide initiative called "The Amazing Journey" as a way to "build community and find commonality" by promoting acts of kindness, Thompson was on her game.
Smith's brainchild called on employees to "earn miles" in the categories of "Be a Better You," "Do Good," "Drive Revenue" and/or "Be Social." Activities in each category were assigned a certain number of "miles"—for example, three miles for referring talent, 10 additional miles if that referral is hired; five miles for raising money for a cause; four miles for taking a course in any subject. After five months, the results were tallied and Thompson had accumulated more points—6,000—than any of her some 75 colleagues.
For Thompson, the achievement and how she earned first place in the contest were rewards enough. After all, she's always been a giver, she said. And her success "will kind of propel me to keep doing what I do anyway."
But getting behind the wheel of the grand prize, a new Mini Cooper? That was some bonus!