A Flat Gets Festive
The verdict when a designer dressed up an Edgewater apartment for the holiday season: "Sold!"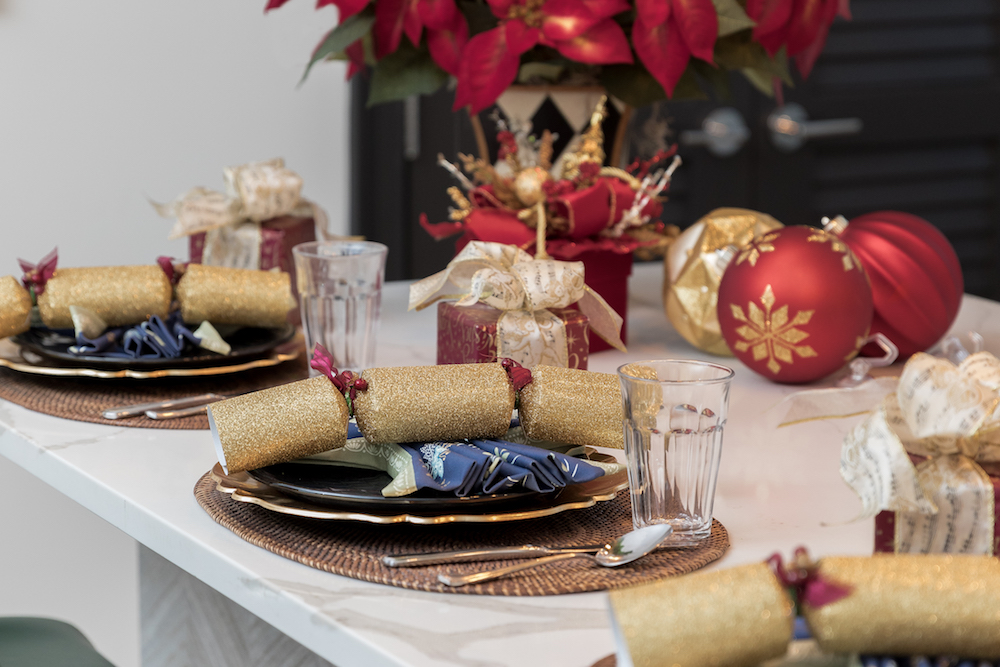 Design by Anna Maria Mannarino
Photography by Lauren Hagerstrom
Christmas all year? God forbid! Whether or not you celebrate Dec. 25, no sensible designer suggests you make your home a 12-month Santaland, casting a spell of eternal Noël. But a three-bedroom luxury apartment on the market in Edgewater had a slew of end-of-the-year showings coming up, and Anna Maria Mannarino of Mannarino Designs in Holmdel had already given the place one stellar design. When she was rehired to effect a timely makeover, she jumped at the chance to combine novel elements with the soothing visual traditions of the season. After all, what says "home" more than the holidays?
Mannarino opted for a mostly time-tested Christmas décor in the hope that it would appeal to any potential home buyer—a single person, a couple or a family. The layers of greens, reds and golds, she says, create a sense of tradition and holiday nostalgia and are nicely juxtaposed with brighter, more contemporary interiors.
Achieving such a look involved "keeping it more scaled back and creating vignettes throughout the space that gave it the feeling of Christmas," Mannarino says. Examples: a stunning tree in the corner, a mini-display with wooden soldiers on the cocktail table, a full tablespace on the kitchen island, fluffy pillows on the sofa. "All of these elements just sort of popped."
The tablespace in particular is a good example of mixing old with new. There she used gold chargers, silverware and Christmas crackers to make it extra festive. A small, personalized gift was left at each setting, wrapped in ribbon adorned with musical notes that matched the ribbon on the tree. Mannarino, who moonlights as a musician, suggests homeowners incorporate some personal elements like this one into the décor so it "tells a story."
The Christmas tree, positioned before a window so that it overlooks the New York City skyline, was first decorated with wide red, white and gold ribbons. Then smaller heirloom pieces and collectibles filled in all the pine's remaining space. Other large-scale items such as gold votive candles and jumbo gold balls—placed sporadically in a red bowl at the end of the table—up the space's sparkle factor. "If you're entertaining you should use real candles on the table," Mannarino says, "but the fake ones have a nice realistic look to them so it's easy to incorporate them elsewhere."
Floral touches are brought in throughout the apartment; for example, with a clear vase filled with red roses on a side table and a poinsettia arrangement beside the island. You can integrate nature into the décor with anything, really; it needn't be flowers, branches or pine cones. "Put together a bowl of pomegranate and nuts and add in a few shiny balls, so you're still getting the holiday bling but in a more understated, natural way," says Mannarino.
And make sure your décor appeals to the nose as much as to the eyes. "Cut garland that you can wrap around a railing, or put cuttings from different trees in a basket with some pine cones," the designer advises. "That way the area is fragrant and smells fresh."
Mannarino's hard work also brought the scent of success. When she received a text message that the apartment had been sold, she knew that new owners would begin writing their own story there for the holidays—and the rest of the year too.