A Glass of Gourd
You'll have pumpkin, spice and everything nice with this sweet way to usher in the fall season.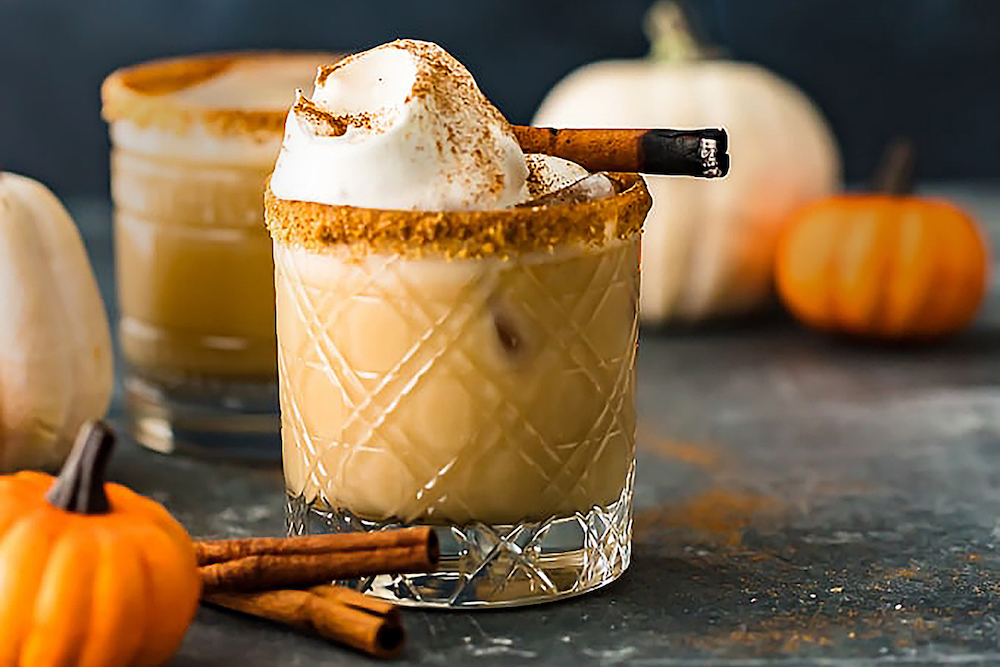 Pumpkin Spice White Russian
INGREDIENTS
For the drink:
3 oz. good quality vodka
3 oz. pumpkin spice creamer
1.5 oz. Kahlúa
whipped cream and pumpkin pie spice, to garnish
For the rim:
1 tsp. pumpkin pie spice
1 tsp. sugar or sparkling sugar
3 Tbs. crushed graham crackers
INSTRUCTIONS
Mix the ingredients for the rim together on a shallow plate. Dip the edge of two glasses in water and then dip into the graham mixture. Press to coat. Set the two glasses aside.
Pour vodka, creamer and Kahlúa into a large cocktail shaker filled with ice. Shake lightly until combined and cold.
Pour into glasses and top with whipped cream and pumpkin pie spice.
Instead of Kahlúa, which might overpower the pumpkin flavor, use RumChata, which is a great neutral base and really allows for sweeter flavors to pop. I also suggest using crushed biscotti for the rim and securing it with a thin rim of honey—it will stick better than water and the graham mixture and look and taste great."
—Gene Bazzarelli, general manager, Franco's Metro Restaurant, Bar & Pizza, Fort Lee