A Healthy Response to Hunger
As food insecurity continues to plague many in Bergen, the county's food providers are putting an increased emphasis on nutrition.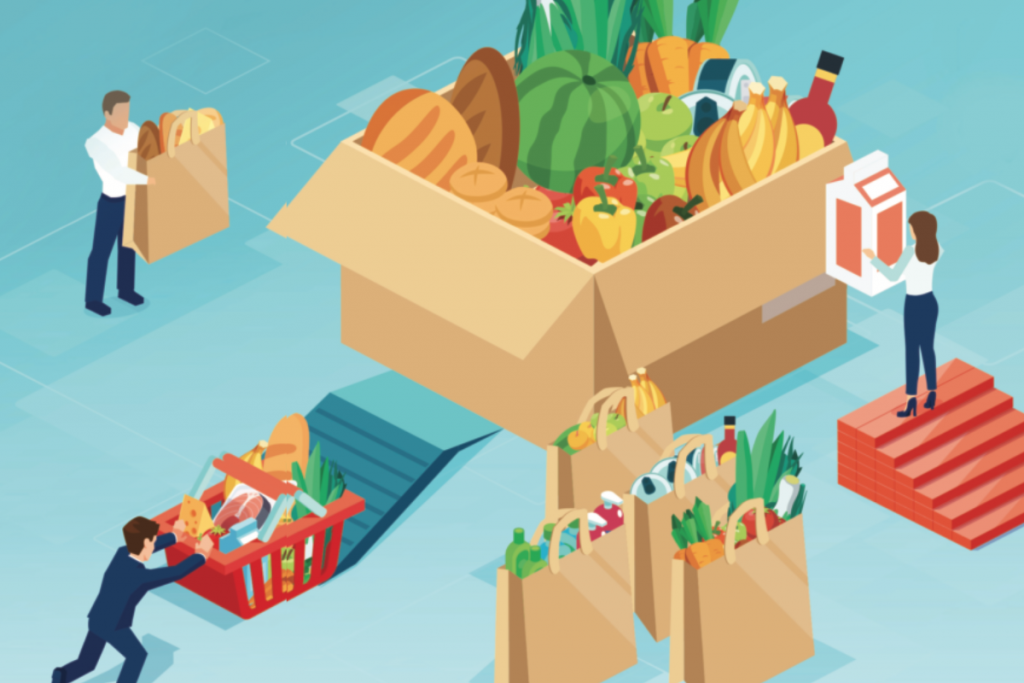 They appeared in early 2020: lines of cars that seemed endless, and inside them, hungry people waiting for the gift of food. This January, at the Tri-Boro Food Pantry in Park Ridge, even food donors had to wait nearly an hour to drop off bags of groceries until the pantry hired a parking lot attendant to manage the sudden influx of the food insecure. Before the pandemic, Tri-Boro served some 30 families; suddenly it was providing food to more than 100. You couldn't turn on the news without seeing those lines, those cars, those people in need.
Nearly two years into the pandemic, the lines of cars are gone. But the need remains. "Our numbers are still high, and the need is as great as it was," says Patricia Espy, director of the Center for Food Action, the Englewood-based nonprofit that provides food for residents of Bergen and upper Passaic counties. Espy notes that pre-pandemic they were helping to feed 1,500 households a month; today, they're feeding 1,000 a week.
According to the Bergen County Food Security Task Force, created to address the needs generated by COVID, some 104,000 residents of Bergen County currently suffer food insecurity, defined as a lack of sufficient food or food of sufficient quality. And that number could actually rise. "I don't think we're seeing the full ramifications of the pandemic yet, because there were moratoriums on evictions and mortgages, and now those are being lifted," says Nina Bachrach, CEO of the nonprofit Bergen Volunteers.
In addition, Jeanne Martin, director of Meals on Wheels North Jersey, is also concerned about the supply chain issues that have made certain consumer items harder to come by over the past year and could worsen in the months to come. "We're already seeing some of the things we can't get," Martin says, citing, for example, lactose-free milk.
If anything positive has emerged from the pandemic, it's an increased awareness that, even in the leafy confines of Bergen County, hunger is real. "The pandemic shed light on the fact that there were people on the fringe who were just getting by," says Stacey Antine, a registered dietitian and director of Ridgewood's HealthBarn. She's also the founder of the HealthBarn Foundation, which has been feeding the hungry for the past five years.
It was in 2016, at an elder dinner cosponsored by the foundation and the Ridgewood Department of Parks and Recreation, that Antine had a revelation about the traditional approach to food insecurity. "It was noticeable to me as a dietitian that some of the people at the dinner were malnourished," she says. She realized that much of the food that was being provided to the food insecure—many of whom also suffer from nutrition-related diseases such as diabetes and hypertension—was, in fact, deficient in nutrition. "We're not feeding people thoughtfully," Antine says. "Yes, they're getting food, but it's not necessarily good for their bodies or their minds."
Antine wasn't the only person in the county to come to this conclusion. "Often, when people are donating to food pantries, they'll give their old, expired food or less healthy options like a box of mac and cheese," says Bachrach. But a movement seems to be afoot in the county not just to feed the hungry but to nourish them properly too.
A Portrait of Bergen's Hungry
Antine has seen firsthand what she calls "a new face of food insecurity." "It's the working poor; it's families; it's seniors; it's people with special needs." It's also those who've lost their jobs during the pandemic or who've lost a breadwinner due to COVID. Stigmatized by the need to rely on others for food, many of the hungry, says Bachrach, "are hiding in the shadows. But there are people in some of the wealthiest areas of Bergen County who are actually food-insecure." Children have been especially hard hit. Recently, Donald Wuertz, director of the Office of Concern Food Pantry at St. Cecilia's Church in Englewood, noticed that the pantry was seeing an increase in large families with children among its clientele. In fact, a study by the nonprofit Brookings Institution found that food insecurity nationwide is far worse in households with children 12 and under—40.9 percent as opposed to 23 percent among the general population.
In July of 2020, in response to growing pandemic-induced pressures on food pantries and other groups feeding the hungry, Bergen County launched the Bergen County Food Security Task Force, led by County Commissioner Tracy Zur. The organization's mission is "to ensure every county resident has access to healthy food options during this pandemic and afterward." The word "healthy" is not an afterthought. Last Thanksgiving, for example, the task force donated thousands of pounds of fresh yams to food pantries across the county—5,000 pounds to St. Cecilia's alone. (Of all the traditional holiday foods, yams may be the most nutritious—high in fiber, vitamins C and B6, potassium and manganese.)
Those yams were certainly a boon to many of the county's food insecure, but they also illustrate a problem that has plagued food providers for years. When Susan Colacurcio, a trustee of the Franciscan Community Development Center of Fairview, received the yams, she realized that they were too big to cut for the seniors. So she contacted Antine, who used them as a base for soup. "We need to look at the people we're serving, and we have to make sure we're giving them food they can use and that they want to eat," says Antine. The HealthBarn Foundation is currently piloting a new entrée, Cheesy Lasagna Rolls, which include whole wheat pasta, part-skim ricotta, tofu and spinach, among a host of other nutritious ingredients (check out the recipe on page 48). Antine wasn't sure how the recipe would go over with the largely Latinx clientele at the Franciscan Community Development Center, with whom she partners, but it turned out to be a hit with both children and adults. Increasingly, food pantries are working individually with their clients to determine what they need, what they like and what they can prepare. A model for that is Meals on Wheels, which asks clients for their likes and dislikes, among other things. "If we're serving fish and you don't like fish, if we're serving spinach and you can't eat spinach, we will amend our menu for you," says Martin.
A Better Way
A simple approach to assuring more nutritious foods is for pantries to specifically ask that donors provide them—items like whole wheat pastas, brown rice, low-sugar cereals and canned foods that are low in salt, sugar and saturated fats. But Antine has a more radical solution. "We need to think of a different food model," she says, citing as an example her relationship with the Franciscan center, which buys nutritious ingredients—things like lentils, carrots and onions—and delivers them to Antine and her team of volunteers, who then turn them into a nutritious soup. "The pantries are important," she says, "but I'd love to see a Bergen County community kitchen, where the raw ingredients come in, we get volunteers to cook and then the meals are sent, frozen, to the pantries." In the meantime, her HealthBarn Foundation is using two grants totaling $3 million from the New Jersey Economic Development Authority to buy meals from the county's restaurants and distribute them to the pantries. Nutrition is uppermost among the project's requirements. "If they want to participate," says Antine, "they have to provide a protein, a vegetable and a starch—no pasta and vodka sauce."
Like virtually all the programs in Bergen working to address the county's food insecurity problem, the HealthBarn's effort depends on volunteers. The good news is that, if you want to get involved, there are plenty of ways to help relieve food insecurity and provide good nutrition for all.
How You Can Help Fight Food Insecurity
Donate food. To find a food pantry near you, check out the list at co.bergen.nj.us. Contact the pantry to find out what others need most—and make sure that, in meeting that need, you don't skimp on nutrition.
Donate money or supermarket gift cards. Organizations like the Center for Food Action, says director Patricia Espy, "can then buy the healthier items and stock up on food that isn't donated to us." Some groups, including CFA, give supermarket cards to households with specific dietary needs they may not be able to fill.
Sponsor a food drive. At your child's school, your place of worship or even on your block. Ask donors specifically for nutritious options, then deliver the food to a pantry in need (virtually all are).
Volunteer to fill a need. Some groups need drivers to deliver food, others cooks to help prepare food. "We're always looking for assistance in handing out food and working on food distribution," says Nina Bachrach of Bergen Volunteers. You can find opportunities at bergenvolunteers.org.
By Leslie Garisto Pfaff