A Kitchen Set Free
In Ho-Ho-Kus, a couple challenged their designer to find a way to say "modern" without the white-on-white cliché.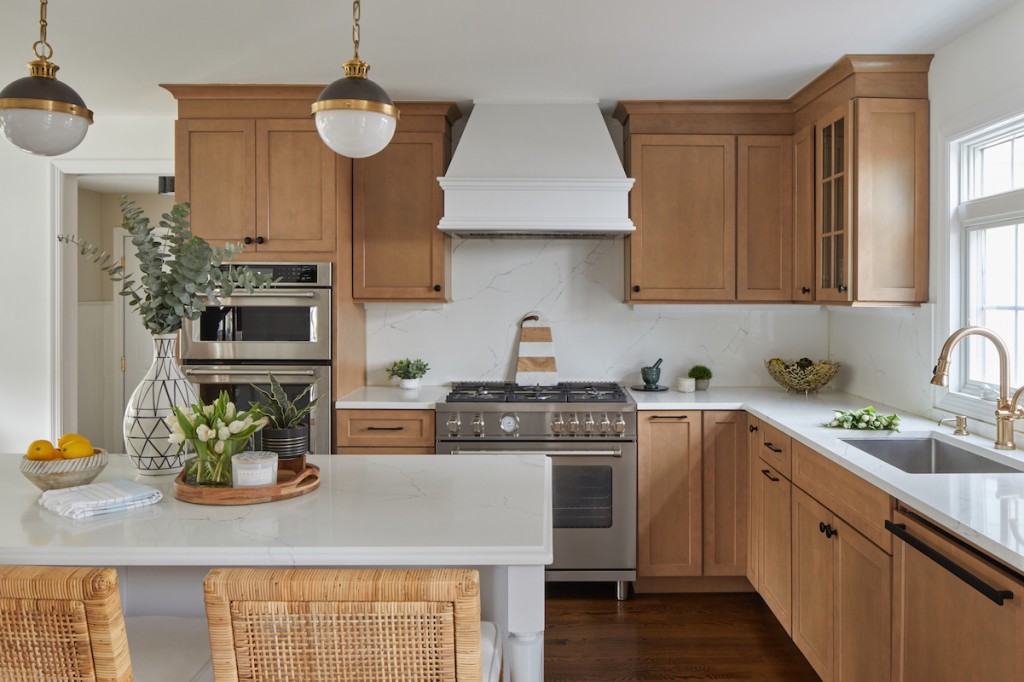 A Ho-Ho-Kus family's colonial was well on its way to a new look—goodbye, traditional!—when they called in Ridgewood designer Laurie DiGiacomo for a room that was double trouble: the kitchen. This hub of family living—and entertainment— needed an expert touch to solve challenges of both beauty and function.
The couple, Denise Ott and Sergio Martinez, had chosen to put up with the room's poor layout, cherry cabinets and green granite for a few years after moving in in 2012. First they needed to expand the 1940s colonial to four bedrooms, a better fit for a family with two school-age boys.
Then, when it was time to tackle the home's busiest space, the task seemed daunting. "Above our pay grade" is how Ott described it.
"It was a small kitchen, so we needed to be really efficient with the space," Martinez explains.
The renovation, completed in 2021, met the requirements of both function and aesthetics—and, conforming to the couple's wish, it's not a sea of white.
For a party-friendly kitchen and dining room combo, DiGiacomo subbed an island for the peninsula that divided the space. With the island, guests "aren't on top of each other anymore," Martinez says. And seating is never scarce with a banquette and ebony custom table for 12.
Gaining mastery over space, DiGiacomo also accommodated all the chef-grade appliances by Bertazzoni and cabinetry Martinez (the cook) and Ott (the baker) required.
The next challenge was creating a modern look without white-on-white. DiGiacomo got her modern vibe from the stain added to Omega's shakerstyle maple cabinets, along with the addition of black (hardware) and gold (faucet), teamed up in the island-area globes by Circa Lighting. Though white, the Carrara-like quartz in the countertops and slab backsplash doesn't detract from the warmth of the space.
Nearby, the dry bar with wine fridge and mirrored backsplash highlights creativity; this former closet never looks like an afterthought.
The couple agrees that DiGiacomo was a magician with space.
"It makes life easy," Martinez says of the new design.
Text by Donna Rolando
Design by Laurie DiGiacomo
Photography by Raquel Langworthy