A Meal in the Park
Responsibly made food & intimate atmosphere creates a hunger haven in East Rutherford.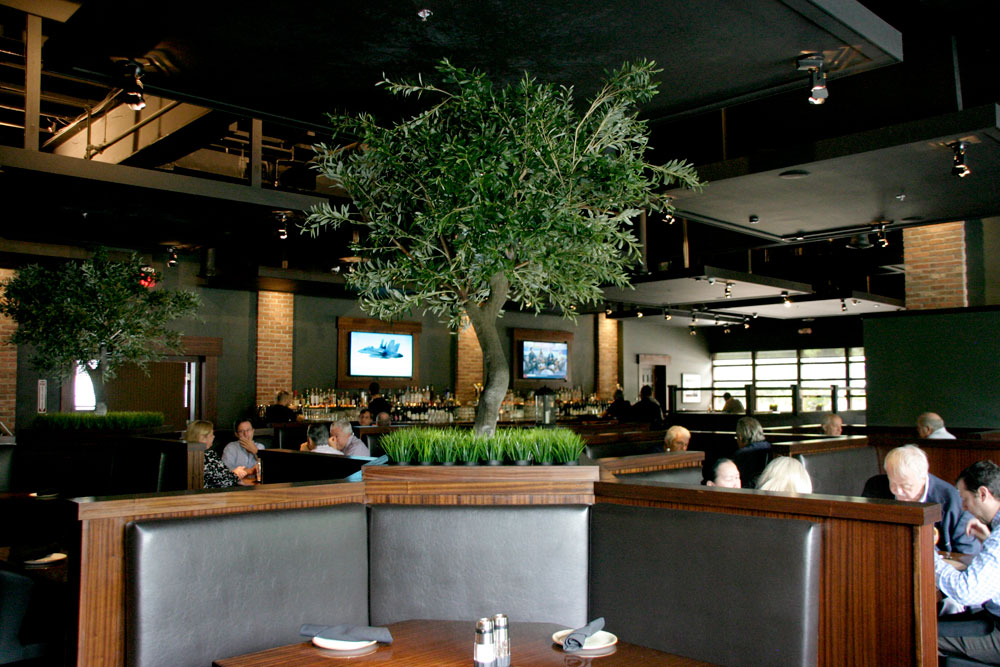 While there is nary a park or orchard in sight, East Rutherford's venerable Park & Orchard restaurant delivers great seasonal food that's responsibly made (read: hormone- and antibiotic-free), attentive service and an intimate atmosphere that makes it a great night out.
Perfect for patrons seeking privacy (it appears cozier than its 145-seat capacity), the dining booths are high and so intimate that you barely know what's going on around you. The restaurant is framed in rich-hued woods and is quite dark save for the almost spotlight-like fixtures that grace each table. An open kitchen area in the back reinforces the intimacy and also focuses your attention on the chef. The long bar area is similarly dramatic.
Reopened earlier this year after the original owners of the almost 40-year-old establishment retired, the menu is eclectic—Italian-influenced modern American served up by chef Christopher Albrecht—so we decided to sample Italian and American fare, both well done. Albrecht is no stranger to stellar Italian cooking, having garnered rave reviews for his farm-to-table cooking at Eno Terra in Kingston, N.J. So it's not surprising that the lamb ragù with gnocchi was superb. We split an order for starters and also tried the beef, pork and ricotta meatballs. Both were prepared in a red sauce that was light but flavorful. Served piping-hot on miniature griddles, the presentation matched the preparation.
The cocktails we sipped along with appetizers were just right and featured a healthy pour: the Negroni, a mix of gin, Campari and sweet vermouth, and a classic margarita, one of three varieties. Complimentary herb-topped focaccia arrived nestled in a similar cast-iron pan.
The main courses we ordered, cioppino (a tomato-based seafood stew), for the Italian entrée, and Southern fried chicken, for the American, were both authentic and delicious. The seafood sat atop perfectly cooked spaghetti and was packed with tender lobster, shrimp, mussels and squid. (It also features a fish of the day, which was a cod on the evening we visited.) Adding to the carb overload, four slices of grilled bread accompanied the dish.
As for the chicken, it seemed as if the crunchy coating had pierced the actual meat, giving the juicy fowl an added dimension. Served with wilted pickled kale and caramelized Vidalia onions, it hit sweet and tart notes perfectly. Not to be outdone by the seafood entrée's doughy accompaniment, the chicken was served with biscuits. And, oh, the biscuits! One bite of the toasty, tender, not-too-sweet baked wonders, and I was in heaven. (Devouring them made it impossible to finish the chicken, which I had wrapped. And, hey, I had to save room for dessert.)
An admitted cheese addict, I opted for the cheesecake, a sublime creation made from a yummy trio: goat, mascarpone and cream cheese. It was topped with toasted hazelnuts and a blueberry jam. If the biscuits hadn't already launched me heaven-bound, this surely would have done the trick. My companion chose the peach and blueberry cobbler, a healthy serving of the concoction, which was good enough, but certainly not as good as the cheesecake.
Prices, while not inexpensive, were worthy of the food. And parking was very accessible and could not be more convenient. So even without the park or the orchard, it's well worth a visit.
Park & Orchard, 240 Hackensack St., East Rutherford, 201.939.9292; parkandorchard.com