A Peach Cake To Sweeten The Weekend
Picked too many peaches this season? Use the fruit to make a delicious dessert for Labor Day—or any day!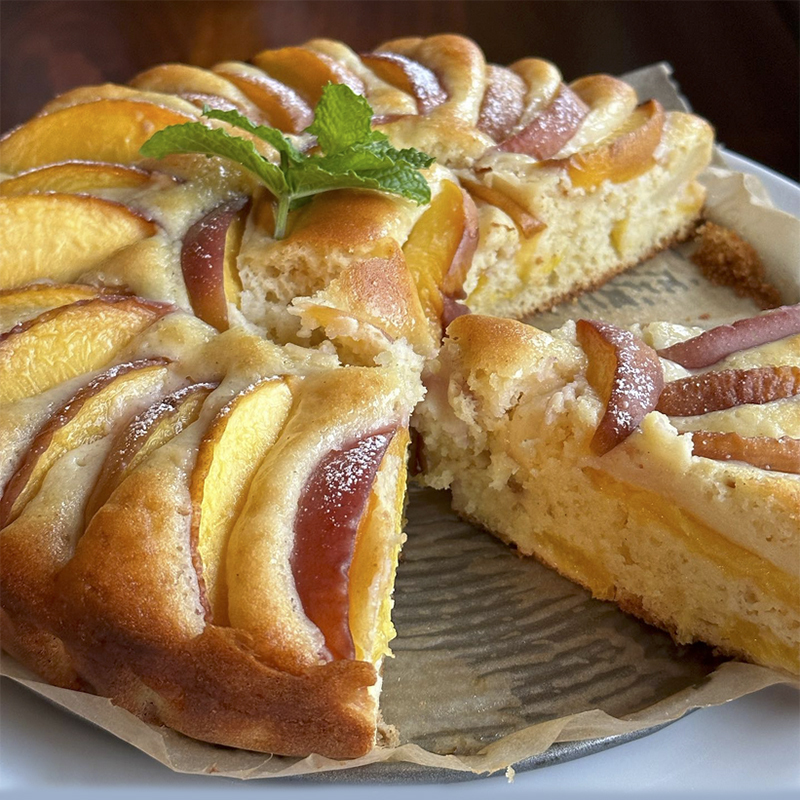 Peach-picking season is winding down, so if you haven't visited a farmers' market or picked your own from the orchards yet, it's time to get cracking! And don't worry if you bring home more than you can chew—you can always freeze them for later or use them in an exciting recipe for peach cobbler or peach ice cream.
One of our favorite ways to use extra fruit is to make this peach cake, a recipe that comes from loyal BERGEN reader Giovanna Lo Piccolo of Saddle Brook. She came up with the recipe a few years ago—shortly after she regrettably discarded farmers' market peaches that her father had frozen. When they first heard what had happened, friends and family told Giovanna that she should've used the frozen peaches.
"I couldn't figure out what to do with them at the time, but I could've made marmalade or baked a peach cake," she tells BERGEN. "I couldn't forgive myself for having thrown those amazing peaches away, and I promised myself I would bake a peach cake every year during peach season using farm fresh peaches."
Giovanna's been baking the cake ever since, and this year she's sharing her recipe with everyone:
Ingredients:
1¼ cup gluten-free flour (I use Bob's Red Mill 1-1 baking flour) or regular flour
½ tsp. baking powder
½ tsp. baking soda
pinch of sea salt
4 tbsp. avocado oil or extra virgin coconut oil
¾ cup sugar
1 tsp. vanilla extract
2 eggs
¼ cup Greek yogurt
3 peaches sliced, plus 1 diced
powder sugar (optional)
Directions:
Preheat oven to 375°F.
Grease a springform pan with coconut butter and line with parchment paper.
Combine flour, baking powder, baking soda and salt in a medium bowl.
In a separate bowl, beat oil with sugar for 3 minutes. Add eggs and vanilla extract. Continue beating and add yogurt.
Reduce mixer speed to low and add dry ingredients in three intervals until incorporated.
Incorporate diced peaches with a spatula and transfer batter to pan. Arrange peach slices on top and bake for 40-50 minutes. Test with toothpick for doneness.
Let cool completely before removing from pan, and dust with powder sugar.
What do you do with your extra summer peaches? Share your thoughts on Instagram @bergenmagnj.