A Rockette Mom
A Bergen County mother of four—under the age of 8—tells what it's like to perform in that famous chorus line at Radio City.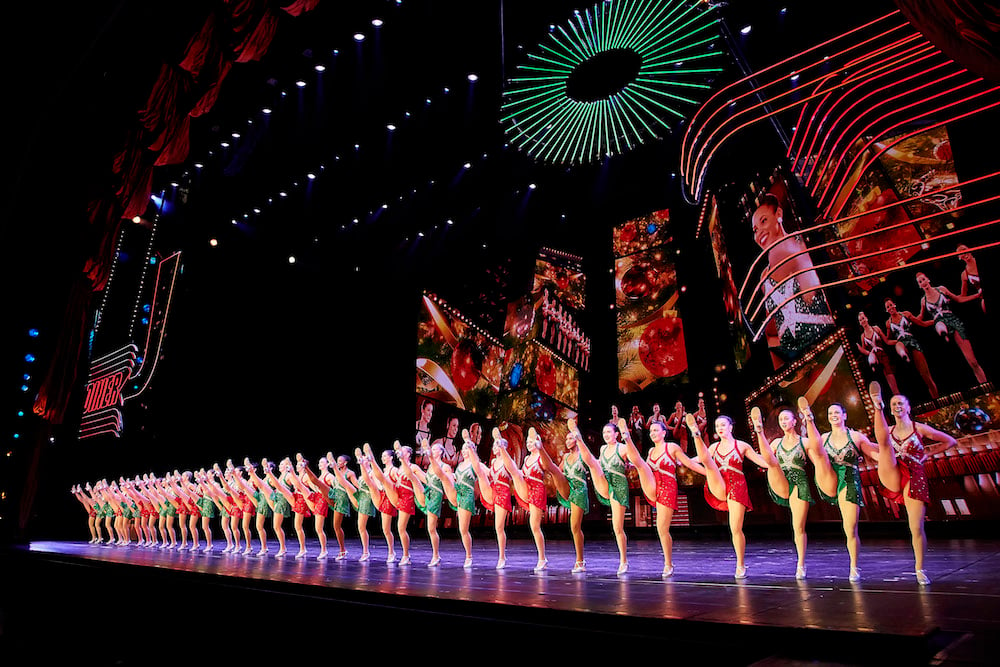 Pretty much all parents try to make the holidays memorable and special for their kids, but Nicole Baker's brood has extra bragging rights. They get to watch their mother perform on stage as one of the Radio City Music Hall Rockettes. Baker has lived for four years in Upper Saddle River with her husband and their three sons and one daughter, ages 8, 6, 3 and 5 months. And she's been performing in the famous Christmas Spectacular Starring the Radio City Rockettes since she graduated from college. In a recent conversation, she shared with BERGEN what it's like to be an eye-high-kicking dancer on Manhattan's most iconic stage, what goes on behind the scenes and what her family likes to do in our area.
Where did you study dance before becoming a Rockette?
I went to a dance studio in Florida, where I grew up, and then I went to the University of Arizona. I got a B.F.A. in dance there and then, in my senior year of college, I auditioned. The Rockettes was my first professional job and I've been doing it ever since. This is my 13th year dancing with them. When I was young I used to come up to New York every year for big national competitions and we used to compete against a dance studio that my daughter now goes to, Studio L in Waldwick. So it's come full circle.
Was being a Rockette always your ultimate career goal?
I always knew I wanted to perform, and being a Rockette is unlike anything else. The rehearsal process, the teamwork and how synchronized we are on and off stage all create a feeling that is totally indescribable.
What's the audition process like? Do you have to audition every year?
Yes. It's a two-day process. The first day is very intense; a jazz combination, a tap combination and our eye-high kicks. They call you back the next day if you make it, and you come back to do the same combinations plus some more. Then you wait a couple months for a phone call. I think I auditioned in May and got the call in August.
Do you ever feel like you might not make it even though you have for so many years?
Of course! I tell myself I love that nervous feeling because it makes me know I still want the job and I'm gunning for it. It's constantly changing; they hire dancers who are capable in every field of dance and are also strong and athletic.
Is there an age limit for Rockettes?
Nope! As long as you can keep dancing and keep kicking, you can get your job back.
How often do you perform each week?
We have two casts in New York, 40 in each cast, for a total of 80 Rockettes; 36 onstage and four "swings" off-stage in case someone gets injured. We rehearse six days a week, six hours a day, and then each cast works six days a week with one day off. I do the morning shows and work every day except Thursday. We each do 16 shows a week. Broadway dancers do eight and we do double that.
Any funny backstage stories? It's probably organized chaos back there.
It's very choreographed backstage, but it's live theater so things happen. And we do our own hair and makeup. You kind of learn as you go along, but the French twist is hard to master!
Has anything ever gone awry while you were on stage?
One time somebody stepped on my shoe and my shoe was flapping in the air. It's kind of exciting. You never know what's going to happen. But it's usually as smooth as possible.
Do you have a favorite number?
I love the "Parade of the Wooden Soldiers." It's been in the show since 1933. It's so epic because every Rockette before me has done the same exact steps on the stage. It's special to take a moment to think about that. But this year we have a new finale called "Christmas Lights" that is absolutely stunning—from the costumes to the music to the way it makes you feel as if each audience member is part of the show. There are 100 drones flying on the stage, which has never been done before. The feeling of doing this new choreography is very special.
What do you do on your days off and on your breaks in between shows?
Usually on my day off I'm with my kids in Jersey or doing PR events. We usually only have an hour and a half between shows, so we eat and rest, put our feet up, play games in our dressing rooms, try to keep everybody awake and energized.
What is the vibe like with all the women? Are you all close?
Everybody has her own personality but we always say together we're better and it's 100 percent true. We're all exhausted and we're away from our families, but we support each other 100 percent, whether it's a happy moment or a sad moment.
What about during the off season?
Right now I am a mom. My youngest just turned 5 months old so I am back to my fulltime mom role!
Do your kids ever come see you in the show?
Yes! They're excited to share it with their teachers and their friends. My kids are screaming "Mommy, Mommy!" while I'm on stage. It's something special, and we live close to the city, so it's nice.
What are your favorite things to do with them in Upper Saddle River?
We go to Lions Park a lot to play on the playground. My kids love going to Elmer's, which is like a gas station and convenience store. We love Ridgewood—it's cute just to walk around there. And my older two boys are in sports in Mahwah, Ramsey and Woodcliff Lake, so we're all over the county.
Any fun Jersey holiday traditions?
We moved here from a one-bedroom apartment in the city, so our favorite thing to do is have people over and just enjoy the space and let the kids run around. I'm Jewish, so I celebrate Hanukkah, which is all about having family and friends over.
What's your advice for little girls who want to grow up and become Rockettes?
I just say never give up and always keep trying—keep a smile on your face. I try to be the best mom, the best dancer, the best Rockette I can be. I'm just going to try to be the best version of me that I can be at that moment and just not give up.