A Romantic Repast
BERGEN reached out to Chef Ibrahim Sanz of Edgewater's Haven Riverfront Restaurant & Bar—an oft-time Best in Bergen winner— and asked him to create a Valentine's Day dinner menu exclusively for our readers. Lucky for us, he agreed. Let's eat!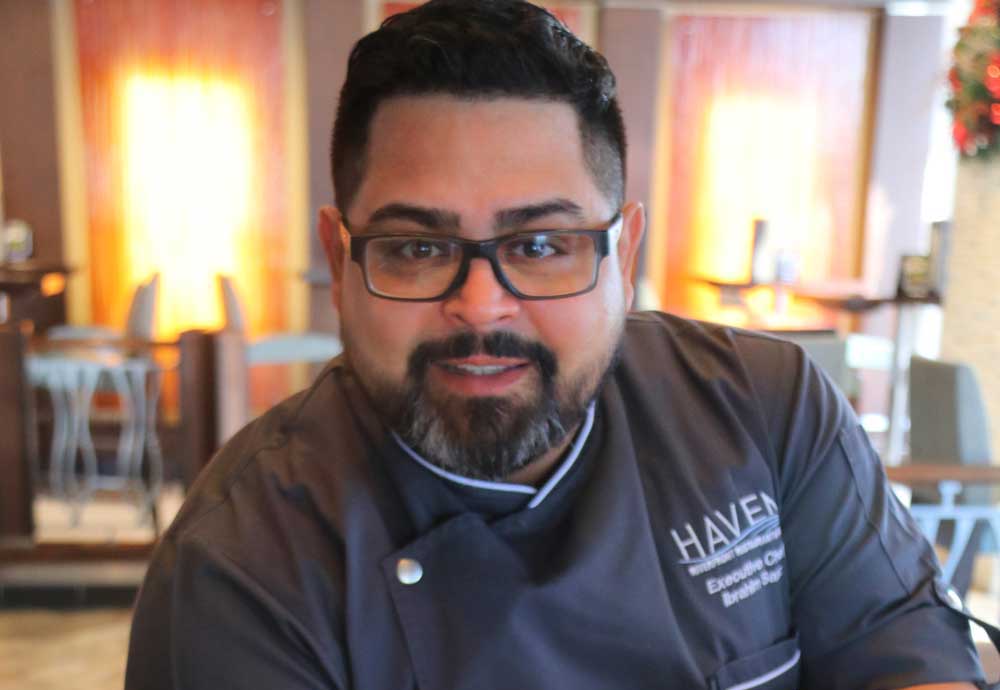 Spicy Tuna Bites
Serves: 2
Time: 20 minutes
Ingredients
½ lb. sushi grade tuna
1 Tbs. mayo (or Veganaise)
½ Tbs. Sriracha
1 Tbs. rice vinegar
½ Tbs. soy sauce
½ Tbs. sesame oil
1½ cups cooked sushi rice
2 Tbs. Furikake Japanese seasoning (or mixed black and white sesame seeds)
vegetable oil
scallions, sliced to garnish
rice pearl crackers, to garnish
Directions
Slice tuna against the grain, then chop into small cubes. Place in bowl.
Add the mayo, Sriracha, rice vinegar, soy sauce and sesame oil. Mix to combine and place in fridge until ready to use.
Using either your hands and some cling wrap or a sushi mold, form rice into small rectangles (about 2 inches long and 1 inch thick). Rice should be packed as tightly as possible so that it doesn't fall apart when frying.
Roll formed rice pieces in seasoning (or sesame mix) to coat.
Coat the bottom of a non-stick frying pan with vegetable oil and place over high heat. When oil is hot enough to sizzle, fry each piece for about a minute on each side, or until golden brown. Move to a paper towel-lined plate.
When cool enough to handle, arrange rice pieces on a serving platter. Place spicy tuna mixture on top to cover. Garnish with sliced scallion and rice pearl crackers and serve.
Firewood-Grilled Bronzino
​
Serves: 2
Time: 20 minutes
Ingredients
olive oil
½ onion, small dice
1 Tbs. garlic
½ fennel bulb, small dice
1 Tbs. ginger, small dice
10 tomatoes, quartered
1 medium-size eggplant, quartered
½ cup cooked bacon bits
4 Tbs. granulated sugar
1 tsp. ground cumin
1 oz. apple cider vinegar
1 oz. apple cider n ½ lb. unsalted butter, divided
4 bronzino filets
salt and pepper to taste
2 Tbs. chopped garlic, cooked until golden brown
2 oz. lemon juice
1 cup chicken stock
¼ lb. snap peas
Directions
Add 2 oz. of olive oil to a saute pan on medium heat.
Add the onion, garlic, fennel, ginger, tomatoes and eggplant; cook slowly until they become transparent.
Add the bacon bits, sugar, cumin and salt.
Add the vinegar, apple cider and 2 oz. of the butter. Let those ingredients simmer slowly for 20 minutes.
Pour olive oil on to the bronzino filets and add salt and pepper to taste.
In a hot skillet, add 2 oz. of olive oil. After the oil heats up, place the bronzino skin down in the pan.
When the fish is crispy, which should take about 2 minutes, turn it and switch off the heat to prevent overcooking. Remove fish from pan and set aside.
In a sauce pot, add the browned garlic, lemon juice, chicken stock and the rest of the butter. Reduce on high heat for 5 minutes. Add the snap peas for 2 minutes only, and set aside.
Place the eggplant compote on a plate with the fish filets on top, then add the snap peas and butter sauce on the side of the plate when you are ready to eat.
Savory Creme Caramel "Flan"
Yields: 4 to 6 serving
Ingredients
4 oz. mascarpone cheese
4 oz. cream cheese
6 whole eggs
3½ oz. condensed milk
3 oz. evaporated milk
1¼ cups granulated sugar
1½ Tbs. vanilla extract
For the Caramel
Equipment Needed
Directions
Combine all of the ingredients, except the sugar and water for the caramel, in a mixing bowl and whisk until they are blended.
Preheat oven to 325°F.
For the caramel, add the sugar into a pot on medium high heat, mix with a wooden spoon and wait until the sugar has dissolved before adding the water. Do this slowly to prevent burning and extreme bubbling. Wait for the mixture to cool down.
Add about 2 Tbs. of caramel into each of the muffin pan spaces.
Add about 2 oz. of the flan mixture on top of the caramel and cover with aluminum foil.
Put in the oven in a Mary's bath to prevent overcooking and bake for 25 to 35 minutes. Then remove the aluminum foil and bake for another 15 to 30 minutes, or until the center is slightly firm.
Put in the fridge for around 6 hours, until it is cold and ready to be served upside-down.