A Room of Her Own
A monmouth designer creates a vibrant, cheerful haven for the woman of the house. A delightful take on a shared mother and child space.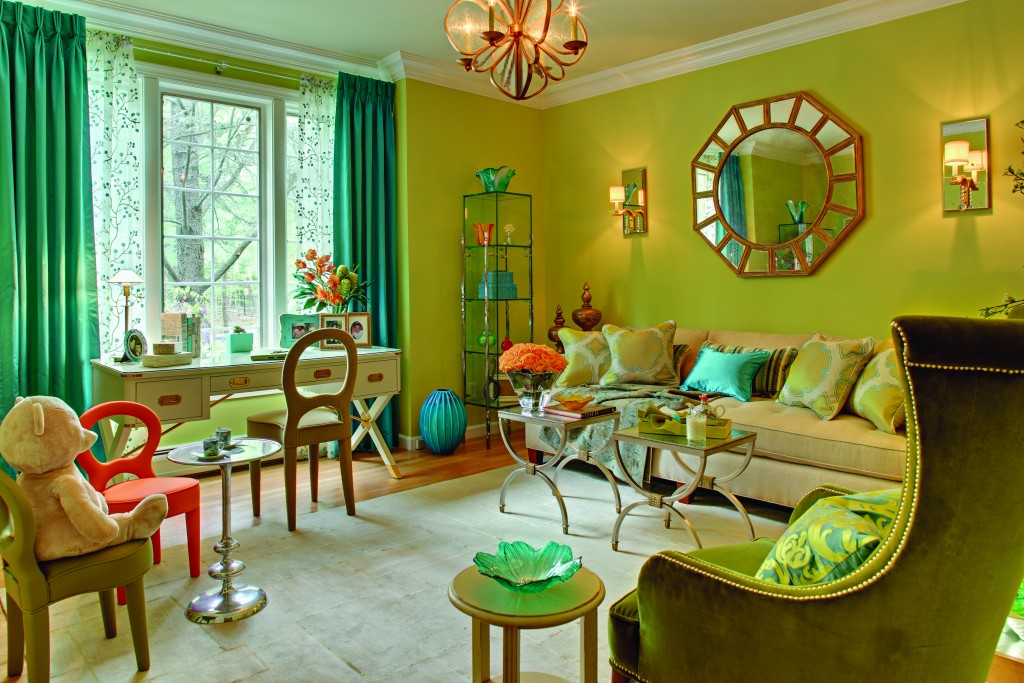 True to its name, the Hidden Acres Estate in the chestnut ridge area of saddle river is sequestered on 10 acres at the end of a cul-de-sac. this oasis was transformed recently when it served as the setting for the designer showhouse of New Jersey. About two dozen local interior and landscape designers turned their assigned rooms into decorating master- pieces; among them was holmdel designer Anna Maria Mannarino, who turned the "morning room" into a vibrant and airy space.
"My inspiration was a haven for the woman of the house, a young wife and mother, a room that is her own," says Mannarino. "I wanted it to be bright and cheerful, yet sophisticated and stylish, and to exude a feeling of welcome."
To achieve this look, she combined distinctive pieces like the Bilou Bilou chairs and the mixed-material étagères with more muted and classic pieces, such as the ivory writing desk.
"The velvet Bilou Bilou chair for the desk is a modern twist on the French antique Louis XVI chair," she says. "It's simple but so fun, it practically winks at you." nearby is a miniature version of the chair, upholstered in a washable fabric. (It's a prime seat for a child to claim during tea time with Bear as her mom entertains her book club or sits with a friend.)
Inspired by the fabric used on the pillows at the end of the couch, Mannarino extended the colors across the room: the chartreuse is carried onto the walls, the cream onto the trim and ceiling, and the turquoise onto the drapes. the clean lines and ivory tones of the sofa and rug, meanwhile, anchor the room.
In the corners of the space are étagères made of glass and nickel-plated steel. They are the epitome of functional works of art, says Mannarino, "like having a sculpture cradling your prized possessions." Among these items are glass vases, fish figurines and a vintage perfume bottle, all in the same color story. Although Mannarino uses a mix of gold, silver, glass and mirror to inject glamour, she points out, "the wing chair is the belle of the ball, with its curves and lavish, deep green velvet, bejeweled with polished chrome nail heads."
Sheer window treatments with delicate vines and berries bring the outside in and help to highlight the room's location in the home, which is off the kitchen with beautiful views of the front of the property. Indeed, with an interior space as sunny and cheerful as this one, there's a feeling of springtime year-round.