A Simple Holiday
Nothing against opulent celebrations, but sometimes—with all the stresses in life—less really is more.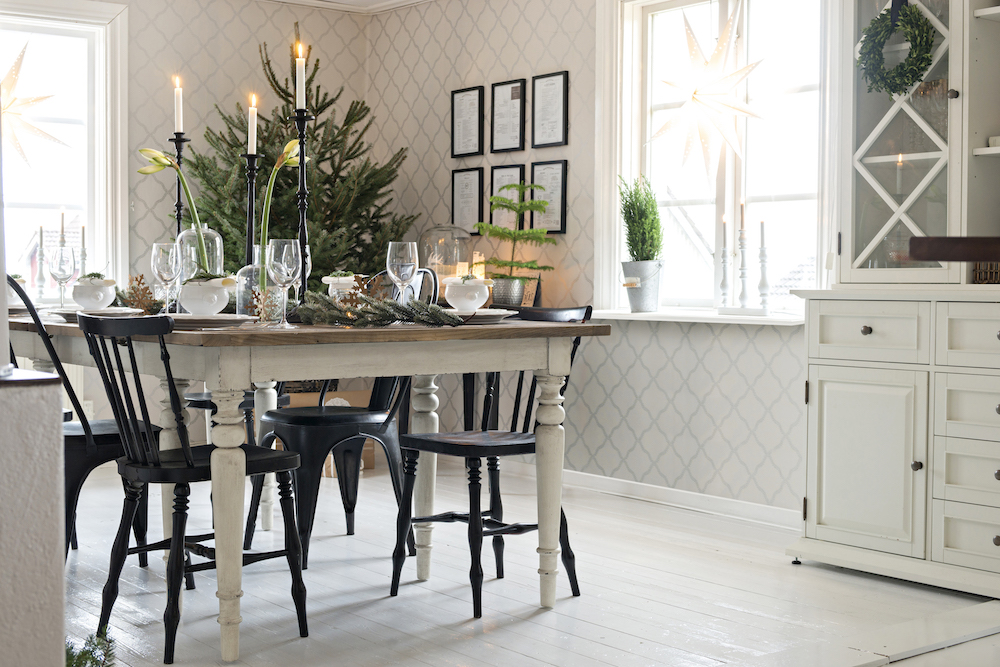 What good is decking the halls for the holidays if you can't sit, relax and enjoy it? These low maintenance yet festive decorating and entertaining ideas will help you spruce up the place while focusing on what really matters during this busy time of year—spending time with family and friends.
"Skinnier, less decorated pines in powder rooms, by a front window or by the back staircase add festive flare. It will be the first thing you see when you come home and the last thing you see before you go to bed!" —Milena Eror, principal designer, Ivanka's Home, Wyckoff
Skip the artificial decor and cut a little live garland from your tree and arrange it with cranberry and pinecones for your table centerpiece. Using nature can make decorating easy, simple and inexpensive." —Christine Clay of Chris Clay Design, Ridgewood
Clockwise from top left: The added benefit of decorating with bare garlands or wreaths is they "last a long time and you don't have to worry about a water source," says Xin Huang, event coordinator and owner of Le Petite Privé in Fort Lee; keep gift wrap simple and cohesive, says Christy Kohler of CK Design in Mahwah. "Choose one or two wrapping papers and wrap all gifts with them in different sized gift boxes" she says. "And choose a ribbon color that pops off your flooring, otherwise no one will notice all your hard work;" white ceramic dinnerware is understated and easy to repurpose for multiple occasions and holidays; try floating candles, votives, tea lights or tapered candles as an illuminating accent.
Not sure how to present food to your guests? "Crystal bowls, platters and serving pieces sparkle but are not heavy or cluttered-looking," says Kohler.
You can have a representation of both holidays by mixing, say, a menorah and Star of David with a Christmas tree and mistletoe. I don't think there's a wrong way [for interfaith families] to decorate."—Christine Clay of Chris Clay Design, Ridgewood